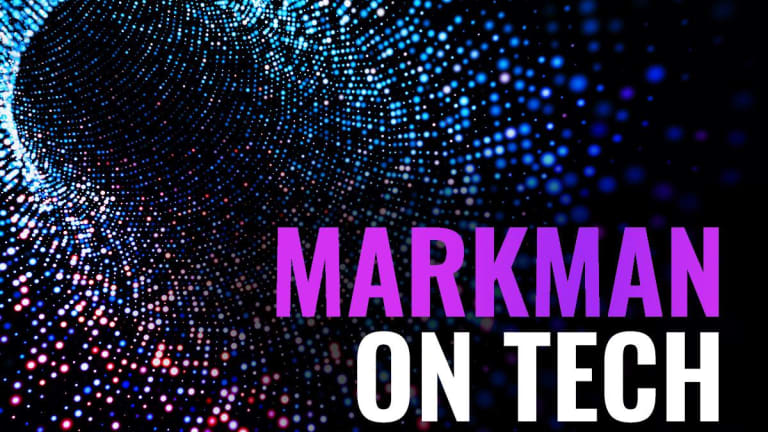 T-Mobile Is Calling, and It Wants to Be Your Banker
New bank-like companies are taking deposits and offering checking accounts, while never opening a physical branch. That's an ideal scenario for wireless carrier T-Mobile, which wants to transform its smartphone platform into a virtual bank.
The pitch is dead simple. Earn up to 4.00% annual yield on credit balances up to $3,000.
The twist is that the deal isn't coming from a big bank, or even a local credit union. It's T-Mobile U.S.  (TMUS) .
From its shiny, happy people online ads, to its decidedly millennial forward branding, T-Mobile MONEY is about the future of banking, platforms and disruption.
It's a trend investors need to understand.
Digital transformation is finally getting a lot of ink in the financial press. The idea is that big companies are under assault from smaller, nimbler startups focused on the new digital reality. These companies, often run out of Silicon Valley and hip European enclaves, are building businesses that strike at the very foundation of established sectors.
In financial technology, new bank-like companies are taking deposits and offering checking accounts, while never opening a physical branch. Everything occurs online. Everything is digital. Money is no more than digits transferred to an account, a payment processor or a vendor.
In theory, this is a race that small, smart companies should be able to win. Unfortunately, taking on established banks is not easy. Lobbyists and lawyers clog up the system with regulations and roadblocks. Building the best software is not always enough.
And that's only the beginning. The emergence of new, data-driven business models means large companies outside of traditional banking have begun to compete.
MONEY is the first offering from BankMobile, a joint venture with Customers Bank (CUBI) .
The $10 billion Pennsylvania bank has traditionally been focused on servicing high net worth families and privately held businesses in the Northeast, and Chicago. It built a profitable niche.
BankMobile, its first white label partnership, takes the company into the realm of Banking as a Service. In an April 2019 investor presentation, managers pointed out that $20 million has been invested in research and development, with 250 team members devoted to user experience.
The new service is mobile first, branchless and laser-focused on customer conveniences. It's built for millennials, people born between the early 1980s and 2000s.
T-Mobile will supply the marketing power, and its 81.3 million member customer base.
We live in a world of platforms. The strength of Apple (AAPL) , Alphabet (GOOGL) , Facebook (FB) and Amazon.com (AMZN) is that managers have been able to leverage large existing ecosystems into new markets. Apple is now selling digital services, Google wants to hawk YouTube TV subscriptions, Facebook is building out payments and Amazon is expanding into healthcare.
It makes perfect sense for T-Mobile to leverage its across the board, best-in-class customer satisfaction rankings to court millennials who have grown up online.
MONEY customers will get access to a full digital wallet that incorporates contactless payments services from Apple, Google and Samsung (SSNLF) . They will be able to automate bill payments, deposit checks by snapping pictures and set up direct deposits, all from their smartphone.
There is overdraft protection, 24/7 customer support, and Customers Bank DNA means deposits are covered by the FDIC, for peace of mind.
The business works because everything is digital. Clicks and swipes provide valuable information. BankMobile plans to use data analytics to make banking more personalized and engaged. The data will also help build new digital marketing businesses.
T-Mobile is already one of the best wireless companies in the country, by many accounts. John Legere, its quirky chief executive officer, embraced customer service and new subscribers followed.
In the first quarter of 2019, the company added 1.7 million net new customers. It was the 24th consecutive quarter T-Mobile added at least 1 million new subscribers. The churn rate, the percentage of customers that stopped subscribing, was a record low at 0.88%. Sales advanced 6%, $11.1 billion, year-over-year. Profits grew 35%, to $908 million.
Now the company gets into banking and other ventures like wireless cable TV.
Very often investors look to Silicon Valley or Europe for disruptive business models. Smaller and nimbler is perceived as better. However, platforms and scale are more important than ever before. T-Mobile is about to leverage its strong position in wireless to win millennial banking.
Shares trade at only 16x forward earnings for a market capitalization is $63.3 billion. By comparison, Verizon Communications (VZ) is growing slower, and has a market cap of $235 billion.
I have been recommending T-Mobile since the middle of 2018. The stock has been a steady winner and that trend should continue as investors wake up to its huge platform opportunity.
It turns out that bigger is better when a business makes customers happy. T-Mobile can be bought into any significant weakness. Based on sales growth estimates alone, shares could reach $125 in two years.
Apple, Amazon, Microsoft and Alphabet are holdings in Jim Cramer'sAction Alerts PLUS Charitable Trust Portfolio. Want to be alerted before Cramer buys or sells these stocks? Learn more now.
To learn more about Jon Markman's stock picks at the crossroads of culture and technology, check out his daily investment newsletter Strategic Advantage. To learn about Markman's practical research in the short-term timing of market indexes and commodities, check out his daily newsletter Invariant Futures
The author of this column owns shares in the following stocks mentioned: Apple, Alphabet, Amazon.com.