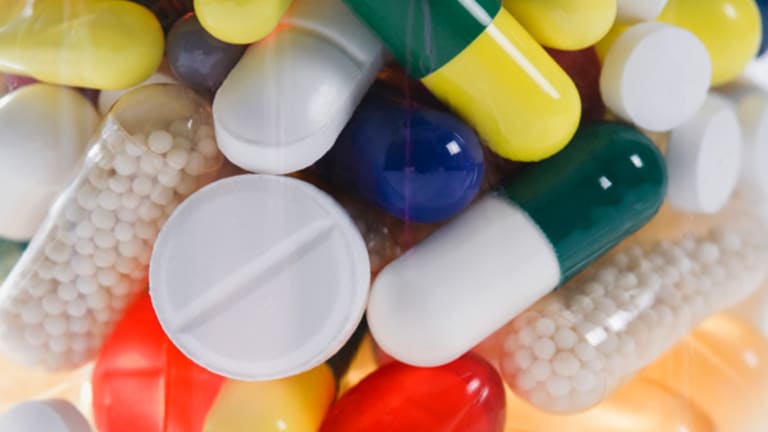 Synta's Lung Cancer Drug Struggles to Remain Relevant
A narrowing of the survival benefit plus competition from anti-PD1s makes Synta's ganetespib success a long shot.
A narrowing of the survival benefit plus competition from anti-PD1s makes Synta's ganetespib success a long shot.
CHICAGO (
) -- The efficacy of
Synta Pharmaceuticals'
(SNTA)
lung cancer drug ganetespib is weakening over time, which should raise even more concerns about the ongoing phase III clinical trial.
Snyta shares are down 17% to $6.15 in early Monday trading.
The latest update from the phase II "Galaxy-1" study, which compares ganetespib plus docetaxel against docetaxel alone in second-line non-small cell lung cancer, are being presented Monday during the American Society of Clinical Oncology (ASCO) annual meeting:
The overall survival hazard ratio for the 252 adenocarcinoma patients is 0.82, which translates into an 18 percent reduction in the risk of death. Median overall survival for ganetespib/docetaxel was 9.8 months compared to 7.4 months for docetaxel.
The result was not statistically significant and worse than the previous update of the Galaxy-1 study presented last September when the hazard ratio was 0.69, or a 31 percent reduction in the risk of death.
Synta didn't wait for final data from Galaxy-1 before starting to enroll patients in a phase III study of ganetespib in second-line lung cancer. This larger, Galaxy-2 study excludes patients who are deemed to be "rapid progressors" -- defined as patients who responded poorly to first-line therapy. In order to qualify to entry into Galaxy-2, patients have to be stable (no tumor growth) following first-line therapy for at least six months. Call these patients "normal progressors" for lack of a better term.
On Monday, Synta released an update on the subset of 176 "normal progressors" from the Galaxy-1 study. Again, the survival trend narrowed.
The latest overall survival hazard ratio is 0.61, or a 39 percent reduction in the risk of death. At the median, ganetespib/docetaxale increased overall survival by 4.3 months over docetaxel alone (10.7 months versus 6.4 months.)
Last September, the hazard ratio was 0.37, or a 63 percent reduction in the risk of death.
Investors have tended to view ganetespib's chances of success with a lot of skepticism because claims the drug would work better in certain targeted subsets of lung cancer patients (elevated LDH or KRAS mutants) have not panned out. The narrowing survival trend from the Galaxy-1 study in data-mined subsets of patients isn't likely to bolster anyone's confidence in Synta's ability to deliver a positive outcome from the pivotal Galaxy-2 study.
If there was any enthusiasm for ganetespib going into the ASCO meeting, it's likely taking a hit now that investors have fixated on the anti-PD-1 drugs from
Bristol-Myers Squibb
(BMY) - Get Report
and
Merck
(MRK) - Get Report
. These drugs are producing some of the strongest responses to melanoma ever seen and are also targeting lung cancer.
One oddity from the latest Galaxy-1 update that Synta should answer Monday night when it meets with investors: The median overall survival for normal progressors treated with docetaxel alone was 6.4 months, which is lower than the 7.4 months for all adenocarcinoma patients treated with docetaxel alone. The normal progressors should be living longer, suggesting the hazard ratio of 0.61 might, in reality, be overstating the real effect of the drug.
Ganetespib failed to produce a statistically significant anti-tumor response in the Galaxy-1 trial. In the adenocarcinoma population, confirmed response rate was 14 percent for ganetespib/docetaxel compared to 9 percent for docetaxel alone. In the normal responder subgroup of patients, the response rate was 15 percent to 9 percent favoring ganetespib/docetaxel over docetaxel.
Synta characterized the updated results from the Galaxy-1 study as positive and increasing the likelihood that the confirmatory Galaxy-2 study will be successful.
-- Reported by Adam Feuerstein in Boston.
Follow Adam Feuerstein on
.
Adam Feuerstein writes regularly for TheStreet. In keeping with company editorial policy, he doesn't own or short individual stocks, although he owns stock in TheStreet. He also doesn't invest in hedge funds or other private investment partnerships. Feuerstein appreciates your feedback;
to send him an email.