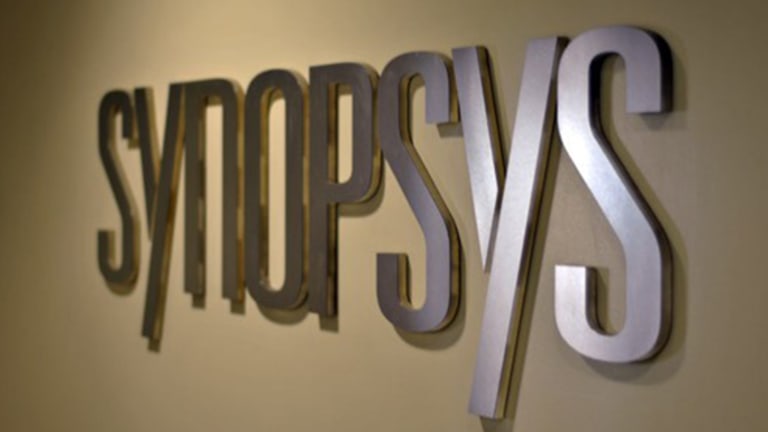 Synopsis Maintains Momentum
Synopsys is up nearly 35% as the company continues to benefit from its intellectual licensing business.
Year to date, shares of Synopsys (SNPS) - Get Synopsys, Inc. Report are up nearly 35% as the company continues to benefit from its intellectual licensing business. Synopsys reports earnings on Wednesday. Can it maintain its momentum?
Over the last decade, semiconductor companies have come to rely on the Electronic Design Automation industry for verification tools and intellectual property, as well as design software.
EDA is often seen as a backwater of the semiconductor equipment industry, but without software to design semiconductors, the industry wouldn't exist. After all it's impossible for Nvidia (NVDA) - Get NVIDIA Corporation Report to design, verify and simulate a Pascal processor with 15 billion transistors squeezed on to a 600 millimeter square die without software.
The EDA companies often get whipped around with the capital equipment spending cycle, but that's unfair, since the companies have a treasure trove of intellectual property at their disposal. For example, as a design for a USB port becomes standardized, EDA companies often sell predesigned pieces that can be easily dropped into a complex design. Increasingly, semiconductor designers are simply licensing EDA IP and pasting them into their designs. Why reinvent the wheel?
IP licensing is a growth area for the industry, since it's difficult to grow software revenue. It's hard to sell new software, because once a chip has been designed, it's extremely difficult and time-consuming to port the design to a different platform. EDA software has a steep learning curve, and engineering teams have their favorite tools. Switching costs are astronomical. It reportedly took Nvidia four years to design the Pascal graphics processor. Nvidia is not switching software platforms any time soon.
Revenue growth has been slowing. In 2012, grow peaked. Synopsis grew revenue 14% in 2012 and is expected to grow by just 3% in 2017. Revenue growth typically reaccelerates when the semiconductor industry moves to larger wafers and smaller dies as the industry rushes to take advantage of the die shrink economics. Taiwan Semiconductor (TSM) - Get Taiwan Semiconductor Manufacturing Co. Ltd. Report has already announced its 10 nanometer road map and has even begun to talk about moving to 7 nm.
Because of the highly competitive nature of the industry and the slowdown in revenue growth, the industry has begun to consolidate. Earlier this month, industrial giant Siemens (SIEGY) announced it would acquire Mentor Graphics (MENT) . Speculation soon turned to Cadence (CDNS) - Get Cadence Design Systems, Inc. Report and Synopsis. I wouldn't expect these two to merge, simply because they have been mortal enemies for as long as I have followed the group -- since about 1995. 
Synopsis reports third-quarter results on Wednesday. Analysts are looking for revenue of $628.4 million and earnings per share of 77 cents. For the year, revenue is expected to rise by 8% to $2.4 billion. Next year, revenue is expected to slow to just 3%.
With a gross margin between 82% and 84% and an operating margin between 22% and 25%, Synopsis is fantastically profitable. Earnings should grow by about 9% this year to $3.02 and $3.22 per share, up 6.6% next year.
I think Synopsys could reach the mid $60s, or about 20 times forward estimates, which seems a fair price to pay for a company with mid-single-digit top-line growth. 
This article is commentary by an independent contributor. At the time of publication, the author held no position in the stocks mentioned.