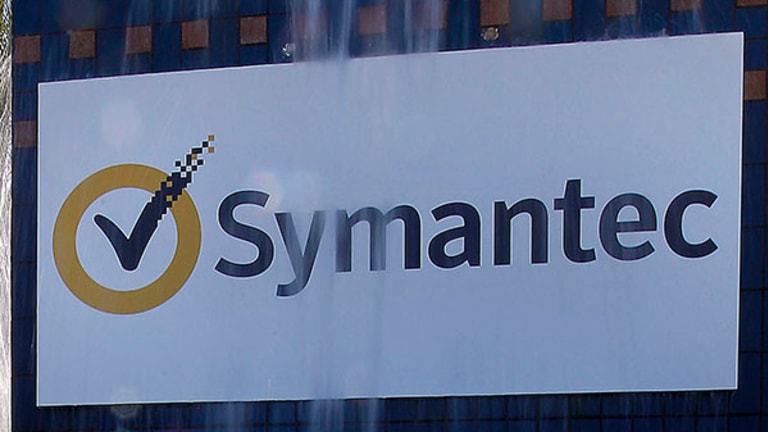 Symantec to Buy LifeLock in $2.3 Billion Cybersecurity Transformation
LifeLock monitors over one trillion data points to protect consumers from impostors.
Symantec (SYMC) - Get Symantec Corporation Report took another step to transform the security software company into a cybersecurity player by agreeing to buy LifeLock (LOCK) for $2.3 billion.
The Mountain View, California-based Symantec said Sunday it had reached an agreement to buy the Tempe, Arizona-based LifeLock for $24 per share, or for a 16% premium to the Friday closing share price of $20.75. The shares have jumped 13.4% to $23.53 in pre-market trading.
"With the combination of Norton and LifeLock, we will be able to deliver comprehensive cyber defense for consumers," said Symantec CEO Greg Clark. "This acquisition marks the transformation of the consumer security industry from malware protection to the broader category of Digital Safety for consumers."
The acquisition of an identity theft protection player would mark further expansion for Symantec -- whose signature offering is the antivirus software Norton -- into the increasingly sought-after cybersecurity business, following its June acquisition of Blue Coat Systems. It would also expand its reach into consumer clients.
The cybersecurity market is estimated to expand by a compound annual growth rate of 9.8% from 2015 to 2020 to $170 billion, according to MarketsandMarkets. For 2017, Symantec expects revenue of between $4.04 billion and $4.12 billion.
The Symantec acquisition also represents the latest victory for activist investor Elliott Management LLC's Paul Singer. The hedge fund in June launched an activist campaign at LifeLock, noting in a securities filing at the time that its managers had "initiated a dialogue" with the company's management and board on opportunities to enhance shareholder value.
It's very possible that Elliott could have launched dissident director election proxy contest had LifeLock not completed a sale. The New York-based activist fund has often launched director-elections to drive its share-price improving and M&A agenda and it has launched over 96 campaigns at 92 companies since 1994, including 13 proxy fights, according to Factset. The deadline for nominating director candidates for LifeLock's 2017 meeting is Feb. 7.
Elliott reported acquiring an 8.8% stake made up of equity and derivatives in the identity-theft protection services company between May 4 and June 15 at prices ranging from $11.20 a share to $14.64 a share. It said it believed there was material upside from the company's May 20 price of $12.19 per share. The fund's acquisition prices represent a significant discount to Symantec's $24 a share purchase price.
In addition Singer's fund is up 8.4% in the first nine months of 2016, according to a person familiar with the situation. That's not a surprise since a number of the fund's targets agreed to be sold in 2016 for a premium, including Cabelas Inc. (CAB) , American Capital Ltd. (ACAS) , Mentor Graphics Corp. (MENT) and now LifeLock. The activist fund also took a 1.9% in Symantec.
The merger also comes after TheStreet's sister publication, The Deal, on Friday reported that cybersecurity companies are under pressure from Elliott and other activist funds after hacks of the Democratic National Committee, Yahoo! Inc. (YHOO) and other high-profile victims underscored the growing importance of cybersecurity to government and corporations.
The sale also eliminates a potential conflict for former New York City mayor Rudy Giuliani if he were chosen for a cabinet secretary position in the Trump Administration. Giuliani holds a position as strategic adviser to LifeLock. He would also need to quit a controversial and lucrative private sector career that included big payments for speeches.
LifeLock offers fraud protection by constantly monitoring over a trillion data points to detect impostors from stealing identity information to get loans, credits, services, committing crime, or selling it to black market websites.
Founded in 2005, LifeLock had about 4.4 million subscribers at the end of the third quarter. The company saw revenue jump 25% to $559.5 million in 2015 and 14% to $470 million in the first nine months of 2016.
The deal will be financed by cash and $750 million of new debt. Symantec does not expect the acquisition to have any impact on its fourth quarter earnings and any "material" impact on financial results for 2017.
In June, Symantec acquired fellow cybersecurity company Blue Coat Systems for $4.65 billion in cash.
The deal, subject to shareholder approval, is expected to be finalized in the first calendar quarter of 2017.