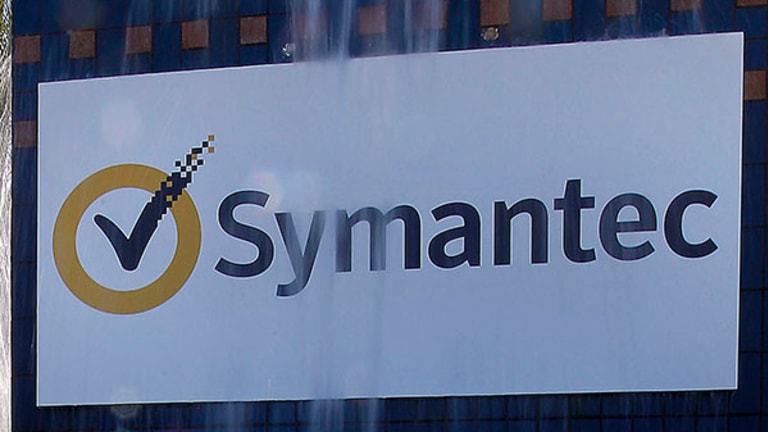 Symantec: Is It Safe to Buy This Stock?
Shares of SYMC have risen a staggering 81% in the past year, and 19% since the start of 2017.
Over the past year, shares of software security provider Symantec ( (SYMC) - Get Free Report ) have risen a staggering 81%. But is this stock safe to buy right now?
After seeing big jumps in June and again in August of last year, SYMC moved sideways for months. But the stock took off as soon as the calendar turned to 2017 -- and ever since, hedge funds have been feasting on shares of Symantec. This year alone, the stock is up 19%. 
Symantec has spent years in the investor doghouse. The company bought data storage company Veritas for $13 billion in 2005 -- and ended up with a turkey. The deal drained management's time from cybersecurity, and the shares languished in the backwater of many investors' subconsciouses.
As the company sputtered about, three CEOs had left the company by 2012. Revenue has dropped every year since 2012, as the personal computer business circled the bowl.
The need for prepackaged security software began to dry up. Symantec's flagship product, Norton Antivirus, lost market share as Microsoft (MSFT) - Get Free Report incorporated antivirus software into Windows. Cyber threats became more sophisticated -- and Norton fell further behind.
Meanwhile, the market for enterprise and network security took off. According to Gartner Research, $92 billion will be spent on cybersecurity this year. Earlier this year, Symantec sold Veritas to the Carlyle Group for $7.4 billon and purchased Blue Coat Systems for $4.65 billion. The company appointed former Blue Coat CEO Greg Clark to lead the merged group.
Blue Coat offers advanced network and cloud protection, something that Symantec's pre-packaged antivirus software never did. Its software is used by over 70% of Fortune Global 500 companies. Blue Coat claims more than 15,000 customers use its products. The company's on-premises secure gateway is an enterprise network product that identifies malicious payloads. In addition, Blue Coat's software is used to protect data stored in the cloud -- as well as that of email and mobile users.
Blue Coat increases the company's mix of total enterprise revenue to 62% -- decreasing the consumer segment to 38%. The merger will be immediately accretive -- Blue Coat drops $755 million in revenue right to the top line. The company also announced a $550 million cost-cutting campaign in order to drive earnings growth.
Then, on Nov. 21, Symantec announced it would acquire LifeLock for $2.3 billion. LifeLock provides identity protection services for individuals. Management wants to merge its own Norton Identity Protection Elite service with LifeLock.
LifeLock has an estimated customer base of 4.4 million subscribers, while Symantec's Norton Anti-Virus products have nearly 50 million customers. The opportunity to cross sell LifeLock's services into the Norton customer base has proven irresistible.
The combined business is expected to grow in the low-to-mid single digits. The companies expect annual cost synergies of $30 million by the end of fiscal 2018, increasing to $80 million by the end of fiscal 2020.
With one in four Americans falling victim to identity theft, Symantec believes identity protection has an addressable market of $10 billion. In 2015 alone, an estimated 164 million records have been exposed by data breaches.
The company sees an attractive recurring revenue model -- with an 85.5% retention rate of customers who are willing to pay a little over $12 a month for peace of mind. Symantec expects to finance the transaction with cash on balance sheet, and with $750 million of new debt.
The board of directors has also increased the company's share repurchase program from approximately $800 million to $1.3 billion, with up to $500 million in repurchases targeted by the end of fiscal 2017.
On Feb. 1 this year, Symantec reported third-quarter fiscal 2017 results. The company posted earnings per share of $0.32 -- $0.04 better than the consensus estimates. Revenue rose 19.7% to $1.09 billion, which was in line with estimates.
Management reaffirmed it fiscal 2018 guidance, which calls for adjusted earnings per share in the range of $1.70 to $1.80.
Last Thursday, Symantec said it had completed the merger with LifeLock.
The stock will probably trade as high as $30 a share in the coming weeks as most of the good news is baked-in and earnings estimates seem conservative. Symantec has the herculean task of cutting nearly $600 million in expense out of the business without disrupting the ongoing operations of the company. To me, that seems pretty challenging.
I would sit on the sidelines and wait to see how the integration of Blue Coat and LifeLock progress. If these deals are as successful as Wall Street believes, there will be plenty of time to get in on the action. Right now, SYMC is not safe to buy.
This article is commentary by an independent contributor. At the time of publication, the author held no positions in the stocks mentioned.