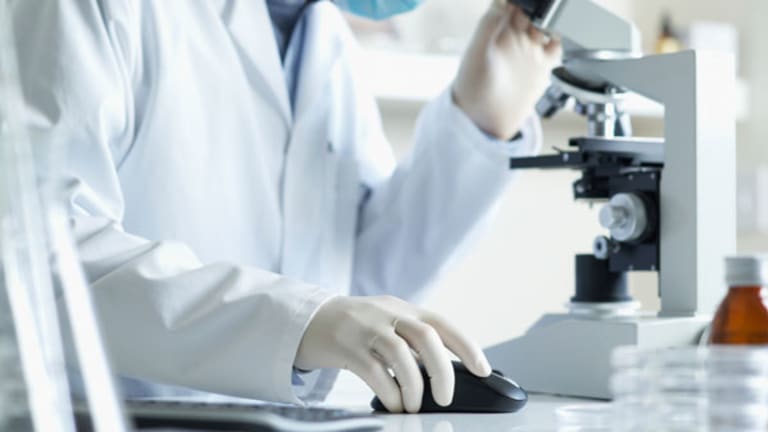 Swine Flu Biotech Bubble Primed to Burst
Biotech stocks playing in the influenza space have soared since the dawn of swine flu. Now, as the fall flu season arrives, can those stocks still perform?
Biotech stocks playing in the influenza space have soared since the dawn of swine flu. Now, as the fall flu season arrives, can those stocks still perform?
NEW YORK (TheStreet) -- As the most fraught influenza season since 1918 moves toward its Northern Hemisphere opening day, one outcome is perhaps more certain than any other: The hysteria surrounding the stocks of certain biotech firms will fade like summer itself.
Ever since swine flu entered the lexicon back in April, a kind of mini-bubble has developed in the shares of companies claiming to have an H1N1 fix, and that bubble seems primed to pop.
More than a few developers of antiviral drugs have seen their stocks explode on little to no evidence that their treatments have any near-term commercial prospects (
see: Biocryst (BCRX) - Get Report
). But the case for the bubble's imminent deflation is even clearer among those companies attempting to develop novel influenza vaccines.
Traders, speculators and presumably buy-and-hold investors have piled into these shares. (Early-stage biotech, no matter the specific field, has always been closer to gambling than investing, after all.)
Novavax
(NVAX) - Get Report
, a Rockville, Md.-based vaccine specialist, has seen its stock price increase 217% since Jan. 1 -- a relative laggard. Shares of
Vical
(VICL)
, a San Diego vaccine developer, have gained 256% over the same period, while
Inovio
(INO) - Get Report
, also of San Diego, has exploded by 285% and
Hemispherix
(HEB)
, which has promoted its much-delayed chronic-fatigue treatment as a swine-flu-vaccine booster, has grown by a whopping 478%.
Needless to say, these stocks have outperformed the broader market.
The reason? Press releases by the bale, issued over the last five months touting this or that new study in which some new approach to flu vaccines has shown signs of not only besting the traditional vaccine methods, but of profiting big from any potential swine-flu plague.
It's hard to know where to begin the debunking. But we'll try.
First off, the likelihood of any of these vaccines actually being used to inoculate people against the swine flu in 2009 or 2010 is microscopic.
As everyone knows, the governments of the world's wealthiest nations cast their lots months ago with the big-pharma makers of traditional vaccines. The U.S., for its part, has ordered 195 million doses from five giants, including
GlaxoSmithKline
(GSK) - Get Report
,
Novartis
(NVS) - Get Report
and
Sanofi Aventis
(SNY) - Get Report
.
These companies' traditional vaccine recipes, most of which use chicken eggs as incubators, took decades to develop and commercialize. (Only about 15 vaccines have won regulatory approval in the last 75 years.)
They're also tried and true. Severe criticism did rain down on the chicken-egg production process after a worldwide vaccine shortage developed in the wake of a British manufacturing snafu in 2004. But in spite of this, the traditional vaccine makers still own the capacity to produced immense amounts of the stuff and at commodity pricing. Also, the vaccines that come out of the mills actually work well.
Thus, for the little biotech firm with dreams of shifting the vaccine paradigm, a daunting task awaits.
To win government approval, a company must prove that it has a safe product that does at least as good a job at protecting people from the flu as what's already on the market -- no matter the flu strain, whether pig or bird or some deadly combination. Such proofs demand human clinical trials on the scale of more than 5,000 and as many as 30,000 people.
"It's a long drawn-out process, man," says Vijay Samant, CEO of Vical, a company not unfamiliar with the hyping of swine-flu vaccines. "It's like the reincarnation of Buddha: You can't get tempted by wine, women and food. If you do, you'll get sent back to the end of the line."
No biotech that has touted its non-traditional approach to influenza vaccination is anywhere close to starting a clinical trial of that size. Nor has any firm really demonstrated the kind of efficacy for its vaccines that would convince anyone that profits will be forthcoming even next year or the year after that.
Take Novavax, the Maryland developer whose vaccine is based on cell-culture technology, an alternative to egg-based vaccines that many companies have been attempting to develop, including the likes of Novartis and Baxter. A recent press release from the Maryland firm highlights the difficulty in determining up from down in the heady world of vaccine research, and how investors can get caught up in a thicket of complexity.
Novavax in this press release announced the conclusion of a phase II clinical trial of its vaccine, a study that looked at the immune response produced in 221 people against the three influenza strains that the Center for Disease Control had determined were the most dangerous last year. (These strains, chosen by the CDC for the 2008-09 flu season, did not therefore include currently circulating swine flu.)
On the surface, the results for Novavax appeared reasonable enough. But the company left out some crucial information: the immune response produced in the study's small control group of just 20 people, each of whom received a dose of Sanofi's Fluzone vaccine.
Novavax in its release said that its vaccine outperformed Fluzone in protecting against one of the three strains, H3N2.
But, a little weirdly, the company made no mention of the other two strains and their performance in Fluzone. An observer might be forgiven for concluding that the company probably would have mentioned those two other strains had its own vaccine performed better than it did against Fluzone. As it stood, key information regarding the efficacy of the company's vaccine, on which many of its commercial hopes rest, seemed conspicuously absent.
In an interview, CEO Rahul Singhvi and Chief Medical Officer Penny Heaton had their explanations, arguing that, owing to the small size of the study, "no sweeping conclusions" could be drawn; that the study was meant only to prepare the company for a larger "more properly powered" phase II clinical trial in the elderly, which it says will begin "in the fall" after some delay and, later yet, a presumptive phase III trial; that it chose to include the H3N2 only because last year many big vaccine makers had problems hatching that strain in eggs in the traditional manner, underscoring, the company said, how Novavax's process is better; and that the main reason it didn't include the missing information in the release was that it wanted to save the data for a conference presentation. (Novavax is applying to take part in the annual meeting of the Infectious Disease Society of America in late October -- the deadline for abstracts is today.)
Further, Penny Heaton said, "I can tell you that the confidence intervals overlapped and the responses were indistinguishable between the Fluzone arm and ours." (Confidence interval is a term from statistics meant to indicate how reliable an estimate is.) Still, there will be no public numbers to back up that claim until the company chooses to publish its data.
Despite all the complexity, nuance and contention produced by close examination of a press release short on details and long on promises, Novavax shares surged as much as 22% on the day it was issued on super-heavy trading volumes, as investors and speculators reacted simply to the fact that a vaccine developer appeared to have received positive news in a clinical study related to influenza here on the cusp of swine-flu season.
Novavax and its biotech peers readily admit that proving the efficacy of their vaccines, let alone their superiority to the current treatments, remains a long way off. But that hasn't stopped them from trumpeting the business potential of their unique manufacturing processes, which they contend are a faster and cheaper way to produce vaccines than the traditional methods.
Should a killer global flu pandemic develop and create a vaccine shortage, many of these firms have argued at one time or another, the FDA could step in and fast-track the approval and commercialization of one of their programs.
There's also been a lot of talk about serving the developing world, which will almost assuredly not have enough doses to go around, starting now. (Witness the World Health Organization's appeal to rich countries and the big vaccine producers to donate doses to poor countries.)
But as many industry experts have observed, a small biotech would hardly have the capability of ramping up production to the scale necessary for making the needed number of doses -- presumably, in the millions.
And even if it could, any boon might well be temporary. Once a pandemic inevitably subsides, the big pharma companies would almost certainly re-assume their normal role as vaccine providers to the globe -- business as usual.
Furthermore, far from ignoring the cutting-edge technologies constantly ballyhooed by the small biotechs, the major vaccine players are hotly pursuing these areas as well, especially cell-culture vaccines.
Though it's true that relatively few large-scale clinical trials testing cell-culture technologies have been conducted, and those that have have turned in mixed results, "If you had to bet, you'd still bet that a Novartis or a Sanofi comes up with a culture-based vaccine that gets approved and has the cost profile to succeed in the market," said one executive at a privately held biotech.
One wants almost always to root for the little guy with the potentially world-changing innovation. But according to some experts, all of this leaves the financial outlook for biotech vaccine developers worse than murky.
"It's hard to see how this works out for these companies long term, I think," said a biotech buy-side analyst. "I don't know what the business model is -- other than putting out a bunch of press releases and hoping there are stories in the
New York Times
saying how bad the swine flu is going to be."
-- Reported by Scott Eden in New York
Follow TheStreet.com on
and become a fan on
Scott Eden has covered business -- both large and small -- for more than a decade. Prior to joining TheStreet.com, he worked as a features reporter for Dealmaker and Trader Monthly magazines. Before that, he wrote for the Chicago Reader, that city's weekly paper. Early in his career, he was a staff reporter at the Dow Jones News Service. His reporting has appeared in The Wall Street Journal, Men's Journal, the St. Petersburg (Fla.) Times, and the Believer magazine, among other publications. He's also the author of Touchdown Jesus (Simon & Schuster, 2005), a nonfiction book about Notre Dame football fans and the business and politics of big-time college sports. He has degrees from Notre Dame and Washington University in St. Louis.