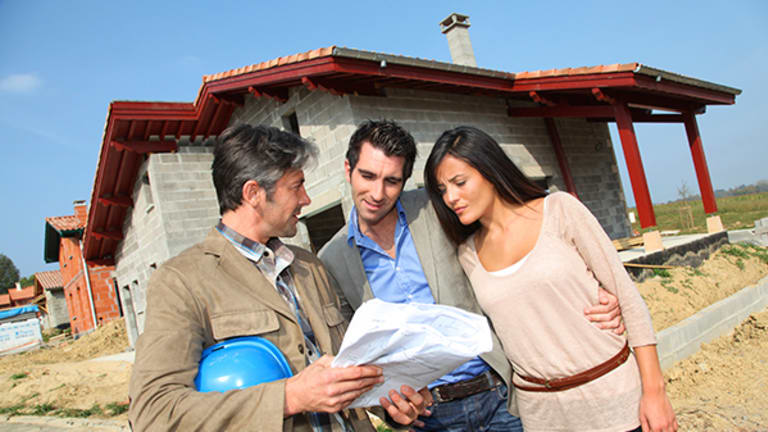 Surprisingly Low New-Home Starts Show Confusion About Trump's Impact
Interest rates on mortgages are rising, hampering shoppers' budgets, but builders think Trump may help remove regulatory barriers that have hampered some construction.
If you don't have much idea what Donald Trump's presidency means for the economy, take heart -- home builders seem to be confused, too.
Housing starts in November badly missed forecasts, as builders began construction on new homes at at annual rate of 1.09 million, the Census Bureau said this morning. Economists had forecast an average 1.23 million-home pace in a survey by Econoday, and the actual number fell short of every forecast in Econoday's panel. The number, one of the most volatile the government reports each month, was down from a revised 1.34 million pace in October.
The week's news suggests that builders are having the same trouble figuring out Trump as everyone else, since it follows a survey from the National Association of Home Builders released Thursday that showed builder confidence at its highest level since before the 2008 recession.
Interest rates on mortgages are rising, hampering shoppers' budgets, but builders think Trump may help remove regulatory barriers that have hampered some construction, the association said. Indeed, the S&P Homebuilders Select Industry Index is up 8.5% since the election.
"The drop in housing starts in November was payback for October's gain, which was the largest since the early 1980s," Moody's Analytics economist Ryan Sweet said in an e-mail. "The magnitude of the decline in November is a little surprising considering that weather was unseasonably warm, which should have provided some support. 
The rate at which builders took out permits for future construction also dropped by 4.7% from October, to an annual rate of 1.2 million.
In housing, like the economy overall, there is a sharp divide between the optimism reflected in stock prices since the election with the much smaller increase, if any, in forecasts for growth.
The builders association projects that new home starts will increase about 7% next year to 1.24 million homes and apartments, better than the 4.8% increase for this year compared with 2015. But that's still sharply slower than in earlier years of the recovery, and way below the 2.07 million homes started in the peak year of 2005.
All of the growth will be in single-family homes, which make up about two-thirds of all homes built so far this year, according to association. Apartment construction is down 10% so far this year, according to the Census.
That's relatively good news for new-home builders like PulteGroup (PHM) - Get Free Report , KBHome (KBH) - Get Free Report and Toll Bros. (TOL) - Get Free Report , But it's bad for apartment-driven companies like Avalon Bay Communities and Equity Residential (EQR) - Get Free Report especially since most apartment operators are organized as real estate investment trusts.
REITs avoid corporate income taxation by passing nearly all of their cash flow to unit holders in the form of dividends -- meaning they will not benefit from Trump's proposals to cut business taxes.
Firms including CFRA Research and BMO Capital Markets recommend that investors underweight real estate stocks in the S&P 500, and banks like Bank of America (BAC) - Get Free Report  and JPMorgan Chase (JPM) - Get Free Report  are already seeing steep declines in mortgage-refinancing volume as interest rates rise.
What's confusing economists and buyers is the trade-off between less affordability implied by higher interest rates, and increases in wages, according to a report last week by online real-estate company Zillow (Z) - Get Free Report . The study suggests home prices, including existing homes, will rise 3.6% in 2017, about a percentage point less than this year.
But one of Zillow's experts argues that housing starts should rebound next year, because they have been held down since 2008 by builders' access to credit and land, and other factors that limit the supply of homes for sale, even as buyers have become increasingly ready to step up.
"We're confident that housing starts will grow slow and steady through 2017 and beyond," said Ralph McLaughlin, chief economist at Trulia.com, a division of Zillow. "This will bring continued relief to homebuyers who have been stymied by a supply-constrained market over the past few years."
This article is commentary by an independent contributor. At the time of publication, the author held no positions in the stocks mentioned.