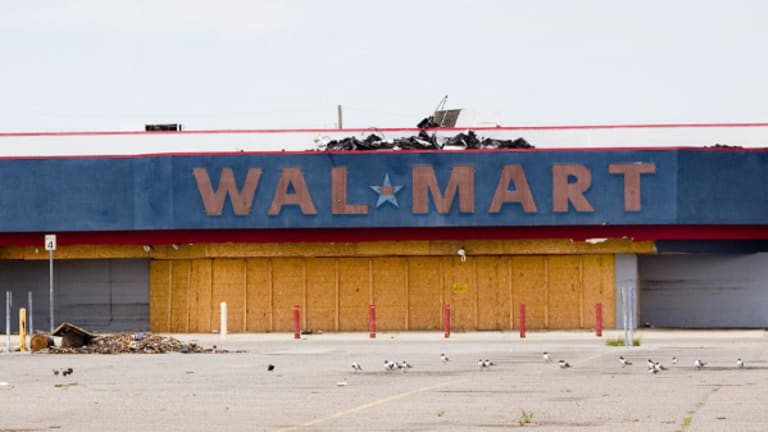 Publish date:
Surging U.S. Dollar Could Blow Up Walmart's Bottom Line
The last thing Walmart needs is a strong U.S. dollar.
The last thing Walmart needs is a strong U.S. dollar.
Now is one of those times where Walmart (WMT) - Get Walmart Inc. Report probably wishes it weren't the world's largest retailer.   
With the U.S. dollar hovering near 14-year highs in the wake of the Federal Reserve's latest interest rate increase and expectations for tax cuts and other stimulus measures under a Trump administration, Walmart's outsized international exposure stands to wreak havoc on its bottom line during the fourth quarter and into the early part of 2017.
The extent of the damage in the fourth quarter could come as a surprise to many on Wall Street as Walmart's full earnings guidance of $4.20 to $4.35 a share assumed no change in currency rates when it was issued in mid-November. 
Analysts currently estimate Walmart's full-year earnings at $4.32 a share, toward the high end of the company's guidance. 
Walmart's international business consists of operations in 27 countries outside of the U.S. It racked up about $86 billion in sales and $4.2 billion in operating profit through the third quarter ended Oct. 31.
When the dollar is strong, revenue and earnings from Walmart's foreign markets are worth less when translated back into greenbacks. That dynamic has already enacted a hefty penalty on Walmart's results this year.
Sales and operating profit have been reduced by $8.4 billion and $431 million, respectively, through the third quarter mostly due to the relative strength of the dollar. But with the dollar continuing to strengthen, the impact could be more acute in the front portion of the new year.   
Some on Wall Street, however, may be bracing for mixed fourth-quarter earnings and cautious 2017 guidance from Walmart in part due to the strength of the dollar. Walmart's stock has fallen about 2.3% to $69.64 over the past month while the U.S. Dollar Spot Index has gained roughly 1.8% to 103.1.
Shares of Walmart are slightly lower in early trading Tuesday.