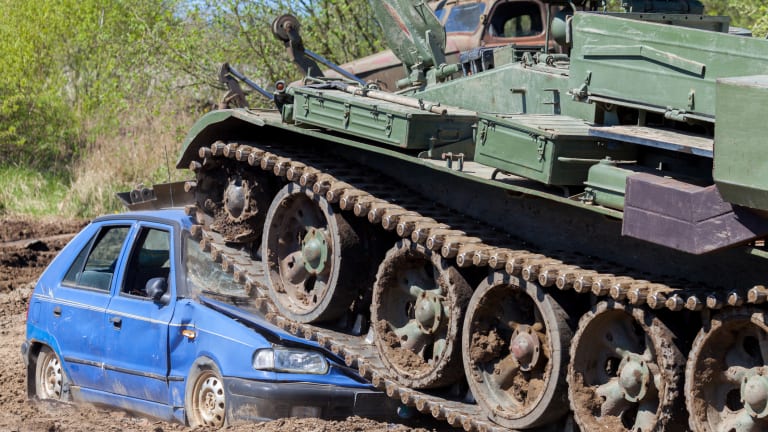 Publish date:
Will Surging Oil Prices Crush Stocks?
Stock prices continue to act quite well in the face of rising oil prices. But, investors need to realize that surging oil prices are a key risk that deserves to be respected a lot more.
Stock prices continue to act quite well in the face of rising oil prices. But, investors need to realize that surging oil prices are a key risk that deserves to be respected a lot more.
Pay attention to oil prices.
Investors need to start respecting the surge in oil prices, or they risk getting ugly losses handed to them in the months ahead. So far, the market has viewed the 6.5% month to date rise in crude oil as a positive sign. In the view of some, higher crude prices suggest a U.S. recession isn't lurking later this year -- as has been the grumbles on Wall Street of late.
But what investors are overlooking are the fundamental risks to this logic. Corporate earnings are the lifeblood of the market, keep in mind. Higher oil prices have already translated into higher gas prices, which is a key risk to automakers such as Ford (F) - Get Ford Motor Company Report and General Motors (GM) - Get General Motors Company (GM) Report that have pivoted big-time to producing SUVs and trucks. Higher oil prices have already taken a toll on earnings for packaged food giants like Proctor & Gamble (PG) - Get Procter & Gamble Company Report and Tyson Foods (TSN) - Get Tyson Foods, Inc. Class A Report . Now, each are staring at consumer price increases because it costs more to deliver their products to stores.
Higher gas prices could mean fewer items in the baskets of Walmart (WMT) - Get Walmart Inc. Report shoppers this summer and possibly, the holiday season. Blame Trump's decision on the nuclear deal, blame a growing global economy. Whatever the case, climbing oil prices deserve careful attention by investors -- more attention than they are currently getting. The positive here: plunging market valuations.
Yardeni Research notes that the forward price-to-earnings multiple of the S&P 500 has dropped from a high of 18.6 on January 23 to a low of 15.9 on May 3.
The Tesla Bulls Will be Tested
Tesla's (TSLA) - Get Tesla Inc Report stock over the past week has been as hot as one of the company's car batteries. Shares of the money-losing electric car maker have surged about 9% in five days as investors move beyond Elon Musk's earnings call meltdown and an inevitable summer capital raise. But the ultimate momentum stock will be tested on Thursday following news of a fresh NTSB investigation. The NTSB said late Wednesday that it will send four investigators to probe a Tesla Model S that killed two Florida teens on Tuesday when it slammed into a concrete wall and went up in flames. Speed is believed to be the main factor in the crash, not Tesla's Autopilot system. Hardly reassuring, nonetheless.
Names on TheStreet
Roku's (ROKU) - Get Roku, Inc. Class A Report Chief Financial Officer Steve Louden hopped on the cell with me after earnings Wednesday night, and he sounded more bullish than the norm. He has good reason to: the company streamed an insane 5.1 billion hours of content in the first quarter, up 50% from the prior year. Louden says the powerful cord-cutting trend is just getting started, which is something worth believing. What 21-year old living on their own actually pays a cable bill? The answer is they don't, it's Netflix (NFLX) - Get Netflix, Inc. (NFLX) Report and chill (or Roku and chill).
The only thing that could derail Roku's bull story in 2018 are the costs it's seeing to grow its business. Louden says it's aggressively adding talent on the engineering front to support its growth plans. Tech talent doesn't come cheap, especially when you are competing with the likes of Facebook (FB) - Get Facebook, Inc. Class A Report and Alphabet (GOOGL) - Get Alphabet Inc. Class A Report .
Meanwhile, TheStreet will drop a podcast with Carnival Corp. (CCL) - Get Carnival Corporation Report CEO Arnold Donald this weekend. Donald and I talked Wednesday afternoon about his rise to the top gig at Carnival and overall cruise line industry trends. Similar to what I learned from talking to Norwegisn Cruise Line (NCLH) - Get Norwegian Cruise Line Holdings Ltd. Report CEO Frank Del Rio last week, I came away thinking Carnival is also undervalued here (stock is down 5% this year). While there are a good number of new ships hitting waters in 2019 and beyond, the consumer demand is such that more ships are warranted. Risks: surging oil prices (it takes a lot of fuel to run a cruise ship) and a recession (meaning somewhat empty new ships).
Shout out to TheStreet's technical analyst Bruce Kamich -- his new "Chart Professor" video segments with our Tracy Byrnes are really insightful. 
What's Hot
So Rolls-Royce has a hot new SUV. Check out the video TheStreet's Dan Kuhn put together on the luxury beast.