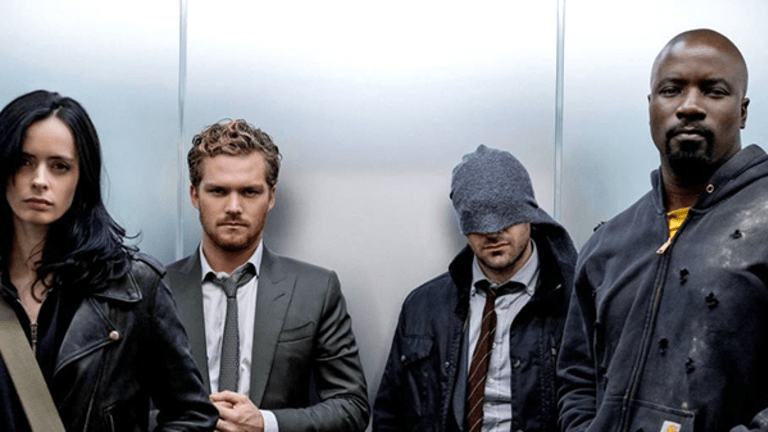 Superhero Shows Are Coming to Amazon, Netflix and Hulu -- Can They Boost Subscribers?
Netflix, Amazon and Hulu all have upcoming shows that should boost their subscriber base.
If you thought that superhero fever was exclusively a big-screen phenomenon, think again. By the end of the year, all three major media streaming services -- Netflix, Amazon, and Hulu -- will have a superhero show on their slate.
Netflix (NFLX) - Get Netflix, Inc. Report has been bringing superheroes to the small screen for a couple years now, beginning with the release of "Marvel's Daredevil" in spring 2015. Since then, the streaming giant has released shows centered around fellow Marvel characters Jessica Jones, Luke Cage, and Iron Fist. Those standalone series have built up to "Marvel's The Defenders," the small screen equivalent of "The Avengers" which will see all of those superheroes unite.
That show comes on August 18, and exactly a week later Amazon (AMZN) - Get Amazon.com, Inc. Report will release its own superhero show. Whereas "The Defenders" is a serious-minded, high-stakes superhero show, "The Tick" is more of a parody: the titular superhero wears bright blue spandex complete with antennae and is known for his nonsensical remarks. Amazon is likely hoping to tap into the same audience that made the flippant "Deadpool" a hit for its first superhero series.
Hulu, too, will premiere its first superhero series with the November 21 release of "Marvel's Runaways." The show follows six superpowered teenagers who unite against their criminal parents, and comes in the wake of Hulu's biggest success to date in "The Handmaid's Tale."
All of these shows arrive during a record year at the box office for superhero movies. So far in 2017, four have been released--20th Century Fox's (FOXA) - Get Fox Corporation Class A Report "Logan," Disney's (DIS) - Get Walt Disney Company Report "Guardians of the Galaxy, vol. 2," Warner Bros.' (TWX) "Wonder Woman," and Sony's (SNE) - Get Sony Corp. Report  "Spider-Man: Homecoming." And incredibly, all have been blockbuster hits with glowing reviews and domestic grosses over $225 million. Indeed, those films constitute four of the top 5 films of 2017 so far, leaving only the year's highest-grossing film "Beauty and the Beast" without a superhero. 
"The bar has been raised high by the big-screen superheroes, and it makes complete sense to capitalize on that huge audience enthusiasm by creating small-screen superhero content," said senior ComScore (SCOR) - Get comScore, Inc. Report analyst Paul Dergarabedian.
All three streamers will, of course, be fishing for more subscribers with all of this spandex. Netflix currently leads in this department with 104 million subscribers worldwide. Amazon currently has roughly 85 million people signed up for its Prime service, and Hulu counts 47 million among its subscriber base. Given that the superhero genre has driven ticket sales for the film industry this year, it stands to reason that small-screen superhero fare will similarly goose the subscriber bases for these streamers.
Indeed, Netflix's Marvel shows have probably attracted a sizable audience to the streaming service already. While Netflix notoriously does not release ratings for its shows, an impressive 10.7% of subscribers watched at least one episode of "Daredevil" in the first 11 days that the show was available, better than "The Unbreakable Kimmy Schmidt" (7.3%) and "Bloodline" (2.4%). And the premiere of "Luke Cage" led to a rare hourlong service outage for Netflix, indicating high levels of anticipation for the Marvel show.
As popular as the superhero genre is, though, there is always the fear of over-saturation. Not only is there an increasing glut of superhero films, but there are also a handful of superhero shows on network television, like ABC's "Marvel's Agents of S.H.I.E.L.D." and The CW's "The Flash." In order to stand out in the crowded landscape, the streaming services will have to make sure that their shows offer something different, and are actually worth watching.
"There seems to be an insatiable appetite for superheroes, and as long as the quality is there, the genre can't burn out," said Dergarabedian. "What burns people out is crappy content, not the categorization."
In an age increasingly dominated by social media, it is getting more difficult to hide sub-par content. If the buzz on any of these new superhero shows is negative, potential subscribers are unlikely to take much notice. The quality of Netflix's superhero shows so far (three of the four have charted above 85% on Rotten Tomatoes) suggests that streaming services know this is the case. The expectations are sky-high, and so a superhero stinker will not fly.
"There's a tremendous amount of pressure on the creative side of the business to keep up the level of quality and interest," noted Dergarabedian. "But that means there's never been a better time to be a superhero fan."
Don't miss these top stories on TheStreet:
Hedge Funder Scaramucci Lands Job in White House; Sean Spicer Quits
50 Reasons Dying Sears Had to Strike a Deal With the Ruthless Amazon
Why Tesla Should Terrify Investors
Watch these video features on TheStreet:
O.J. Simpson Wasn't the First or the Last Athlete to Kiss a Major Endorsement Goodbye