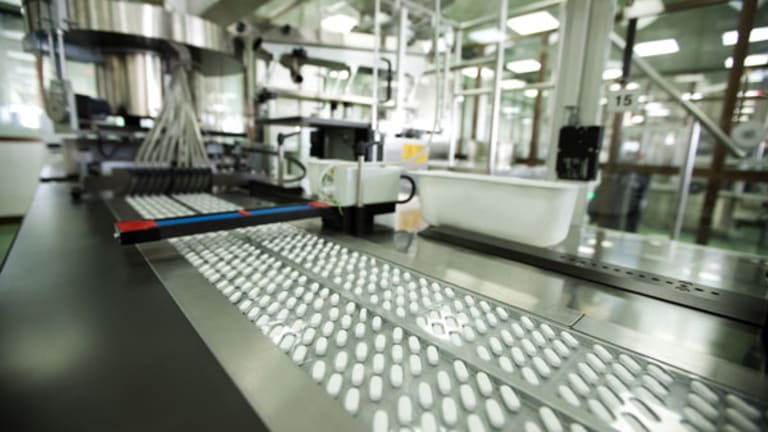 Sunshine Heart: A Promising Treatment for Heart Failure Patients
Sunshine's C-Pulse is a heart-assist device for patients who fall between the cracks of current therapy.
NEW YORK (
) -- Heart failure is a major medical problem in this country affecting well over five million Americans. However, the development of new and effective heart-failure therapies has lagged for the past several decades.
Sunshine Heart
(SSH)
is developing a new heart-assist device to treat patients with later stage (class 3 and early class 4) heart failure who fall between the cracks of current therapy. These are typically patients who no longer respond to drug therapy but are too healthy to be considered for transplant or an implanted ventricular assist device i.e. "mechanical heart."
Currently, when drug therapy ceases to be effective, heart-failure patients are fitted with a pacemaker or implantable defibrillator. These devices are considered stopgap treatments because all they do is prevent arrhythmias but don't improve a patient's condition. In fact, the shocks delivered by the devices can actually cause further heart damage over the long term.
Sunshine Heart's C-Pulse Heart system assists the heart in pumping blood through the left ventricle using a proven balloon counter-pulsation technique. A cuff is placed around the outside of the aorta and is attached to a sensing lead that detects when the heart's electrical signal. When the heart is pumping blood, the cuff inflates to increase blood flow. When the cuff deflates, the pumping required by the left side of the heart is decreased. C-Pulse reduces the workload of a patient's heart and increases blood flow through the arteries.
And since the cuff is placed around the outside of the aorta, the risk of infection and stroke is significantly reduced. Patients are not required to take blood-thinning drugs due to C-Pulse.
In a feasibility study of 20 patients using the C-Pulse system, 50% of heart failure patients improved after 12 months, achieving an average reduction in heart-disease classification of over 1 class. The mean improvement in the six-minute walk test was over 50 meters. One patient completely disconnected from the device because he no longer had any symptoms of heart disease. Another patient died due to aortic disruption.
Sunshine Heart is targeted a large commercial market with the C-Pulse system. More than 5 million patients are diagnosed with heart failure in the U.S., with 10% of these patients class III or ambulatory Class IV making them eligible for the C-Pulse.
Another way to look at it Sunshine Heart's market potential: A 10% share of the 650,000 newly diagnosed heart failure patients in the U.S., or 65,000 patients, would yield annual sales of more than $300 million. Throw in Europe and revenue could double.
Or, consider this: The two companies that corner the market for left ventricular assist devices --
Thoratec
(THOR) - Get Report
and
Heartware
(HTWR)
-- have a combined market cap of over $3 billion. Investors value these companies highly despite the fact that the Class IV heart failure patient population is smaller than the patient population that would benefit from Sunshine Heart's C-Pulse device.
Sunshine Heart reached agreement recently with the FDA to begin a pivotal trial of the C-Pulse system using a lighter, quieter and smaller version of the device used in the feasibility trial. This new trial will enroll 388 heart failure patients randomized to treatment with the C-Pulse system or standard therapy. The study's primary endpoint is the reduction of worsening heart failure events leading to hospitalization. Sunshine Heart expects to enroll the first patients soon and the study will take approximately two and half years to complete.
The company has already received a European CE Mark (medical device approval) for C-Pulse. However, in order for the device to receive reimbursement, the company need to run a clinical trial in Europe as well.
What makes the Sunshine Heart story so compelling is its paltry $58 million market cap. At a similar point in its development cycle, Heartware sported a market cap of over $200 million.
Sunshine Heart's market cap is tiny because investors lack patience. The company won't have significant, stock-moving news to report until the U.S. pivotal trial is complete several years from now. Without a near-term catalyst, it's hard to make a compelling case to buy the stock now.
The company also needs to cash at some point down the road. Although Medicare will reimburse patients enrolled in the clinical trial, Sunshine Heart will need $20-30 million to fund both the U.S. and European studies on top of the $20 million currently in the company's coffers.
Finally, there's the risk that goes with a clinical trial. Investors may perceive the risks with Sunshine Heart higher because C-Pulse is a new and relatively unproven method to treat heart failure. The company must also convince the cardiology community that the C-Pulse system is a new paradigm treatment for later-stage heart failure.
Under new Medicare regulations, hospitals are penalized for heart failure and heart attack patients who are re-admitted within 30 days of discharge. By the time C-Pulse potentially gets approved, hospitals will be under pressure to find new procedures to make sure their heart failure patients are getting the best therapy. C-Pulse could become a major part of the solution hospital need.
There is massive upside in Sunshine Heart if the C-Pulse pivotal trials are successful in showing clear advantage over current therapy for Class III and ambulatory Class IV heart failure patients. Even factoring in a highly dilutive stock offering in a year or so, the Sunshine Heart's shares are still absurdly cheap. Despite the lack of near-term catalysts, I'm comfortable buying the stock today and wait the time necessary for the stock to turn into a big winner.
Rosenblum is long Sunshine Heart.
Dan Rosenblum has been a full-time stock trader since 1999 after leaving a job at a publicly held medical-device company. Rosenblum joined
that year and has been the online trading community's resident biotech expert ever since. Rosenblum writes the
newsletter, which has outperformed the S&P 500 and the Nasdaq Biotechnology Index every year since its inception in 2006. Rosenblum lives with his wife and kids in Rockland County, New York.