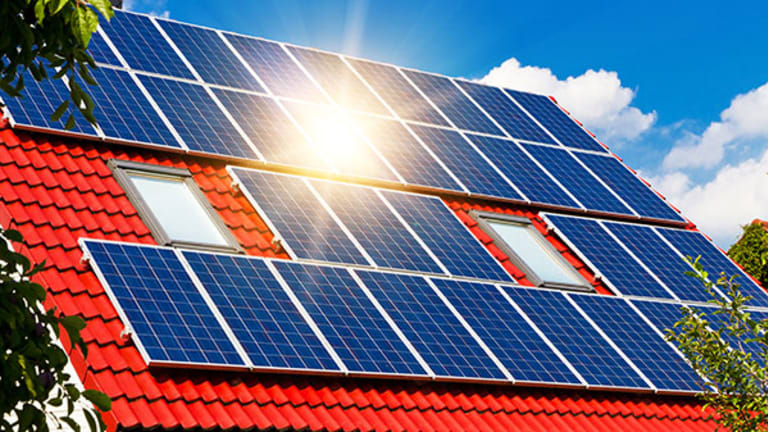 Sunrun, Solar Energy Provider, Raises Expectations for 2017 Sales
The residential solar company said after the market closed Wednesday that it expects to post 325 megawatts of bookings in 2017.
Residential solar provider Sunrun (RUN) set a high bar for itself when it released its 2017 full-year and first quarter guidance after the market closed Wednesday.
Sunrun said it expects to sign agreements with residential customers to provide 325 megawatts of electricity in 2017, of which 69 megawatts would come in the first quarter. Both of those goals, if achieved, would represent 15% year-over-year jumps. Shares of the company climbed abuot 1% to $5.29 in after-hours trading.
"Based on what I can see now, it looks kind of optimistic," JMP Securities analyst Joe Osha said. He has estimated Sunrun to sign contracts for 300 megawatts in 2017 and 65 megawatts in the first quarter. "There is certainly some seasonality to their business. There are definitely some headwinds in the residential solar business, especially in California."
Sunrun competes with SolarCity (SCTY) , SunPower (SPWR) and Sungevity for market share in California, where solar power has deep market penetration. The state tweaked its net metering program in 2016 so that it now charges customers on the electric grid based on peak demand instead of at a flat rate of electricity consumption.
Solar customers in California receive credits on their electric bill based on how much electricity their panels produce that they don't use. The new math of the revamped net metering program may not make sense anymore for potential new customers.
"It's a tougher sell than it used to be," Osha said.
Sunrun posted fourth quarter earnings per share of 27 cents on $120.6 million in revenue. Those figures didn't quite align with the estimates of analysts surveyed by FactSet, who had forecasted earnings of 1 cent on $126 million.
The earnings figure likely won't mean much for investors, Osha explained.
"The way that this business works, you're constantly trying to create a future book of business," he said.
data by