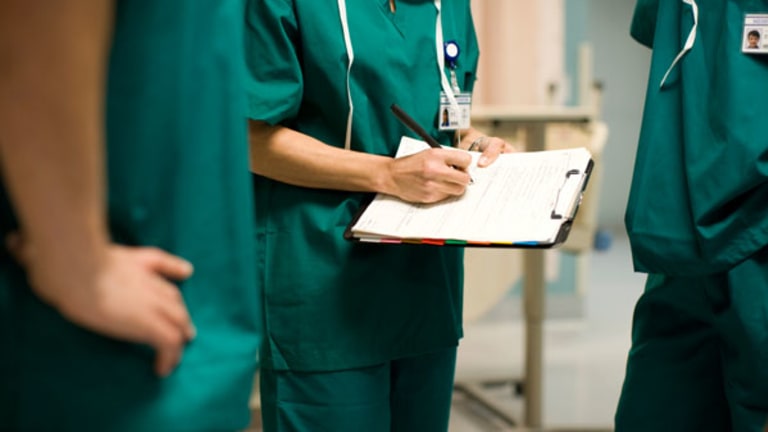 Publish date:
Sunrise Meeting Shrouded in Darkness
The company's late on its filings -- so holders who want to vote will have to appear in person.
The company's late on its filings -- so holders who want to vote will have to appear in person.
OKLAHOMA CITY -- A legal loophole could leave investors at
Sunrise Senior Living
(SRZ)
in the dark.
When Sunrise hosts its annual meeting on Tuesday in McLean, Va., many shareholders may not realize it is even taking place. Moreover, those who do manage to show up could end up powerless to take any action -- unless they bring certain documents necessary to approve corporate governance changes.
How did Sunrise's shareholders end up in such a predicament? The problem starts with the fact that Sunrise -- working on a restatement tied to a probe of past options accounting -- has fallen behind in filing audited financial statements. Without filing audited financials, experts say, a company can't mail out the proxy materials that typically put board elections and other governance issues before shareholders for a vote.
Ironically, Sunrise's very failure to keep its books current could end up insulating its board -- one that has failed to catch serious accounting problems, among other shortcomings -- from any accountability to the company's owners. By failing to play by the rules, critics say, company leaders have gained a valuable edge on ordinary shareholders eager for reform.
Even the nation's leading proxy advisory firms have struggled to help investors. In a recent note to clients, heavyweight Institutional Shareholder Services warned shareholders that they "must take special steps in order to attend this meeting in person or have a proxy generated" on their own. Meanwhile, without a definitive proxy statement, ISS said that it is "not in a position to deliver a research analysis or vote recommendations for the meeting."
The firm did offer some detailed background information and publish the shareholder proposals -- along with the stance it normally takes in such situations -- in an effort to help.
But CtW Investment Group, a vocal proponent of corporate reform, has gone a step further. The firm has been reaching out to its union-affiliated followers and pushing them to act.
"If shareholders don't show up in adequate numbers, and aren't aware of what credentials they need to present, this could be a meeting where insiders (who control roughly 15% of the company's stock) won't have any problem getting what they want," stresses Richard Clayton, CtW's director of research. "It's a pretty profound breakdown of the shareholder governance system."
Ultimately, CtW hopes that disgruntled shareholders get their way instead. The firm has endorsed proposals set forth by Service Employees International Union, a CtW affiliate and major Sunrise holder, that could shake up the assisted-living company.
For starters, SEIU is urging shareholders to withhold support for Sunrise director Craig Callen -- the only audit committee member up for re-election -- and declassify the board so that all directors face annual elections going forward. SEIU is pushing for election of a new independent board member in the meantime. It is seeking approval of another resolution, which could hit current executives in the pocketbook, as well.
Notably, having already raised questions about lucrative insider sales, SEIU is now demanding that executives -- who collected favorably priced stock options based on financial results that must be restated -- return any ill-gotten gains.
For its part, Sunrise recently announced that an independent review has cleared management of backdating stock options and trading on material non-public information ahead of a plunge in the company's shares. Still, critics have their doubts.
"There is some concern about whether the investigation reached the appropriate conclusion," Clayton says. Meanwhile, "there is a whole cluster of issues that speaks directly to the board's failure to keep tight reins on company management. Shareholders have a very clear interest in making changes" at the company.
Shares of Sunrise have actually fared quite well in the meantime. After major setbacks in recent years, the stock has fully recovered -- lifted by hopes for a potential buyout -- and currently hovers near its all-time high. Following a company announcement Friday morning offering details about the upcoming meeting, the stock slipped 8 cents to $38.86.
Still, a lawsuit filed last month by former Sunrise CFO Bradley Rush has raised some serious concerns.
Sunrise terminated Rush this spring for reportedly destroying documents related to an internal investigation of the company's finances. But Rush claims that he did no such thing and in fact insisted on a thorough accounting review - despite mounting resistance from company leaders - that cost him his job in the end.
"Sunrise eventually just wanted Mr. Rush out of the way," says Rush's attorney, John Dowd. "So they fired him and made him the scapegoat."
For its part, Sunrise insists that Rush's claims are "completely without merit" and says that it will prove its case in court.
The charges are significant. All told, Dowd says that Rush uncovered "no less than nine improper accounting practices" employed by Sunrise before he took over as the company's CFO. However, Dowd claims, Sunrise seemed less interested in pursuing a thorough restatement -- a remedy embraced by Rush -- than in rushing forward with a private sale of Sunrise that would lessen government scrutiny of the company and generate huge windfalls for its top executives.
Based on Rush's lawsuit, CEO Paul Klaassen and President Thomas Newell negotiated a firm offer with private equity buyers that would have brought them "extraordinary" gains.
"Klaassen stood to gain more than $350 million and Newell approximately $40 million," the complaint says. But "Klaassen stated that, if asked, Klaassen and Newell were going to deny that substantive discussions had occurred. Klassan encouraged Mr. Rush and others present likewise to have consistent 'convenient' memories.
"Angered by this pressure from Klaassen, Mr. Rush told General Counsel John Gaul and others that he would not follow Klaassen's directive and, if asked, would disclose the true nature and extent of the negotiations."
After that, the lawsuit claims, Rush faced mounting pressure from company leaders and found himself jobless in a matter of months.
By then, Klaassen and his wife -- the company's two biggest inside shareholders -- had already struck it rich by cashing in favorably priced stock options with impeccable timing. Despite findings from Sunrise's independent committee, SEIU remains suspicious of those transactions even today.
"They disposed of 600,000 shares in 12 sales between Dec. 19, 2005, and May 2, 2006, for total proceeds of $21,426,580," SEIU noted in a letter to Sunrise's board late last year. "Initiated as a series of planned sales in December 2005, around the time the company first contemplated its accounting review, these sales represented the first outright stock sales by the Klaassens since the company went public" more than a decade ago.
Some are worried enough about Klaassen's actions to seek his removal from the company's board. Proxy Governance, a small rival to ISS, recently asked shareholders to withhold support for both Klaassen and Callen -- while casting votes in favor of a newcomer -- at Tuesday's annual meeting. It has endorsed the proposed governance reforms as well.
CtW just hopes investors get that message and have enough power to bring about change.
"The clear concern we have is that shareholders who rely on ISS in particular, but also other proxy firms, will have neither the information nor the representation at the meeting that they need," Clayton says. "Then other companies where insiders have an interest in preventing accountability could seek to take advantage of this loophole.
"There is a real risk of setting a bad precedent here."