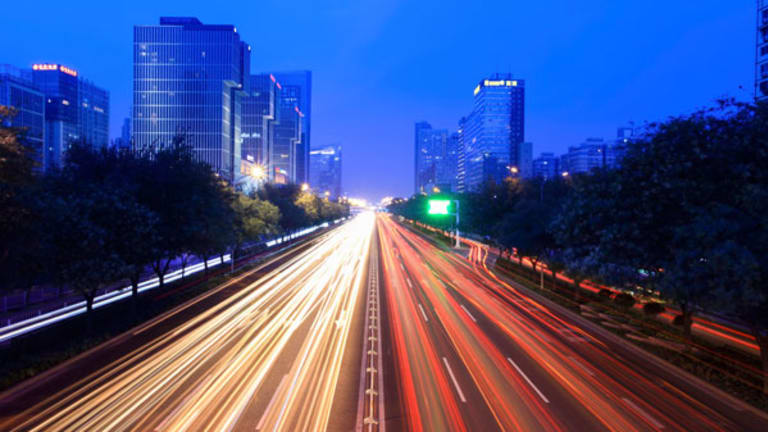 SunPower to Revise Outlook; Italy Weighs
SunPower reports results in line with recently lowered earnings guidance.
SunPower reports results in line with recently lowered earnings guidance.
NEW YORK (
) --
SunPower
( SPWRA) reported revenue of $450 million and earnings per share of 15 cents in the first quarter after the close on Thursday, earnings that were in line with recently revised expectations, but said that the full year view remains uncertain due to the European subsidy changes.
SunPower's CFO Dennis Arriola, said in the earnings release, "We are in the process of optimizing our portfolio allocation geographically and across our downstream channels for the remainder of 2011. We expect to complete this process in the near future and plan to revise our 2011 guidance before the end of the second quarter to reflect the recent changes in Italy."
The company reaffirmed its full year shipment outlook even as Europe slows as a market for solar modules.
In announcing the 60% stake that European oil giant
Total
(TOT) - Get Report
is planning to
a few weeks ago, SunPower pre-reported its earnings guidance downward revision.
SunPower net income on a non-GAAP basis was $14 million, versus $143 million in the year ago first quarter and $5.2 million in the fourth quarter of 2010.
Gross margin on SunPower large-scale project business fell from 27.7% in the fourth quarter 2010 to 18% in the first quarter of the new year, while its residential and commercial business saw a slight margin decrease, from 23.8% to 23.1%.
SunPower's larger business in the first quarter was the large-scale business, with revenue at $245 million, versus $200 million from its higher margin residential and commercial business.
For the second quarter, SunPower is guiding to revenue of $500 million to $550 million, below the average analyst estimate of $598 million -- though the standstill in Italy has led analysts to conclude that many solar companies won't make second quarter numbers. The solar company reaffirmed its full year shipment target of 825 megawatts to 920 MW, though it highlighted the flexible allocation strategy being employed as a result of the uncertain conditions in Europe.
The conditions in solar, and in particular in Europe, are uncertain. On Tuesday and Wednesday, the leading Chinese solar companies,
Trina Solar
(TSL)
and
Yingli Green Energy
(YGE)
pre-reported that
first quarter shipments would be lower
than expected .
The back-end loaded case for 2011 earnings was no different when
First Solar
(FSLR) - Get Report
reported earnings, with the industry bellwether highlighting all of the risks in the solar market, saying the second quarter in particular would be difficult, but having the confidence to
stick with its full year guidance
.
The slowdown in Europe was evident in the SunPower results, with sales to Europe decreasing from 74% in the fourth quarter last year when the Italian boomwas going on, to 43% in the first quarter, when North America was the larger revenue generator at 45%.
In more dire news from the U.S. solar sector,
Evergreen Solar
( ESLR) announced after the close on Thursday that it has hired financial advisors to review measures including
a bankruptcy that could wipe out
existing shareholders. Evergreen Solar has been financially handcuffed for more than a year, recently shutdown and wrote-off its Massachusetts manufacturing facility, and has been trying to resurrect its business as a solar wafer manufacturer in China. Bondholders of the company rejected a debt restructuring proposal from the company earlier this year.
With the 40% premium that Total has offered for SunPower shares up to 60% of the company, the quarter results were overshadowed by the deal announcement, seen as a coup for SunPower. However, SunPower has at least 3 key large-scale projects in Italy that will be racing to get constructed ahead of an upcoming June deadline for the existing higher feed-in tariff rate in Italy.
"That's the next thing, Italy gets going again and a ton of projects rush to get finished before the FIT rate changes," said Kaufman Brothers analyst Jeff Bencik. However, the analyst wasn't too concerned about SunPower's ability to meet the deadline. "Honestly most of these guys are good at rushing projects to meet deadlines," he said.
On Thursday, SunPower competitor First Solar announced that the Department of Energy had given support to three of its large-scale projects that are being reviewed for Department of Energy loan guarantees. Solar companies and other alternative energy firms are racing against a Sept. 30 deadline for the DoE's section 1705 loan program. The Department of Energy letter decided to fast track some loans and put others on the back burner as it deals with its own funding issues and deadlines, and First Solar's three large-scale projects came out on the right side of the DoE decision, sending First Solar shares up 5% on Thursday.
Another issue for SunPower will be cost, as it continues to be dogged by questions about its cost reduction roadmap. "I'm still concerned about costs and I'd like them to actually say where they are and where they expect to be by the end of year," Kaufman's Bencik said.
SunPower shares were flat in after-hours trading on Thursday.
-- Written by Eric Rosenbaum from New York.
RELATED STORIES:
>>Total to Take Majority Stake in SunPower
>>Is Italy's Last Solar Gold Rush Doomed?
>>How Thin Film Plans to Beat Chinese Solar
>To contact the writer of this article, click here:
Eric Rosenbaum
.
>To follow the writer on Twitter, go to
.
>To submit a news tip, send an email to:
.