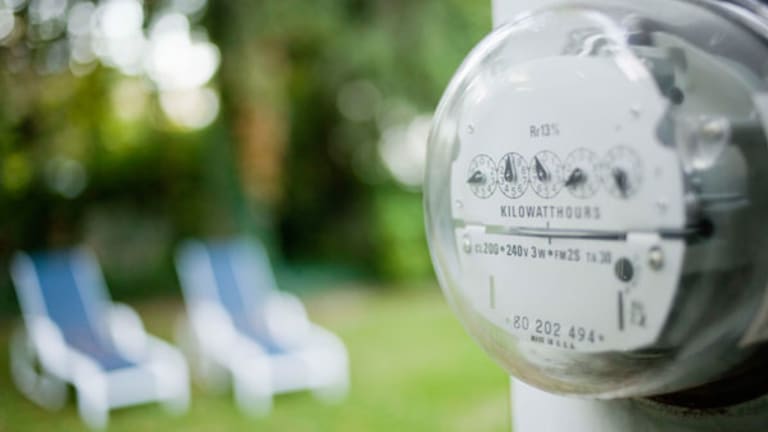 TEMPE, Ariz. (
) -- When
SunPower's
(SPWRA)
systems unit president, Daniel Shugar, took a scheduled 9- to 12-month leave of absence beginning in March, the outcome was not expected to be Shugar's permanent departure. However, SunPower filed a document with the Securities and Exchange Commission on Monday afternoon saying Shugar would not return.
How big a deal is Shugar's departure for SunPower investors? It is hard to say without knowing the specifics surrounding his departure -- but Shugar's exit does highlight the risks associated with the large-scale project business in the U.S. It is a business that many solar firms have been focusing on as the next big growth area.
SunPower, in conjunction with
Pacific Gas & Electric
, has a 210 megawatt (MW) project still in the works, and Shugar, a utility industry veteran, worked for PG&E before moving to SunPower.
Meanwhile, just last week, it was revealed that
First Solar
(FSLR) - Get First Solar, Inc. Report
had let applications for 2.6 gigawatts (GW) worth of large-scale solar projects lapse, news that highlighted the
permitting hurdles that solar companies like First Solar face in dealing with government agencies overseeing large-scale solar farms.
In truth, the U.S. large-scale, utility-affiliated solar projects may
still be a good long-term bet for First Solar and SunPower. Yet at the biggest-bang-for-the-solar-watt end of the large-scale market -- projects of 250 MW and up -- the obstacles are significant.
In letting go of those 2.6 gigawatts (GW) of large-scale projects, First Solar let lapse four projects of 500 MW to 1,000 MW. At the same time,
MEMC Electronic Materials
(WFR)
affiliate
SunEdison
reached a deal with
Xcel Energy
(XEL) - Get Xcel Energy Inc. (XEL) Report
to build five 10 MW solar projects for the
Southwestern Public Service Company
in New Mexico.
Indeed, a comparison of the First Solar stall and the Sun Edison development shows that while numerous 5MW to 50MW deals are coming to fruition across the U.S., the more significant solar farms are frustrating to see to completion, and solar management timelines for delivery of electricity should be taken with a grain of desert salt.
This large-scale project frustration is where the speculative case can be made that Shugar's departure, if not a direct hit to SunPower's efforts, at least adds to the problems in bringing the large-scale U.S. solar farms to market. What's more, it highlights issues for SunPower that mirror First Solar's recent decision to let larger-scale solar projects lapse.
Shugar's deep industry knowledge of utilities, stemming from his days at PG&E, could only have helped SunPower over the past half year as the solar player has tried to stay on target with a self-imposed deadline of early 2010 for completing permitting on the 210 MW project, the California Solar Valley Ranch.
Still, the bigger issue is whether SunPower can deliver on its large-scale promises. Indications are that the permitting is behind schedule and that SunPower's expectation of delivering 21 MW to PG&E by the end of 2010 may be a little too bright an outlook. And, in the least, Shugar was supposed to lead these very complicated large-scale initiatives, noted Hapoalim Securities analyst Gordon Johnson. Johnson, among other analysts, had been told by SunPower executives that Shugar would be returning to the San Jose, Calif.-based company after his leave of absence.
In a recent research note, Wedbush Securities solar analyst Christine Hersey said that, as is the case with First Solar, SunPower faces significant risks related to the U.S. large scale market, risks that investors are not focusing on. Wedbush analysis of the California Solar Valley Ranch project indicates that SunPower could face permitting hurdles and environmental lawsuits that will delay completion well beyond the 2010 deadline, if not indefinitely.
SunPower offices were closed for the holiday week and officials could not be immediately reached.
Wedbush noted in a research note that the proposed SunPower project site is located in an area with the highest concentration of special status species in California, requiring extensive data collection and studies, as well as the potential for costly impact mitigation requirements.
"Based on the local opposition to the projects and the potential for impact to wildlife in the area, we believe environmental groups may sue to block the project even if all the permits are obtained," Wedbush speculated in the research note.
Wedbush recently lowered its SunPower 2010 earning guidance -- from $1.11 to $1.03 per share -- and price target on SunPower -- from $29 to $21 -- in large part due to risks associated with the pace of systems business growth. The changes also take into account the ongoing accounting problems at SunPower.
SunPower had previously told investors that it would have permitting completed in early 2010. However, an environmental impact report (EIR) that SunPower is working to draft has already been delayed and won't likely be ready until the spring or summer.
For her part, Wedbush's Hersey believes Fall 2010 is a more likely target for a public review of the EIR, and that the review could be followed by additional appeals, all of which would push back SunPower's stated intention of delivering electricity to PG&E by end of 2010. What's more, financing for the SunPower project can't be lined up ahead of permitting.
SunPower is not alone on this sensitive piece of California land, either. First Solar's Topaz Solar Farm, a 550 MW project, is in the same area of San Luis Obispo as the SunPower California Solar Valley Ranch. First Solar does not expect to complete permitting until 2001, and does not expect to begin delivering 150 MW of electricity to PG&E until the end of 2012. First Solar has more time than SunPower to work through the issues, from permitting to environmental lawsuit. However, many of the issues are essentially the same thorny ones.
In regards to the Topaz project, Wedbush's Hersey has written that "based on the local opposition to the project and the potential for impact to wildlife in the area, we believe environmental groups may sue to block the project even if all the required permits are obtained."
Both the SunPower and First Solar potential solar-farm pipelines look good on paper. It's the timeline to completion, and the threat of permitting delays followed by appeals and environmental lawsuits, that loom large in terms of earnings per share projections.
On second thought, maybe SunPower's Shugar picked a good time to get out.
-- Reported by Eric Rosenbaum in New York.
RELATED STORIES:
>>First Solar U.S. Ambitions Slowed
>>Solar Stocks to Watch in 2010
>>See our new stock quote page.
Follow TheStreet.com on
and become a fan on
Copyright 2009 TheStreet.com Inc. All rights reserved. This material may not be published, broadcast, rewritten, or redistributed.