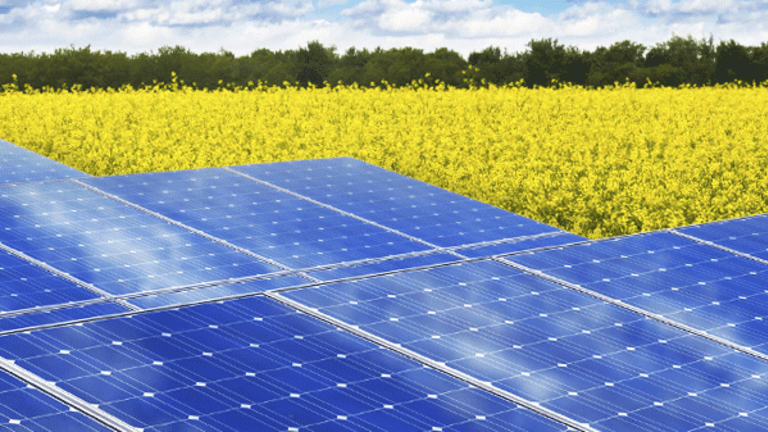 SunPower Needs to Scrap Large-Scale Utility Solar and Focus on Residential
The company's fourth quarter U.S. residential solar deployments grew 13% year-over-year, a promising sign by analysts' accounts.
SunPower (SPWR) - Get SunPower Corporation Report shares have fallen off a cliff, and it may be a long time before this solar panel maker, which is currently restructuring its business, can be considered a turnaround story. 
The company has lost 70% of its stock value in the past year, and on Wednesday evening, it announced lackluster results and gave guidance that was not what its investors, including French energy behemoth Total SA (TOT) - Get Total SA Report, which owns a 57% stake in the company, were likely hoping to hear. 
SunPower reported an adjusted loss of $89 million in the fourth quarter, or 64 cents per share, on non-GAAP revenues of about $1.1 billion. Analysts on consensus were calling for a loss of 46 cents per share on $1.05 billion in revenues. The result of the miss: another 9% shave off the top of SPWR's already crippled share price in early Thursday trading.
But some industry followers assert SunPower could right the ship abandoning the utility-scale power plant business to focus more heavily on the residential solar space. Considering SunPower's shares were worth $24 apiece this time last year, shifting to residential might be worth a look. 
JMP Securities' Joseph Osha wrote in a Thursday research note that with the backing of Total, SunPower could theoretically have access to financing that competing residential developers like Sunrun (RUN) - Get Sunrun Inc. Report, and Tesla's (TSLA) - Get Tesla Inc Report SolarCity would struggle to match (though let's not discount Tesla's ability to raise capital). 
And Osha contends SunPower has built a solid brand and a reputation of reliability with developers and homeowners, two virtues that are becoming increasingly important in the residential market.
"All of this makes the company's continued commitment to the utility-scale solar power plant business difficult to comprehend," said Osha, who reduced his price target for the stock from $6 to $5 following the earnings report. "Few of SPWR's unique technology advantages favor the company in the utility-scale business."
Indeed, the company is bleeding more than utility-scale solar competitors like First Solar (FSLR) - Get First Solar, Inc. Report and Canadian Solar (CSIQ) - Get Canadian Solar Inc. Report, though none of the market is blossoming now. 
Credit Suisse analysts Andrew Hughes and Maheep Mandloi agree that any hope for SunPower in 2017 may hinge on residential, even though U.S. market growth is slowing due to regulatory pressure and U.S. tax uncertainty -- 22% U.S. residential demand growth is expected in 2017 versus 34% in 2016 and 75% in 2015.
But the company's fourth quarter residential deployments of 94 megawatts were up 13% year-over-year and Credit Suisse is encouraged by SPWR's market share growth. The firm is calling for 355 megawatts of 2017 residential deployments for SunPower, implying the company's market share will increase from less than 10% to 10.4% during the year. 
Even with a shift in focus, it may still be some time before this market turns around, and U.S. tax uncertainty is not helping. 
It was once a sure bet that stock prices would improve shortly after Congress settled on a plan for the renewal of the U.S. solar investment tax credit, or ITC, which was at one time a yearly ritual. Ahead of the ITC's expiration date, demand pull-in for solar panel manufacturers was a given, as solar panel project developers rushed to get projects completed and tapped into the grid to lock in higher tax credits. 
But when the U.S. solar ITC was extended in December 2015, the move to extend higher credits through 2019 and gradually taper off incentives until a permanent 10% investment credit was reached a few years later was seen as a way to reduce some of the supply-demand choppiness in the sector. 
Unfortunately, it doesn't make it any easier for company followers to call the bottom, either. And now with concerns over broader tax reform swirling, it's hard to see a renewed confidence in the sector on the immediate horizon, even though many see little direct risk to the solar ITC. 
SunPower is at a particular disadvantage compared to its peer First Solar, argues Credit Suisse's Hughes and Mandlo, if some of President Donald Trump's tax reform ambitions come to fruition, due to its lack of U.S. manufacturing and high leverage. 
That's not good news for a company that is expected to effectively break even over the next two years by generating $25 million in free cash flow in 2017 and $60 million in 2018, per Osha's numbers. 
"It makes no sense for SunPower to remain in a business that it is ill-equipped to succeed in, in our view, and unfortunately the company's strategy is holding up the potential for progress in other segments of the solar market, especially residential," JMP's Osha wrote. "In our opinion, SunPower can only become investable when the company is more focused on the residential and small commercial segments, where it can compete effectively."