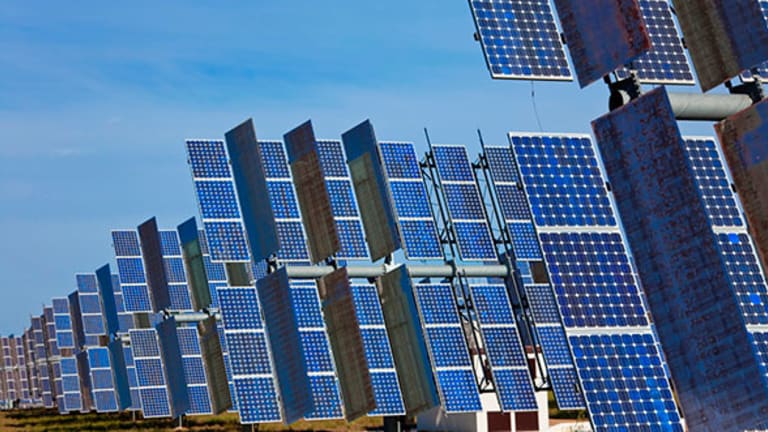 SunPower Moves to Add Capacity to Fend Off Pricing Pressure From China
The San Jose, Calif.-based buyer said it will pay $170 million to its Taiwanese partner across four years under a stock purchase agreement.
Solar panel manufacturer SunPower (SPWR) - Get SunPower Corporation Report said Monday, Sept. 20, it will buy AU Optronics (AUO) out of the companies' Malaysian solar cell making joint venture for $170 million in stock spread across four years. 
San Jose, Calif.-based SunPower said in a Tuesday statement that buying the remaining 50% of AUO SunPower Sdn Bhd from Taiwan's AU Optronics resolves a dispute between the two companies.
The joint venture manufactures photovoltaic solar cells at an 800 megawatt facility in Melaka, Malaysia, according to the statement. Under the agreement, SunPower will supply AUO with 100 MW of its E-series solar panels, while AUO will remain a solar wafer supplier to SunPower.
But at first glance, the move also looks like a play to gain greater access to low-cost manufacturing as the solar panel industry continues to face component pricing pressures due to a ramping Chinese manufacturing industry. As such, it represents a hedge against future price volatility. 
A number of Chinese companies have moved their production facilities to places like Malaysia in recent years to avoid pricey tariffs on exports to the U.S., analysts have noted, and now it appears SunPower is following suit, not to avoid tariffs but perhaps to exploit low labor costs and expand its production presence near emerging markets like India. 
Axiom Capital Management analyst James Bardowski said Tuesday in an email to The Deal that the firm is hearing that average selling prices for solar modules, also called panels, are around 36 cents per watt in India. Bardowski also noted that some comments from industry executives at last week's Solar Power International conference in Las Vegas suggest average selling prices could fall to 40 cents per watt in the United States by the first quarter of 2017. 
"I'm not sure what SPWR's [manufacturing] costs are right now, but there's no way they can compete with the Chinese," Bardowski said, pointing to reported in-house manufacturing costs for Chinese panel manufacturers Trina Solar (TSL) and JinkoSolar Holding Co. (JKS) - Get JinkoSolar Holding Co. Ltd. Report , which were at 35 cents per watt and 37 cents per watt for the second quarter, respectively. 
Furthermore, the analyst sees the move as a cheap way to boost capacity by 400 megawatt for SunPower, given that the company recently indicated its intention to expand capacity for its X-series solar panels and had previously lowered its capacity guidance by 200 megawatts. 
Indeed, SunPower has been clear about increasing capacity during the current market volatility. The company has taken a beating on the stock market with decreasing solar component costs, and it stated in its second quarter earnings release in August that it no longer expected to break even in 2016.
Moreover, the foundering solar panel maker announced plans to close its Philippine module-assembly plant and move the equipment to Mexico. It also said it would cut 1,200 employees, or 15 percent of the facility's workforce. 
SunPower's shares, which were down 74% in 2016 as of Sept. 19, were up about 4.2% to $8.17 per share on Tuesday morning.
SunPower said Tuesday it expects to close the joint venture deal by the end of September. The company launched the $1.2 billion solar cell making joint venture with Hsin-Chu, Taiwan-based liquid crystal display maker AU Optronics in May 2010.
The companies were both agreed to contribute $350 million in equity to the joint venture and own equal shares of the new entity. The joint venture's Malaysian manufacturing facility was expected to have a solar cell capacity of 1.4 gigawatts.
SunPower CEO Tom Werner said the deal will allow his company to invest in technology upgrades and further capacity expansion at the facility "as market conditions warrant."
Further financial terms of the transaction were not disclosed, and the parties did not immediately respond to requests for comment.