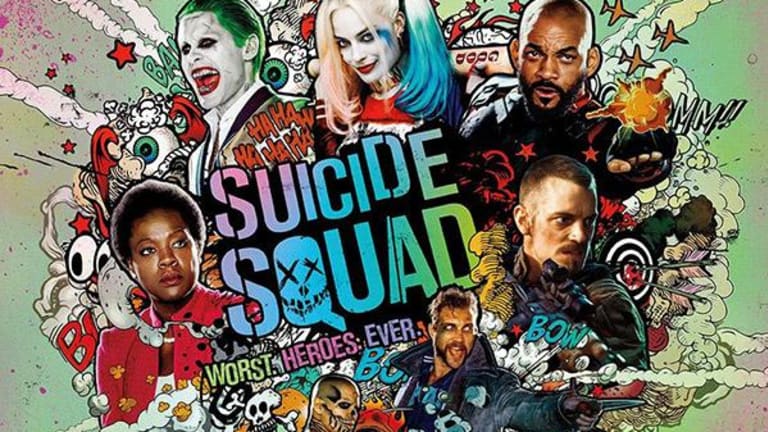 'Suicide Squad' Shatters Records at the Box Office
The film, while scoring a huge debut, did show early signs of front-loading.
As expected, the big story this weekend was the debut of "Suicide Squad," which broke the August opening weekend record by over $40 million. However, the Warner Bros. film was very frontloaded over the weekend, which suggests that steep weekend-to-weekend drops may be on the horizon. Elsewhere, "Jason Bourne" struggled to retain its audience, suffering the harshest second weekend decline in the history of the franchise. EuropaCorp's "Nine Lives" opened outside of the top 5 with a measly debut and will likely fade from theaters fast. Overall, the top 12 films grossed $223.9 million this weekend, a strong result for August and up a pleasing 88% from the same frame last year.
"Suicide Squad" opened to $135.1 million this weekend, coming in right in line with TheStreet's prediction. The debut for the film handily beat the opening weekend for "Guardians of the Galaxy," which was the record-holder for largest August weekend up to this point. That Disney/Marvel film made $94.3 million in its first three days, a number that "Suicide Squad" was able to pass in two.
However, in the long run, "Suicide Squad" is in worse shape than "Guardians," just as Warner Bros.'s DC Cinematic Universe is in poor shape when compared to Disney's Marvel Cinematic Universe. "Guardians" was able to capitalize on good word-of-mouth after its opening and ultimately reached $333.2 million at the domestic box office--an incredible result for a movie featuring superheroes outside of the mainstream. A key strength of Disney's Marvel films is their consistent quality; almost all of them have received some variation of an A CinemaScore. The good word-of-mouth allows those films to play well into subsequent weekends after their opening.
The same has not been the case for DC movies. Both "Man of Steel" and "Batman v. Superman" demonstrated poor holding power at the box office, with the latter especially falling off a cliff following its opening weekend. "Suicide Squad" is, unfortunately, a good bet to follow suit. The movie has received horrible reviews, and the film's B+ CinemaScore, while not a disaster, is still a poor result for a superhero film. Additionally, "Suicide Squad" grossed almost 50% of its weekend gross on Friday, dropping an alarming 40.6% from Friday to Saturday. By comparison, "Captain America: Civil War" only dropped 18.9% from Friday to Saturday. The poor day-to-day decline suggests that word-of-mouth is going to harm, instead of help, the box office prospects for "Suicide Squad."
However, the news is not all doom and gloom for "Suicide Squad." A $135.1 million opening weekend for a $175 million film is still a terrific result, and credit has to be given to the Warner Bros. marketing machine for making this film look like a fun way to close out the summer. Given the poor word-of-mouth, the film may struggle to hit $300 million by the end of its run. However, a gross of around $280 million seems about right considering the holding power of previous DC films, and that would be a solid outcome for a movie that was never a safe box office bet.
"Suicide Squad" thrived overseas this weekend as well. The film opened to a huge $132 million internationally, almost matching its domestic debut. The U.K. led the way with $13.9 million, and Russia and Brazil each contributed $11.3 million as well. The result in Brazil is especially impressive, considering that the film faced competition from the Rio Olympics. However, the movie is reportedly not getting a release in China, because of censorship rules that do not allow movies with a negative outlook on life to be shown. That's a large blow for the film's international prospects, considering that China is the second-largest movie market in the world, but if this weekend's numbers are any indication, "Suicide Squad" should do just fine for itself without China.
Universal's "Jason Bourne" took second this weekend with $22.7 million, which was down a troubling 61.6% from its opening. Competition from "Suicide Squad" is the most likely reason for this decline, although mixed word-of-mouth may have also been a factor. "Jason Bourne" has taken in $103.4 million through its first ten days and is heading for a domestic total around $155 to $160 million.
"Bad Moms" partied in third this weekend with $14.2 million, down a solid 40% from last weekend. The comedy from STX Entertainment is likely to continue demonstrating strong holding power throughout the month of August, fueled by good word-of-mouth and limited competition for older female audiences. "Bad Moms" has grossed $51.1 million in its first week and a half and is on course for a $85 to $90 million total.
In fourth place was "The Secret Life of Pets," which bit off $11.6 million in weekend box office revenue. That was down a solid 39% from last weekend, as the Universal/Illumination film continues to be a crowd-pleaser. However, "Pets" will get its first real taste of tough family competition with the release of Disney's "Pete's Dragon" next weekend. The film has grossed $319.6 million so far and is on track to pass the $356.5 million domestic gross of last summer's "Inside Out" before Labor Day.
"Star Trek Beyond" rounded out the Top 5 with a $10.2 million weekend. That was down a harsh 59% from last weekend, as "Beyond" continues to demonstrate weaker holding power than other installments in the "Trek" franchise. The film has grossed $127.9 million so far and, at this rate, will likely close below $160 million.
Opening outside of the Top 5 was EuropaCorp's family comedy "Nine Lives," which grossed $6.5 million this weekend. The film's premise, wherein Kevin Spacey turns into a cat, was always going to be a tough sell, so this weekend's result comes as no surprise. The film will likely fade from the top ten quickly as negative reviews and word-of-mouth take effect. "Nine Lives" should peter out around $15 million when all is said and done.