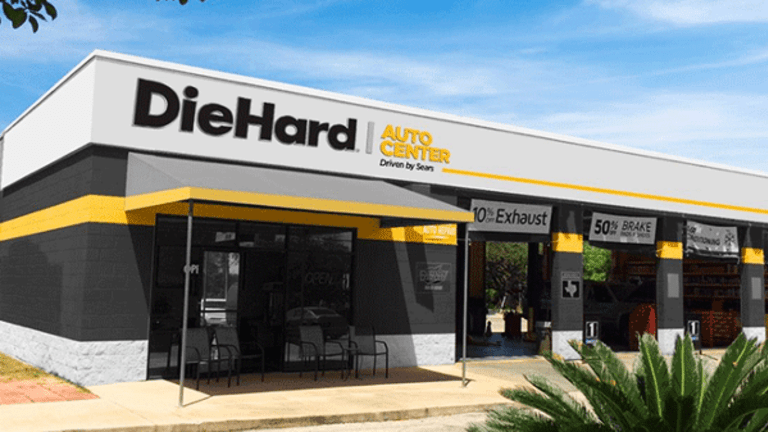 As Crazy As It Seems Dying Sears Has Opened This New Store Concept -- Take a Look
Take a gander at this place.
Is the dying Sears Holding Corp. (SHLD) back in growth mode? Apparently it's having visions that all is just fine and dandy. 
With little fanfare, Sears opened a full-service auto care facility called DieHard Auto Center Driven by Sears in San Antonio last week. The news of its debut was first reported by Automotive News. Similar to a Pep Boys, Sears' auto service stop provides oil changes, tire replacement and vehicle repairs and assessments. Unlike Sears Auto Centers, the Diehard Auto Center isn't attached to a Sears store or in a parking lot of one. 
In effect, the store may be nothing more than Sears trying to showcase the brand's potential. To raise cash last May, Sears put its three best-known brands—Craftsman, Diehard and Kenmore—up for sale. Back in January, Stanley Black & Decker (SWK) - Get Stanley Black & Decker, Inc. Report acquired the Craftsman brand from Sears for a total consideration of $900 million. Stanley Black & Decker will pay Sears $525 million in cash on an undisclosed closing date, $250 million three years after the deal has closed, and annual payments on new Stanley Black & Decker Craftsman sales through year 15.
Given its current financial state, Sears is need of speeding up the sale of its Diehard and Kenmore brands. 
Sears burned through $1.6 billion in cash last year, said Fitch Ratings recently, adding that it expects the company to run through another $1.8 billion this year. As a result, Fitch estimated Sears will have to raise some $2 billion in liquidity in 2017, roughly in line with the annual average over the past five years, just to keep the doors open.
Fitch believes restructuring risk for Sears remains "high" over the next 12 to 24 months, given the significant cash burn and reduced sources of liquidity.
Sears latest restructuring news hasn't persuaded Fitch to reverse its call. 
"Net net, there is not a lot of new news here, it's mostly a summary of recent actions. The company will still need to find sources of liquidity from its operations," Fitch Ratings analyst Monica Aggarwal told   TheStreet. "I don't see the path to profitability, the top line remains too challenged given the retail climate." 
WATCH MORE: Your Gas Tank Could Be the Biggest Threat to Retail
Earlier in January, Moody's downgraded its credit rating on Sears to Caa2 from Caa1. The downgrade reflected the accelerating negative sales performance of Sears' business, Moody's said.
"Although Sears has been able to fund its continued cash shortfalls through planned asset monetization and additional financings, a meaningful business turnaround in fiscal 2017 is critical given the continued reduction of its asset base", said Moody's vice president Christina Boni. "We expect operating cash flow to approach a disappointing loss of $1.5 billion for fiscal 2016."
Similar to her peer at Fitch, Moody's Boni was unmoved by what Sears just did.
"At some point, you can't just cut costs. Revenue has to be a driver," Boni told  TheStreet. "We still expect Sears to be an operating cash flow user this year." 
Editor's Pick originally published Feb. 23.