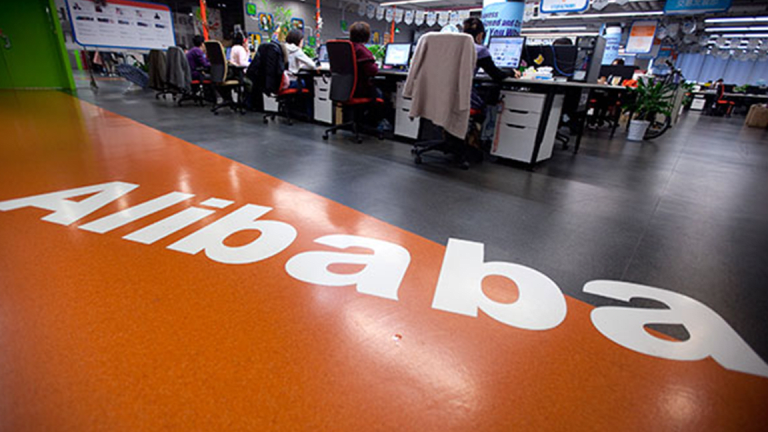 5 'Strong Buy' Stocks From Wall Street's Best-Performing Analysts
Despite the red-hot stock market, there remains some good buys. Here are several names to consider, one of them being Chinese eCommerce giant Alibaba.
Whip out your buy list, bulls.
Which stocks have the most bullish sentiment right now from the best analysts on Wall Street? These are the analysts who consistently outperform the market with the highest success rate and average return. We turned to the TipRanks Stock Screener to find compelling investing opportunities with a Strong Buy top analyst consensus rating. From the results, we pinpointed these five stock ideas- all of which boast 100% Street support. This means that in the last three months these stocks have received no hold or sell ratings. 
Let's take a closer look now.
Applied Materials is a favorite stock for top analysts right now. The company supplies equipment, services and software for the manufacture of semiconductor chips. In turn, these chips are used for computers, smartphones, televisions, and even solar products.
Craig Ellis is one of the best analysts tracked by TipRanks. Following an 'upbeat' management meeting at the huge electronics show CES, he reiterated his buy rating with a $71 price target. He now expects "memory spending sentiment to improve through 2018, and with that, [he[ expects large-cap Semi Caps like Applied Materials (and KLA Tencor (KLAC) - Get Report and Lam Research  (LRCX) - Get Report ) to enjoy multiple expansion even as sell-side EPS grind higher."
We can see from our data that Applied Materials has a stellar rating from the Street with 11 straight buy ratings in three months. Note that these analysts see the stock hitting $68 over the coming months - 18% upside potential.
Aerie Pharmaceuticals Inc (AERI) - Get Report
Eye disease pharma Aerie nabbed a crucial approval from the FDA back in December. The U.S. regulatory body approved Aerie's lead product Rhopressa way ahead of schedule. Aerie is now set to hire a 100-person strong sales force in preparation for its big launch in 2Q18.
"The FDA has approved Aerie's Rhopressa drug for the treatment of patients with open angle glaucoma or ocular hypertension. We see this announcement as a positive for the company and also a positive read-through for the potential upcoming approval of Roclatan in 2019," said Mizuho Securities analyst Difei Yang.
And, intriguingly, she added: "The approval of Rhopressa reinforces our view that Aerie Pharmaceuticals is a strong takeout candidate." Yang has an $87 price target on the stock and a huge 72% average return across her 39 Aerie ratings.
Overall Aerie has received 6 buy ratings in the last three months. These analysts are projecting (on average) 45% growth for Aerie in the coming months.
Alibaba Group Holding Ltd  (BABA) - Get Report
Chinese e-commerce stock Alibaba shows no signs of slowing down anytime soon. According to top analysts, Alibaba is now fast approaching $218 (19% upside potential). And Jefferies' top analyst Karen Chan sees the stock going even higher. She has just published the stock's highest price target yet.
On January 15, Chan ramped up her price target from just $160 to $240, suggesting over 30% upside from the current share price. According to Chan, Alibaba is looking at "multi-year legroom for growth" in both its customer management and cloud revenue. Meanwhile, international expansion coupled with Alibaba's pioneering New Retail Strategy (i.e. online and offline retail integration) will become 'the next frontier for growth' says Chan.
We can see that this analyst has a very strong track record on Alibaba's stock specifically. Over 6 Alibaba ratings she scores an 80% success rate and 42.5% average return. Overall, Alibaba has received 14 consecutive buy ratings from top analysts in the last three months.
Lam Research Corporation (LRCX) - Get Report
On January 16, five-star Susquehanna analyst Mehdi Hosseini upgraded semiconductor stock Lam Research from "hold" to "buy." He also substantially boosted his price target from $200 all the way to $250 (24% upside potential). Bear in mind that shares have already exploded by 81% over the last year.
Hosseini lists 4 key reasons for his shift in sentiment towards Lam Research: 1) favorable industry fundamentals with stable memory spend 2) increased estimates 3) encouraging plans for deployment of offshore cash, and 4) Lam's increasing potential earnings power. He now believes the company will grow revenue by at least 5% in the 2017-2020 time period.
His Buy rating places him in line with the top analyst consensus. In the last three months, 5 top analysts have published buy ratings on Lam Research. No hold or sell ratings here. Given that shares are now trading at $201, analysts are predicting (on average) 16% upside potential from the current share price.
I recommend tracking U.S. health insurance giant UnitedHealth very closely in 2018. The company has just reported very strong earnings results for the fourth quarter- with an unexpectedly big boost expected from the upcoming tax reform. Oppenheimer's Michael Wiederhorn explains:
"Underlying results were solid across each business line, but the key topic of discussion was the impact of tax reform, which caused the company to massively raise FY2018 EPS guidance to $12.30-12.60 from $10.55-10.85. Furthermore, management is hopeful that this benefit will be sustainable in 2019 and beyond." He reiterated his buy rating on January 16 while ramping up his price target from $240 to $260.
For the quarter UNH declared EPS of $2.59, easily beating the Street estimates of $2.50/51. Encouragingly, the results also show that the company's fast-growing health services sector Optum continues to hit on all cylinders.
Over the last three months UNH has received no less than 9 back-to-back buy ratings from top analysts. These analysts see the stock spiking over 12% in the coming months to hit $269.
This piece brought you by TipRanks. TipRanks offers investors the latest insight into eight different sectors by tracking the activity of over 4,750 analysts, 5,000 financial bloggers and even 37,000 corporate insiders.
More of What's Trending on TheStreet: