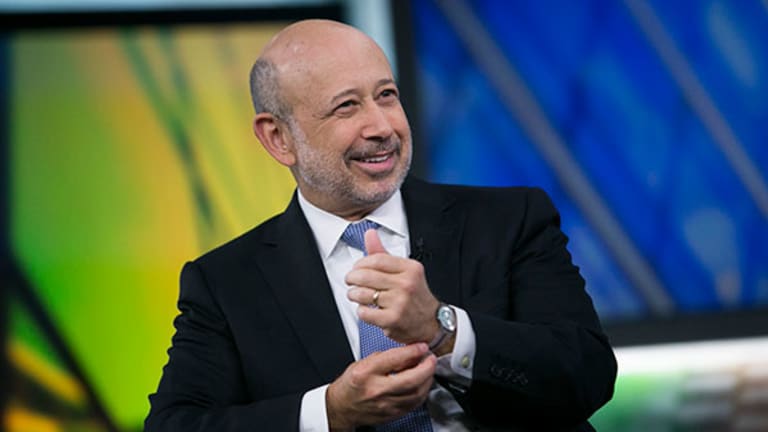 Strength in the XLF Is Setting Up Goldman Sachs Group to Explode Higher
Time to bank off this investment banking giant!
Financial stocks are starting to heat up.
You don't have to look any further than the Financial Select Sector SPDR FUND (XLF) - Get Financial Select Sector SPDR Fund Report to see the strength that's starting to take shape in this space. This popular financial ETF is trading back above both its 50- and 200-day simple moving averages. This trend above the moving averages is following a multiple bottoming chart pattern that took place between March and June at around $23 a share.
The Financial Select Sector SPDR FUND is trending within range of triggering a major breakout trade above some key near-term resistance levels at $24.59 to its 52-week high of $25.30 a share. The probability of this breakout looks very strong since this stock tested and held that $23 level of support for a number of months. Stocks that hold multiple tests of key support levels and then break to the upside have a tendency to trend a lot higher, since it demonstrates the sellers couldn't crack the stock lower through strong support.
The strength and attractive breakout setup for the Financial Select Sector SPDR FUND here makes me want to find a potential big mover in the banking sector that can easily outperform. The name that showed up in spades off my scans is investment banking giant Goldman Sachs Group Inc. (GS) - Get Goldman Sachs Group, Inc. (GS) Report .
From a technical standpoint, shares of Goldman Sachs Group have been consolidating in a pretty tight range for the past four months, with the stock trending between $209.62 on the downside and around $235 on the upside. This consolidation chart pattern is coming after shares of Goldman Sachs Group broke out in February above previous resistance around $246 a share, but then went on to fail that breakout after reaching a high of only $254.29 a share before dropping all the way to its recent low of $209.62 a share.
Shares of Goldman Sachs Group are starting to show some signs that a powerful reversal is in the cards, since it made a higher low off that $209.62 low to its recent test of its 200-day simple moving average at $216.46 a share. On Wednesday, this stock jumped modestly higher off both its 20- and 50-day simple moving average with decent volume.
That bump higher off the moving averages is quickly pushing this stock within range of triggering a major breakout trade above a key downtrend line that dates back to late March.
Traders should look for that breakout to trigger if this stock manages to clear and close above a key downtrend line that will trigger over $225 to $227 and then over $228.59 a share with strong volume. Look for volume on that move that hits near or above its three-month average action of 3.57 million shares.
Some possible upside targets off that breakout are $245 to $250, or even its previous 52-week high of $255.15 a share.
This article is commentary by an independent contributor. At the time of publication, the author held no positions in the stocks mentioned.