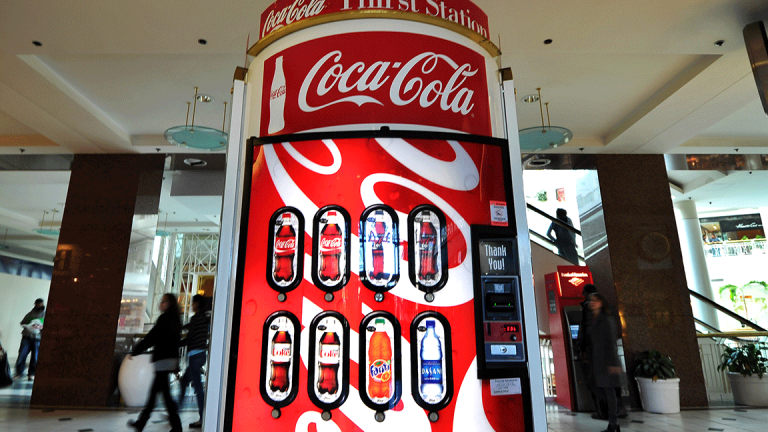 Street Rumors: Coca-Cola to Make Play for This Gatorade Rival?
Coca-Cola's Powerade brand has long been an afterthought inside of Coke's broader brand portfolio. But, the beverage company's fortunes in sports drinks could soon change.
When one door closes, another one often opens up. 
With Keurig's $18.7 billion deal for Dr. Pepper Snapple Group undefined set to close on July 9, surging sports drink brand BodyArmor -- which is more than 15% owned by Dr. Pepper Snapple Group -- could find a new home says Wells Fargo analyst Bonnie Herzog. That new home may be Coca-Cola (KO) , which for years has struggled to make strong headway into a sports drink category dominated by PepsiCo's (PEP) Gatorade brand. Coca-Cola owns the Powerade sports drink brand. 
Says Herzog:
"We think there is a decent chance that Keurig Dr. Pepper could lose BODYARMOR following the completion of the Dr. Pepper and Keurig merger (which closes on 7/9) given we don't think the new Keurig Dr. Pepper management team is interested in maintaining minority stakes (such as those Dr. Pepper undertook with its allied brands). As such, we think there's a good chance BODYARMOR could seek out a new partner/owner and we think Coca-Cola would be very interested in the brand given its success (with BODYARMOR's retail sales over the last 52-weeks of $263 million in the Sports Drink category per Nielsen, up 84% y/y). We think Coca-Cola would position BODYARMOR as a premium, isotonic brand above Powerade."
BodyArmor was launched in 2011 by VitaminWater/Smartwater founder Mike Repole (who sold VitaminWater maker Glaceau to Coke for $4.2 billion in 2007) as a better-for-you sports drink. Each of the brand's flavors boast coconut water, more electrolytes than traditional sports drinks and are lower in sodium.
The perception of being healthier compared with other sugary sports drinks has been key in aiding BodyArmor's momentum.
Repole told TheStreet in April the brand is tracking toward $400 million in sales this year, up from $235 million in 2017. Also helping to push the brand forward has been high-profile investors/athlete sponsors such as Kobe Bryant (who holds a 10% equity stake) and Los Angeles Angels star Mike Trout.
BodyArmor's sales growth could be coming at the expense of its formidable rivals. According to Beverage Digest, volume for Gatorade and Powerade were down 0.5% and 1.5%, respectively, in the first quarter. Volume for private label sports drink brands plunged 25%.
Despite the high growth, BodyArmor is still up against it when challenging its bigger foes.
Beverage Digest estimated BodyArmor currently has a 2% market share of the sports drink category, well off the 75% held by Gatorade and 15% or so for Coke's Powerade. 
A Dr. Pepper Snapple Group spokesman didn't return a request for comment from TheStreet on the status of its BodyArmor stake. 
Here's why Jim Cramer's Action Alerts PLUS is bullish on PepsiCo.