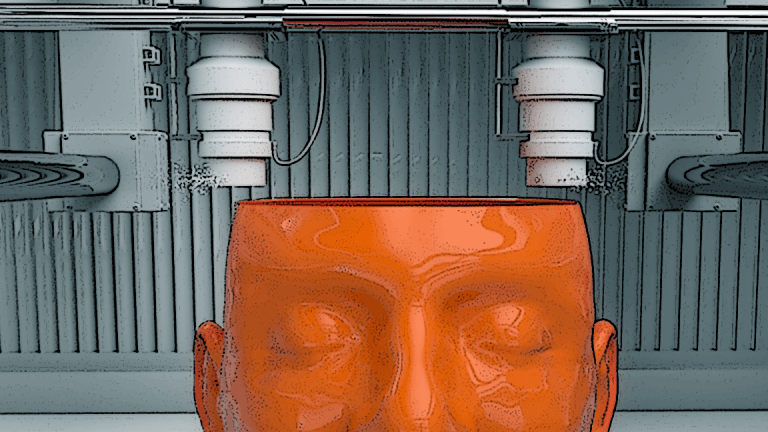 Stratasys Tumbles on Mixed Earnings Report
The 3D printing technology company posts strong earnings but weak revenue, blaming it on U.S. partial government shutdown and the sputtering auto sector in Europe.
Stratasys Ltd. (SSYS) - Get Stratasys Ltd. Report  -- the 3D printing technology company -- fell nearly 14% Thursday afternoon following a mixed earnings report. 
The company posted adjusted net income for the quarter of $11.3 million that came out to 21 cents per share -- up from 16 cents a share same time the year prior. 
While earnings rose, the company's revenue dipped from the same quarter last year. Fourth quarter revenue for 2018 only hit $177.1 million, falling from $179.3 million.
That decline was caused by the partial U.S. government shutdown and weakness in the automotive industry in Europe and elsewhere, said Stratasys' interim chief executive, Elan Jaglom.
"We are pleased with our fourth quarter and full year profitability," said Jaglom in a statement, touting the company's "record" cash flow from operations at the close of 2018.
Still, investors appeared wary on Wednesday, with shares declining to $22.93 from Wednesday's close of $26.66.
For 2018 as a whole, the company posted revenue of $663.2 million, compared to $668.4 million in 2017. Its adjusted earnings, however, rose to 52 cents from 45 cents. 
The company's PolyJet and FDM technology proved especially popular in North America, said Jaglom. PolyJet 3D printing technology can create parts, prototypes and tooling with accuracy down to 0.1 mm, and can be used for molds, tools, jigs, fixtures and other objects. FDM's thermo technology can be used with 3D printers to make durable and so-called "dimensionally'' stable objects. The Minneapolis- and Israel-based company is also investing in speeding up the development of new products, said Jaglom,
For 2019, the company expects revenue of $670 to $700 million and adjusted income of $30 million to $38 million, or about 55 cents to 70 cents a share.
"We are entering into 2019 with an impressive roadmap of new technology and products, and continued, steady progress in customer adoption of our additive manufacturing solutions for advanced applications in our target verticals of aerospace, automotive, healthcare, and high-realism rapid prototyping," said Jaglom.