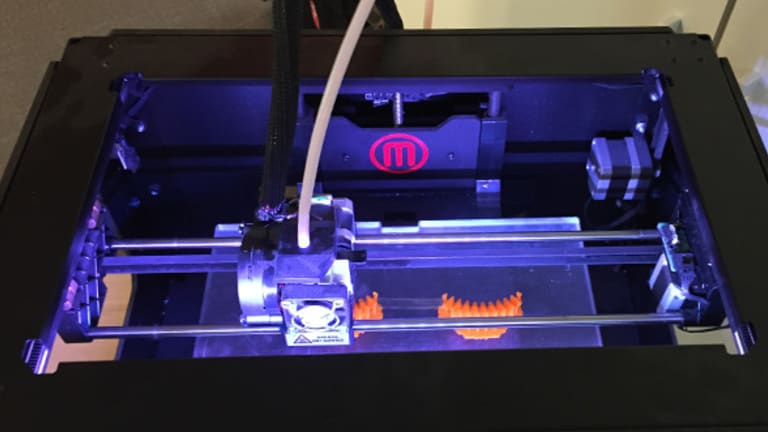 Stratasys' Latest Moves Show How Quickly the 3-D Printing Landscape Is Evolving
New technologies announced by the 3-D printer maker shine a light on the rapid pace of change in the industry.
In some ways, the present-day 3-D printing/additive manufacturing industry has much in common with the PC industry in the early-to-mid '80s. Penetration rates are still low, technologies and standards are rapidly evolving and figuring out who the winners and losers will be a decade from now is far from easy.
Two new technologies announced today by leading industrial 3-D printer maker Stratasys (SSYS) highlights just how much the industry remains in flux. One of them, known as Infinite-Build, allows the printing of objects to happen on a vertical plane, something Stratasys claims allows for "practically unlimited part size" in the direction 3-D-printed materials are being stacked (i.e. the build direction).
The company also claims Infinite-Build significantly boosts production speeds, lets materials be adjusted on the fly and allows a production process to be easily repeated. The technology is based on fused deposition modeling (FDM), a 3-D printing process Stratasys pioneered decades ago and is now widely used in the industry.
Boeing (BA) , no stranger to using 3-D printing for parts manufacturing, is exploring the use of Infinite-Build for "the production of low-volume, lightweight parts." Ford (F) , meanwhile, will work with Stratasys to explore using Infinite-Build to create "new applications for automotive-grade 3-D printed materials that were not previously possible due to limited size." The automaker has long used 3-D printers for prototyping work and last year announced a partnership with Carbon 3-D, a startup that has developed a printing process it claims can print objects up to 100 times faster than conventional approaches.
The other technology announced technology, known as Robotic Composite, aims to make the process of creating composite 3-D-printed parts less labor-intensive, and also allow for larger composite parts to be built. The solution pairs Stratasys' printing technology with conglomerate Siemens' motion control hardware, as well as Siemens' software for turning product designs into 3-D-printed parts.
Stratasys shares rose 2.8% on Wednesday. Stratasys isn't the only company to make a 3-D printing technology announcement this year that turned heads. In May, HP Inc. (HPQ) officially announced its first 3-D printers, the Jet Fusion 3200 and 4200. HP claimed the printers, which rely on its Multi Jet Fusion inkjet printing technology, will print objects ten times as fast as rival printers, and at half the cost. And by industrial printer standards, HP also priced its hardware aggressively.
For the time being, HP's printers only work with black plastic. But support for more colors and materials is promised, as is the ability to print parts containing sensors and/or "embedded information, like invisible traces or codes." The company is also allowing third parties to supply materials that can be used by its printers, and hopes to support "hundreds, if not thousands, of materials" in time.
In spite of the industry's recent woes, 3-D printing innovation continues to happen at a brisk pace. That's good news for the industry's customers, but can easily cause vertigo for 3-D printer manufacturers and their investors.