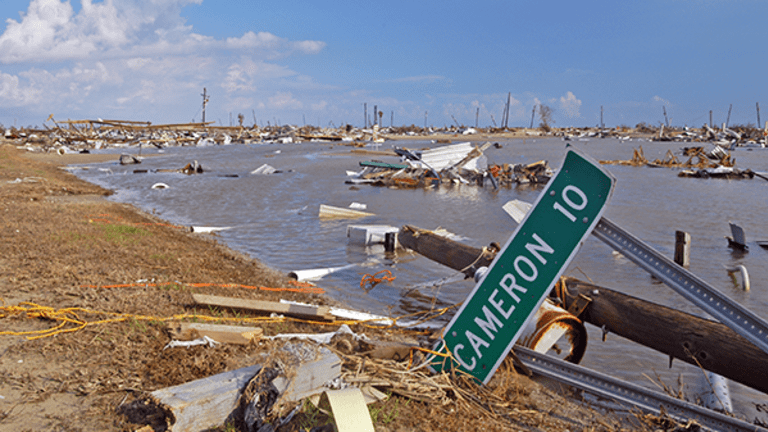 The 30 Nastiest Storms in Recent U.S. History Have Caused Mind-Blowing Damage
Hurricane season is now in full swing. How much could severe weather affect you?
Atlantic hurricane season is about to swing into its peak (see Harvey), and the U.S. Climate Prediction Center thinks end of the season could be very active. 
Experts are fairly certain that the hurricane-squashing Pacific El Nino won't happen this year, leaving plenty of ocean for the above-average 14 to 19 expected named storms to disrupt energy and agriculture markets in the Gulf of Mexico and along the Atlantic coastline of the U.S.
An estimated $28.3 trillion worth of homes, businesses and infrastructure in the 18 Atlantic coastal states are vulnerable to hurricane strikes. The Gulf of Mexico, where hurricanes grow quickly in warm water, is home to 5% of U.S. natural gas production, 17% of U.S. crude oil production and over 45% of the U.S.'s total petroleum refining capacity, according to the Energy Information Administration. Even a weak Tropical Storm Cindy in June shuttered 17% of the Gulf's oil output.
But it's not just hurricanes that brings U.S. business to its knees.
TheStreet looks back at the 30 costliest storms from 1980 to today, adjusted for inflation. Data is from the National Oceanic and Atmospheric Administration.
30. Hurricane Iniki, 1992 -- $5.5 billion
Don't miss these galleries on TheStreet:
10 of the Most Worthless And Expensive Olympic Venues of All Time
15 Killer Fall Travel Deals
10 Absolutely Worthless Pieces of Sports Memorabilia
29. Severe Storms/Tornadoes throughout the Midwest and Southeast U.S., May 3-10, 2003 -- $5.6 billion
28. Northern Plains Flooding, Spring 1997 -- $5.7 billion
27. Hurricane Opal, 1995-- $6 billion
26. California Freeze, December 18-25, 1990 -- $6.5 billion
25. Hurricane Gustav, 2008 -- $7 billion
24. Hurricane Isabel, 2003 -- $7.4 billion
23. Hurricane Alicia, 1983 -- $7.5 billion
22. Hurricane Fran, 1996 -- $8 billion
21. South Plains Severe Weather, May 1995 -- $8.9 billion
20. Hurricane Georges, 1998 -- $9 billion
19. East Coast Blizzard and Severe Weather, March 1993 -- $9.5 billion
18. Hurricane Floyd, 1999 -- $9.7 billion
17. Hurricane Jeanne, 2004 -- $9.9 billion
16. Midwest/Southeast Tornadoes, May 22-27, 2011 -- $10.1 billion
15. Southeast/Ohio Valley/Midwest Tornadoes, April 25-28, 2011 -- $11.1 billion
14. Midwest Flooding, Summer 2008 -- $11.6 billion
13. Tropical Storm Allison, 2001 -- $11.9 billion
12. Hurricane Frances, 2004 -- $12.9 billion
11. Hurricane Irene, 2011 -- $15 billion
10. Hurricane Hugo, 1989 -- $18.2 billion
9. Hurricane Charley, 2004 -- $21.1 billion
8. Hurricane Rita, 2005 -- $23.7 billion
7. Hurricane Wilma, 2005 -- $24.3 billion
6. Hurricane Ivan, 2004 -- $27.1 billion
5. Hurricane Ike, 2008 -- $34.8 billion
4. Midwest Flooding, June 27, 1993 -- $34.8 billion
3. Hurricane Andrew, 1992 -- $47.8 billion
2. Hurricane Sandy, 2012 -- $70.2 billion
1. Hurricane Katrina, 2005 -- $160 billion
Don't miss these galleries on TheStreet:
10 of the Most Worthless And Expensive Olympic Venues of All Time
15 Killer Fall Travel Deals
10 Absolutely Worthless Pieces of Sports Memorabilia