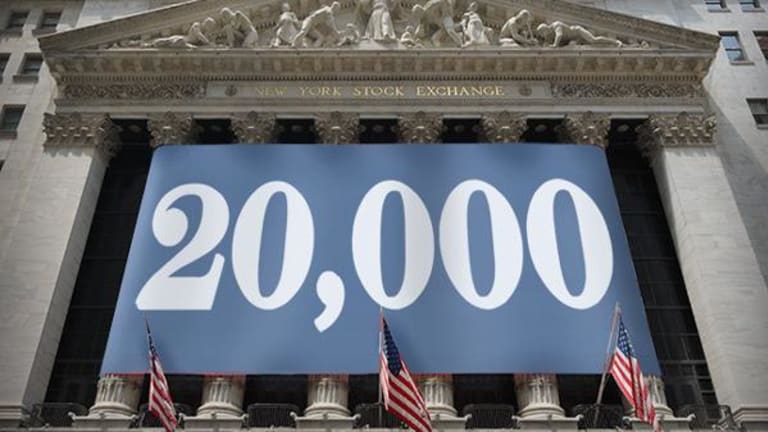 Stop Obsessing About Dow 20,000, as It Is an Arbitrary Threshold
Despite flirting with the level for a while, the index may not hit that mark until next year. Let's look at how two individual stocks fared Wednesday instead.
It has been more than a week since the Dow Jones Industrial Average first got within 100 points of breaking through the 20,000 level, and yet it now appears that the mark won't be reached until some time next year.
Despite the Dow 30 opening Wednesday in the black just 36 points from 20,000, the index closed more than 160 points shy of the historic level and down about 0.5% for the day.
The Dow 30 isn't the only major index heading south, as the S&P 500 and Nasdaq Composite were also both in the red for the day, down 0.75% and 0.83%, respectively.
Pending home sales for November fell 2.5% to a 10-month low, compared with an expected 0.4% increase. This economic report helped drive down the major indexes and could be the start of a market correction.
With the major indices on a tear since the election, some analysts have begun warnings of a correction early next year.
The basic thinking is that due to possible policy and tax changes implemented by President-elect Donald Trump, investors could be holding off on re-balancing portfolios until the start of the year. The issue with that happening is that investors may inadvertently start a mild correction as selling supply outweighs buying demand.
But the idea of Dow 20,000 is an arbitrary threshold, and investors would be better off not obsessing over it.
Instead, let's look at how two individual stocks fared Wednesday.
After an amazing year, with shares jumping as much as 18% in just the past month, Nvidia (NVDA) fell more than 6% on Wednesday.
The drop occurred after famed short seller Citron Research said that the stock is overvalued and it thinks that shares could fall to the $90 range from about $109.
The firm thinks that Nvidia will face headwinds next year, including increased competition from custom silicon and GPU workarounds; gross margin sustainability; Intel licensing revenue; intellectual property; data center competition; and growth and market share expansion.
Citron Research's report goes into further detail on each point, and while Nvidia may have a positive solid long-term outlook, investors may want to wait for a pullback before buying shares.
One company that bucked the trend Wednesday was Kate Spade (KATE) , with shares up about 23%, as speculation continued that the apparel company may be exploring a sale.
Reports indicate that the company is in the early stages of talks with an investment bank and other retailers that may be interested in purchasing it.
Last month, Caerus Investors, an activist investment firm, wrote to Kate Spade's board asking it to consider the option as a path to growth and profitability.
Coach and Michael Kors Holdings have been floated as possible buyers. Both companies are sitting on decent amounts of cash, and Coach has a history of buying smaller companies.
Kate Spade is valued at $2.3 billion, much smaller than either Coach at $9.5 billion or Michael Kors Holdings at $7 billion.
On Wednesday, shares of Coach rose 2% and Michael Kors Holdings were up 0.51%
Based on those stock moves, it looks like investors think that Coach is a more likely buyer. Given its size and history of making acquisitions, this would make sense, but it would also really hurt Michael Kors Holdings if Coach bought Kate Spade.
That reality could motivate Michael Kors Holdings to make an offer, but it is unlikely that the company would be able to justify paying more than Coach.
Both Coach and Michael Kors Holdings have struggled over the past few years as brand destruction and discounting hurt sales.
Although both are trying to repair the damage that they have done, most analysts say that the process will take years, not quarters.
Buying Kate Spade would help increase sales and earnings during a time when both potential acquirers need a boast.
From an investment standpoint, stay on the sidelines until more definitive news is reported.
---
While only time will tell if a correction occurs, you may want to begin rebalancing your portfolio, with stocks that can grow in both bull or bear markets. Find out what you should be buying now, by clicking here.
Personally I have never really been a fan of the retail industry due to constant fashion changes and the difficulty predicting the future. So while I wouldn't buy Kate Spade, Michael Kors or Coach today, I would buy any of the stocks on this list of seven companies that would be worth owning, no matter what kind of investor you are. These are stocks that you will profit from regardless of what the markets do. Get their names here before it's too late.
The author is an independent contributor who at the time of publication didn't own shares of any company mentioned.