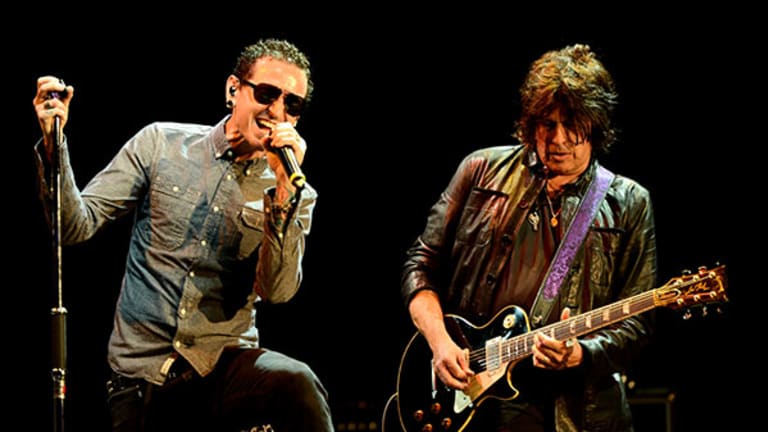 Stone Temple Pilots' Robert DeLeo Talks 'High Rise'
Ed Ponsi interviews the Stone Temple Pilots bassist on the band's recent troubles and triumphs.
NEW YORK (TheStreet) -- The story of Stone Temple Pilots is fraught with highs and lows. It's a dream of rock stardom come true that turned into a nightmare of discord before collapsing into a pile of legal briefs.
Could this story have a happy ending? Just a few months ago, that seemed impossible. How would the band replace the brilliant but troubled Scott Weiland, one of the most iconic vocalists and performers of his generation? Newly christened "Stone Temple Pilots with Chester Bennington," what would the band sound like with the Linkin Park frontman at the helm? With the Oct. 8 release of
High Rise
, the band's new five-song EP, we're about to find out. I spoke with songwriter, bassist, and founding member Robert DeLeo about the band's past, present, and future.
TheStreet: At your live show, there's an unmistakable sense of joy on the stage. That joy also permeates
High Rise
. How happy are you with the state of the band right now?
DeLeo:
Very happy -- it's a new chapter for Stone Temple Pilots. We're excited and we're enjoying ourselves. I look at it this way -- there are a lot of people in this world who work hard and don't enjoy it. Playing music, its work but I feel really blessed to say I make music in my life. What's more enjoyable than to have the gift of doing that?
Chester Bennington's vocals on
High Rise
are going to surprise a lot of people. He sounds almost angelic at times. Were you surprised by his versatility, or were you aware of this all along?
We were aware of it. It's like any artist, actor or entertainer -- I always use Jim Carrey as an example. He made all these great, funny movies, and then when he did a serious role, people were like, "What is he
DOING
?" People get used to seeing you one way, and they have certain expectations.
Linkin Park has made a huge imprint, and people are obviously going to associate him with their sound. But when someone steps out, and gets into another environment, you see another side of that person. I think that's healthy for everyone.
Black Heart
is a very catchy song, how did that come about?
It's always a challenge to come up with something new. I wanted to write something that would encompass everything -- great power chords, great stringy chords, and tie it all together. I think on
Interstate Love Song
, I accomplished that. With
Black Heart
, when Chester started singing, it brought out this Lennon-esque vibe and we ran with it, and really enjoyed where it took us.
Was
Interstate Love Song
written in the back of a truck?
On our first tour, we had an RV and a truck. Sometimes I'd ride in the back of the truck with my cheap nylon-string acoustic guitar. That's where the song originated.
Interstate Love Song
originally had a bossa nova beat. I wrote the chords, and then wrote the melody and I showed it to Scott. But yeah, it was born in the back of a truck driving around the country.
Who did you admire when you started playing bass?
At age three I have a vivid memory of hearing James Jamerson, who is my favorite bass player - period. He played on all those great Motown songs. Also, I grew up in New Jersey, and the Philly sound in the '70s really influenced me.
My bass playing is really influenced by R&B, but I started out on guitar, which was more of a rock thing. I can vividly remember being turned on by
Brown Sugar
from
Sticky Fingers
at a very young age.
In concert, you and Dean were soloing together on Church on Tuesday. Is that something new?
One thing I've got to say about my brother, he brings out the best in me. The way he writes and plays steps up my game. We want to be the best for each other's music, live as well as in the studio.
STP will visit Japan and Australia soon...any other interesting destinations?
We're in talks to stop off in Dubai and possibly Mumbai on our way to Australia. There's always a bit of
Indiana Jones
when you're in a band.
High Rise
has a very STP feel, but also very modern
.
It's a natural progression in our sound. We recorded
High Rise
in my basement. It's funny how a collection of songs can evolve from the point they're conceived, then mixed, and then mastered.
Its light years away from that 'grunge' label some people attached to the band when you started.
When I look back, I think
Purple
, our second record, was pretty far from grunge, and by
Tiny Music
it was really far from grunge.
High Rise
brings me back to the
Tiny Music
era or even the
Purple
era. It's just a continuation of our style of writing.
Regarding
Core, Purple
and
Tiny Music
, the sound of the band always varied greatly from album to album. Did you consciously set out to push boundaries?
The four of us just had really varied musical tastes. For most bands, the first album is the most aggressive. You're at that age where you're pissed off -- what male isn't angry and aggressive in their 20's? Look at the difference between the Police's first album and Sting's first solo album -- they're a million miles apart. I look at that as a great progression in someone's musicality, and in their life.
The live show is tight...any special preparations this time around?
Chester is giving his all, he's very committed and that brings out a different energy to the three of us, Dean and Eric and me. When you have that standard to live up to, it really inspires you -- you have to step up. The singer is the quarterback of the band. Chester is setting the tone, and the rest of the guys fall right in line with that.
You can sense a different vibe...
Isn't life really about vibes? It permeates not only the band, but the crew and the audience. I think people are very in tune with what's happening, or what's not.
That positive attitude is contagious...
Yes it is. And it's time for it. It's time for it in our lives.
Speaking of which...when someone shows up late on a consistent basis, it usually means that they don't want to be there. Do you feel that perhaps Scott just didn't enjoy performing with the band?
Yes...it's something we've felt for a long time. Definitely felt that for a long time, absolutely.
Talk for minute about the changing role of major record labels ...
I had the honor being on Atlantic Records. To be a part of that family, people like Ahmet Ertegun -- there was a great history to that label, and to be part of that was an honor. It's a different world now . . . we made this record in my basement, on our own label, Playpen Records.
We were working on
Out of Time
, and I just had to stop. "Do you realize where we are? We're grown men down in the basement!" Just thinking about how many times as a 12-year-old kid we'd be down in the basement, making music -- it's really come full circle.
I understand it took three years to build that studio...
(laughs) Let's just say my wife is very patient.
Any chance for a revival of the live acoustic set?
We were thinking about that, but this is our first tour, and we've done so much in a short time already. Everything is so rushed right now -- since April, we've been working hard to put together something we really love. From the live shows, the single, the EP, and everything in between, we're the busiest we've ever been. We want it to be the greatest it can be. We want to do this next chapter of STP right.
-- Written by Ed Ponsi in New York
Ed Ponsi is the managing director of Barchetta Capital Management, an NFA-registered commodity trading advisory, and also provides educational services through EdPonsi.com. An experienced professional trader, Ponsi has advised a variety of hedge funds and institutional traders. Ed has appeared on CNBC more than 100 times and has been profiled in magazines such as "Technical Analysis of Stocks and Commodities" and "The Traders Journal." He is the author of Forex Patterns and Probabilities, a top-selling book on currency trading and The Ed Ponsi Forex Playbook, which was endorsed by Steve Hanke, professor of applied economics at The Johns Hopkins University. Ed's books have been published in English, Vietnamese, and simplified Chinese.