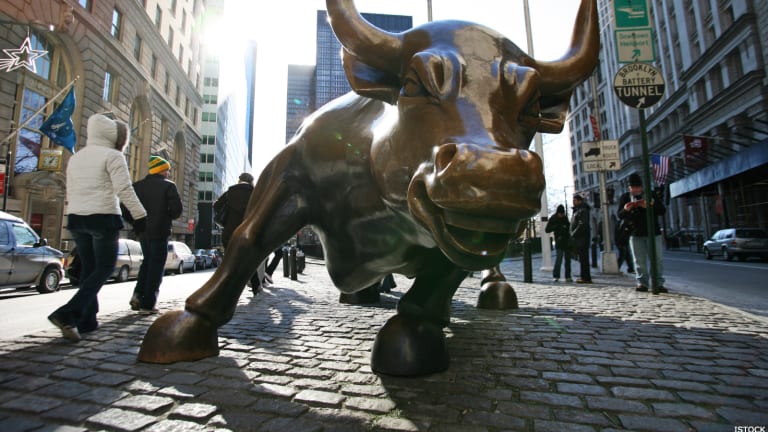 Why the S&P 500 Will Surge to 3,000 in 2018
Who said the bull market was over? Be on the lookout for double-digit returns from the index.
The bull market doesn't stop here.
After a stellar 2017, the S&P 500 Index will soar to 3,000 by the end of 2018, setting equities up for further gains on a double-digit return trajectory, according to Credit Suisse analysts in a Dec. 21 note.
Reaching 3,000 implies the index will rally about 12% in the next 12 months. While those gains would be strong, they would fall short of the nearly 20% increase the index has experienced this year.
"Our 2018 bullish call is based on 8% to 9% organic EPS growth plus modest multiple expansion," Credit Suisse wrote. Analysts added that 2018 earnings should experience an additional one-time bump of about 8% to 9% as the corporate tax rate drops to 21% from 27%.
"Our market view is primarily predicated on a supportive economic backdrop, a pickup in near-term indicators and benign recessionary risks," analysts said. "While we expect more muted longer-term growth, this has focused corporations on cost containment and the return of capital to shareholders, extended the current business cycle and lowered discount rates."
In the near-term, global economic data from the past year has inflected higher while inflation has remained low, analysts said. For the medium-term, recessionary risk is quite low despite the age of the bull market, which is closing in on 10 years. And in the longer-term, Credit Suisse said, "slower growth extends the business cycle, driving down volatility and discount rates, while also promoting cost vigilance and the return of capital."
More of What's Trending on TheStreet: