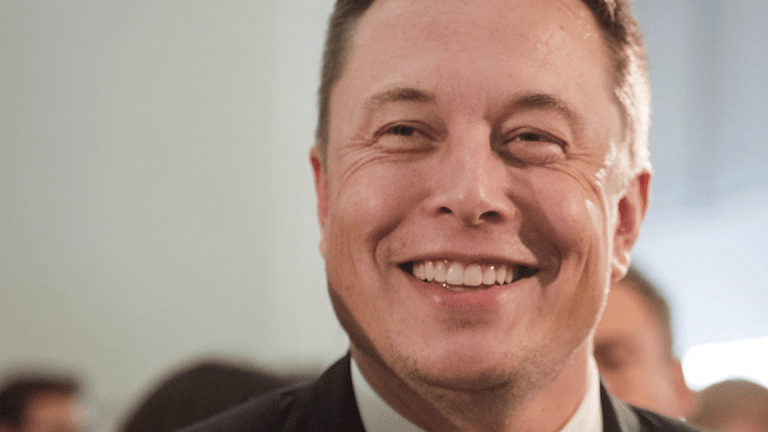 Why Stocks Only Have One Direction to Go
Market rally back on? Let's get real. Meanwhile, Papa John's founder John Schnatter is out as chairman after making racially insensitive comments.
What trade war?
Goldman Sachs said it sees the S&P 500 
undefined

rising to 3,000 by next year. Strategist David Kostin's call is mostly rooted in a bullish outlook for corporate profits, despite modeling for a three-year growth slowdown starting in 2019. He expects minimal price-to-earnings multiple expansion for the S&P 500 next year.

Let the Apple (AAPL) - Get Apple Inc. Report rumors commence ahead of earnings later this month. RBC Capital Markets analyst Amit Daryanani said he expects three new iPhones to be launched this year. He also thinks the Chinese smartphone market, which hurt Samsung, has stabilized. On the iPhone: "We continue to anticipate 3 different iPhones being launched - one LCD SKU and two OLED SKUs. Suppliers are ramping for the LCD SKU to outsell the other two OLED SKUs as LCD SKU will have more noticeable form factor change (though this assumes the LCD model is priced reasonably - $699-799 range)." On the Chinese smartphone market: "Feedback from supply chain partners indicated that the China smartphone market has stabilized. However, suppliers remain cautious as strength is seen at specific OEMs vs. across the board."

Nice read on Tesla (TSLA) - Get Tesla Inc. Report out Thursday from Bloomberg BusinessWeek. CEO Elon Musk comes off like a hard-working founder doing battle against a mean group of Wall Street folks and Twitter trolls, while the rest of the team oversees a business with many weak points. The story discusses a horrific accident at Tesla's plant that allegedly caused someone's leg to be amputated. The year of Tesla continues.  
Names on TheStreet
Dunkin' Donuts (DNKN) - Get Dunkin' Brands Group, Inc. Report no doubt has the right guy in David Hoffmann to lead the company as CEO for the next 10 years. I talked with Hoffmann Wednesday afternoon following his appointment and came away impressed. It wasn't our first time chatting, but you can tell he has gained that next-level experience critical to a CEO after being recruited from McDonald's (MCD) - Get McDonald's Corporation Report two years ago.
His career also is a good story at a time of growing worker unrest in the fast-food industry -- Hoffmann began his career as a line cook at McDonald's in his early teens. "I am sort of a product of minimum wage. I grew up in the restaurants. That has been my whole life. It was burgers and fries at 16 and it's donuts at 50," Hoffmann told TheStreet. If Hoffmann can finally crack the codes on Dunkin' international and get more people into Dunkin' Donuts in the afternoon, there will likely be a plaque for him at the company's Boston HQ by 2028.
Another executive that has some code-cracking to do is MoviePass parent company CEO Ted Farnsworth. Shares of Helios and Matheson Analytics (HMNY) hit an all-time low of 17 cents on Wednesday amid continued concerns on its financials. The stock peaked last October at $32.90. Farnsworth seemed pretty chill about things in an interview with TheStreet's Taylor Rogers.
"The money issue on my side has never been an issue," Farnsworth said. "I don't mean that to be cocky or arrogant, but people see what it is. When you go to a movie theater, half of the people there have MoviePass."
Menswear designer Joseph Abboud is also chill, but with good reason -- he is an American success story. Making suits in America is something Abboud championed years ago. He continues to drive home the mission via his suit manufacturing facility in New Bedford, Mass. "I think people appreciate made in America," Abboud told TheStreet. Abboud said his facility in New Bedford will be expanded to handle the demand he continues to see.
Rant of the Day
Papa John's (PZZA) - Get Papa John's International Inc. Report founder John Schnatter only had to do one thing: shut up and run a digitally led fast-food pizza company at a time of explosive growth for companies that have a leadership position in digital. Papa John's has long had that leadership position to go along with a strong store development pipeline and the feel-good nature of how Schnatter started the business.
Alas, Schnatter's foot has often ended up in his mouth via comments unbecoming of a public company founder or decent member of society. Now Schnatter is out as chairman of the company he founded after making racially insensitive comments on a PR call, as originally reported this week by Forbes. As I wrote several months ago, the ordeal with Schnatter (he stepped down as CEO in January after insensitive comments regarding NFL protests) makes it a good time for another company to make an offer.
Read TheStreet's take on who could step up with a bid for Papa John's.