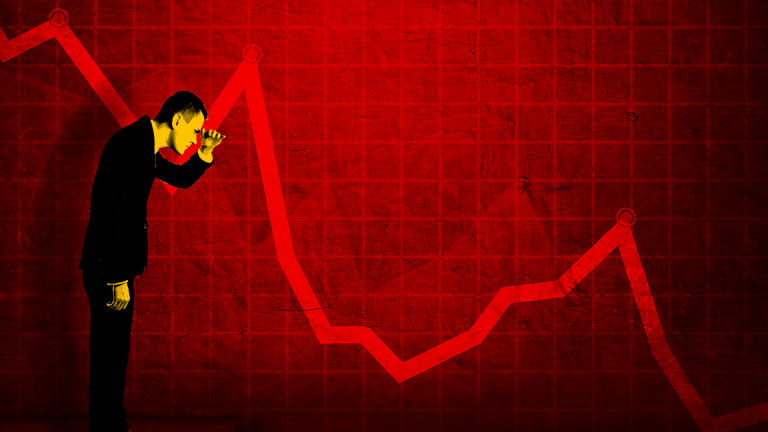 Stocks Will Be Down 20% by the Time 10-Year Treasury Yields Hit 4%
TheStreet's founder Jim Cramer lets Tesla fanboys on Twitter have it. Meanwhile, Corporate America remains wildly too bullish.
TheStreet's founder Jim Cramer lets Tesla fanboys on Twitter have it. Meanwhile, Corporate America remains wildly too bullish.
The market has a problem.
Of course, Wall Street's biggest bulge bracket firms (aka investment banks) are going to say yields above 3% don't matter. Their talking point: 10-year yields at 4% will bring the bone-crushing stock market crash. Home Depot's (HD) - Get Report Chief Financial Officer Carol Tome told analysts on Tuesday that yields at 5% would be the most painful.
Here's the reality: By the time yields touch 4%, the market may be down 20% from its highs. Remember that the market is a forward-looking indicator, and right now it's worried about higher interest rates rippling though a highly leveraged global financial system. The speed of the yield's increase each session is what matters at the moment, not anyone's forecast. And to that end, it may be wise to stay cautious on stocks until the dust settles in bonds. 
Heck Yeah, That's What I'm Saying
TheStreet's founder Jim Cramer is giving it straight to his 1.1 million Twitter followers Wednesday on the sinking ship known as Tesla (TSLA) - Get Report . "If Tesla's Model 3 assembly line goes down for a few more days then I think it would be fair if (CEO Elon) Musk said he now does have to raise money because of changed circumstances. He can get around the new new equity call easily with that," Cramer tweeted. All eyes are on Musk as he works to increase Model 3 production at the same time he is losing top engineering talent and trying to pull off a reorganization. Stories I have read this week peg Tesla's Model 3 production at about 500 cars per day, or 3,500 a week, up from roughly 2,000 a week several weeks ago. Still, to Cramer's point, one more shutdown for Tesla's facility in Fremont, Calif., could bring about the capital raise Musk has denied he needs. Buyer beware on the stock.   
A Random Sprint Around Wall Street 
(1) Sitting down with Roku's (ROKU) - Get Report founder Anthony Wood later Wednesday at the Nasdaq. An impeccable video interview to follow. All in all, Roku has been an impressive story since day one and now as a public company. Wood deserves credit for seeing his vision through and not selling out to Amazon (AMZN) - Get Report or Microsoft (MSFT) - Get Report . Hit me up on Twitter @BrianSozzi with questions for Wood -- and to give me compliments on this newsletter.
(2) Investors need to ask themselves if the execs at companies they part-own are being way too bullish in their financial projections and tone. This new research from Goldman Sachs suggested Corporate America isn't appreciating several glaring risks later this year.
(3) Caught up with the Home Depot earnings call around midnight and two things caught my attention (1) Home Depot calling out tariff-based price increases for retailers such as itself; (2) the company now using vans and car services to deliver products in a window of two to four hours. Hello Uber for lumber users.
(4) Stellar feature from TheStreet on the future of grocery shopping. It's a must read, and share.
(5) Stat of the day: Action Alerts PLUS holding Facebook (FB) - Get Report has seen its share price explode 20% since mid-April. So much for data privacy concerns. 
TheStreet presents on May 22: "How to Stomach Market Volatility." Hosted by Fisher Investments and TheStreet's Jim Cramer, the exclusive live webinar will give you the tools to successfully navigate market volatility and discuss why having a wealth manager is more critical than ever before. Quickly register for the event here.