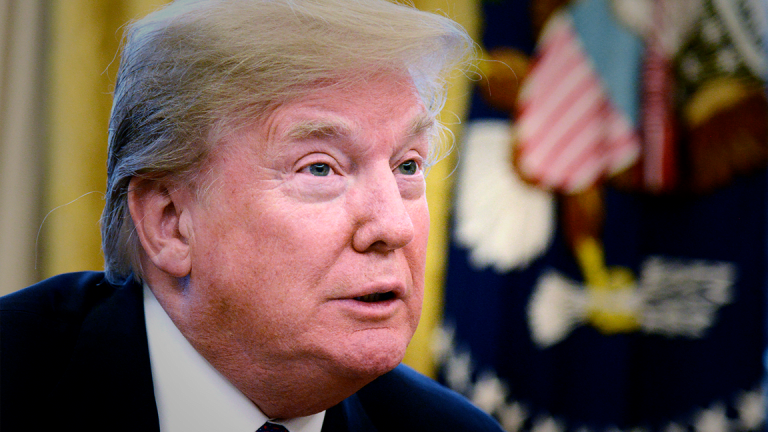 70 Stocks That Could Survive a U.S. Trade War With China
Looking for opportunities in this volatile market? You might want to start with the stocks that could withstand a trade war with China.
Now is a perfect time to be looking for buying opportunities in a market that has been rocked on more than one occasion since January. 
There is no better place to begin your search than those stocks that have been hammered on fears of a U.S. trade war with China, explains TheStreet's founder Jim Cramer. 
Cramer's extensive research, which could be viewed on TheStreet's sister publication RealMoney, has yielded 15 groups and 70 plus stocks that have been largely unaffected by Chinese trade tension. In fact, says Cramer, every time it looks worse in the news, the stocks in these 15 groups look better a few days later. 
"These are the new winners in a market that increasingly trades on President Trump's trade policy. And there are some very surprising performers there, indeed," Cramer says. 
15 Groups Overview
Read Part 1 and Part 2 of Cramer's research over on RealMoney
. We included the tickers of some of the top names mentioned by sector below. 
Telecom: ;
Mall-based retailers and apparel makers: ; ; ;
Cloud kings (a term Cramer coined several weeks ago): ;
Cell towers: ;
Hospitals and health insurers: ;
U.S. oil companies: ;
Oil refiners: ;
Real estate investment trusts: The entire sector looks attractive
Utilities: ;
Restaurants: ; ;
Brokerage firms: ; ;
Cybersecurity: ;  
Business services: ;
Home-builders:
Defense: ;
Before You Go
With markets all over the map, you must stayed engaged with your investments like never before. Be sure to listen to Cramer's latest Action Alerts PLUS member call this Thursday. Members will receive Cramer's latest thinking on the markets and the education needed to survive a new stretch of volatility. Learn more here.