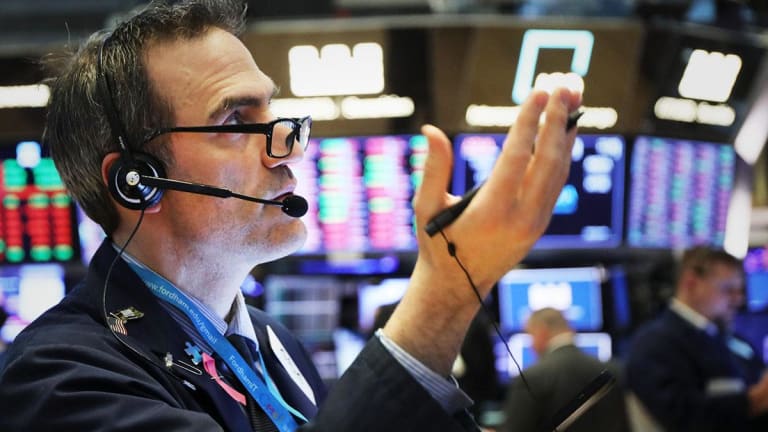 Stocks Slide After Trump Says Beijing 'Broke' Trade Deal; China Vows Retaliation
Global stocks weakened Thursday, pulling U.S. equity futures into the red, as investors braced for the biggest escalation to date in the ongoing trade war between Washington and Beijing and the increasing likelihood that President Donald Trump will impose a fresh round of tariffs on China made goods at mid-night tonight.
The Thursday Market Minute
Global stocks extend declines as Trump accuses China of "breaking" trade talks while Beijing vows to take ''necessary countermeasures' if tariffs are increased at mid-night tonight.
China Vice Premier Liu He arrives in Washington today, but investors seem unconvinced he can salvage the months-long talks after Trump tells a rally in Florida that China "will pay".
China stocks slump to two-and-a-half month lows, while Europe continues to slide, as investors pile cash into government bonds and safe-haven currencies.
Global oil prices shrug off a surprise drawdown in U.S. crude stocks to extend this week's decline amid concerns over global demand and a China-led slowdown.
Chevron abandons its $33 billion bid for Anadarko, leaving it open to merge with rival Occidental Petroleum.
U.S. equity futures point to more opening bell declines on Wall Street ahead of trade and factory gate inflation data at 8:30 am and opening remarks from Fed Chairman Jerome Powell at a research conference in Washington D.C.
Market Snapshot
Global stocks weakened Thursday, pulling U.S. equity futures into the red, as investors braced for the biggest escalation to date in the ongoing trade war between Washington and Beijing and the increasing likelihood that President Donald Trump will impose a fresh round of tariffs on China made goods at mid-night tonight. 
China's Vice Premier and top trade official, Liu He, will arrive in Washington later today for two days of talks aimed at saving the bulk of a months-long negotiation from complete collapse. However, with the President doubling-down on his threat to boost tariffs from 10% to 25% on $200 billion worth of China-made goods during the Vice Premier's visit, and China vowing to respond with 'necessary countermeasures' , in return, the tone of the discussions isn't likely to bridge the now significant gaps between the world's two biggest economies.
"I just announced that we'll increase tariffs on China and we won't back down until China stops cheating our workers and stealing our jobs, and that's what's going to happen, otherwise we don't have to do business with them," Trump told a Republican rally in Florida. "They broke the deal. They can't do that. So they'll be paying. If we don't make the deal, nothing wrong with taking in more than $100 billion a year."
Investors around the world have been re-setting expectations for global growth, and risk asset prices, ahead of today's meeting, and the likely tariff increase that will follow, by driving cash into fixed income markets and safe-haven currencies while dumping risk and keeping cash on the sidelines.
Asia stocks were hit hard once again overnight in the wake of the President's comments in Florida, with the MSCI Asia ex-Japan index slumping 0.93% and benchmarks in China slipping to two-and-a-half month lows. Japan's Nikkei  225 fell for a third consecutive session since traders returned from a 10-day break on Tuesday to take the benchmark to the lowest level since March 29.
U.S. equity futures suggest similar weakness on Wall Street later today, with contacts tied to the Dow Jones Industrial Average indicating a 180 point pullback and those linked to the S&P 500 guiding to an 24 point slide for the broader benchmark, which has given back around 2.24% of this year's gains since Trump Tweeted his tariff threat on Sunday.
Markets could get some support, however, from an FT report that suggests the new round of tariffs won't apply to China made goods that are already in transit to the United States, meaning Washington and Beijing will have an effective window of between 4 and 6 weeks to reach a conclusion on trade before the impact of the tariffs kicks-in.
Investors, however, remain broadly cautious on the talks' outcome, with cash flowing into U.S. Treasury bonds and benchmark German bunds, taking yields on each's 10-year paper to multi-week lows of 2.435% and -0.05% respectively, while pushing the yen to a six-week high against the U.S. dollar.
Chevron Corp. (CVX) - Get Chevron Corporation Report said Thursday that it will not increase its $33 billion takeover bid for independent drilling group Anadarko Petroleum Corp. (APC) - Get Anadarko Petroleum Corporation Report , and will boost its share repurchase program instead as it collects a $1 billion break-up fee.
Intel Corp. (INTC) - Get Intel Corporation Report shares were another early mover of note, extended declines by 2.5% after it cautioned that its move away from personal computer chips to more competitive markets in logic, memory and data centers will weigh on profit margins over the next three years.
Roku Inc. (ROKU) - Get Roku Inc. Report shares look set to open at a seven month high after the video streaming device maker posted a narrower-than-expected first quarter loss and boosted its full-year profit outlook as smart TV market share continues to grow.
Chevron shares were marked 3.28% higher in pre-market trading immediately following the announcement to indicate an opening bell price of $121.25 each. Anadarko shares slipped 2.45% to $73.98 each. Occidental Petroleum (OXY) - Get Occidental Petroleum Corporation Report , which trumped Chevron with a $38 billion bid for Anadarko's stock float last week, fell 5.2% to $57.02 each.
Walt Disney Inc. (DIS) - Get The Walt Disney Company Report shares also edged lower after the media giant posted stronger-than-expected second quarter earnings as it continues to absorb last year's $52.4 billion acquisition of 21st Century Fox and transitions into a media streaming giant that will challenge Netflix Inc. (NFLX) - Get Netflix Inc. Report in the global streaming market.
European stocks have also fallen out of favor amid the global uncertainty on trade and the ever-present political tensions in and around the bloc, with the benchmark Stoxx 600 slipping 1.22% over the past five days, and extending declines again this morning with a 1% slide in Frankfurt.
Britain's FTSE 100, meanwhile, was marked 0.5% lower at the start of trading in London, as the benchmark's heavy weighting towards companies will global trade exposure, particularly basic resources and commodities, offset a six-week low for the pound. 
Global oil prices were also softer during the overnight and European session, with traders preferring to cut long positions in advance of the trade talks despite a bigger-than-expected reduction in domestic U.S. crude stocks and record production rates from U.S. drillers.
Brent crude contracts for July delivery, the global benchmark for oil prices, were marked 24 cents lower from their Wednesday close in New York and changing hands at $70.13 per barrel while WTI contracts for June delivery were seen 48 cents lower at $61.64 per barrel.