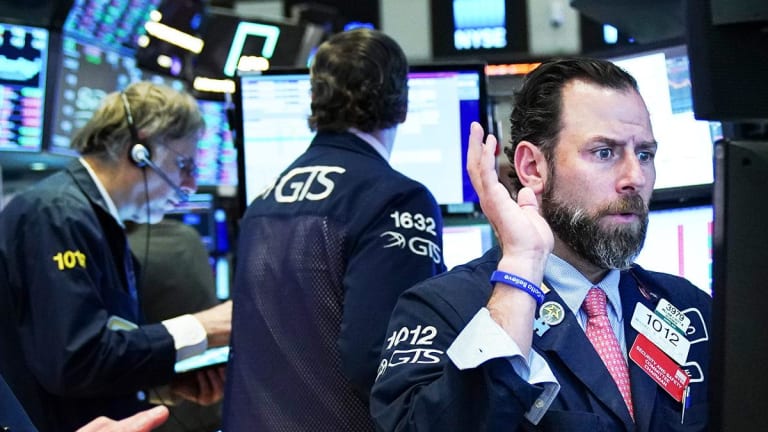 Dow Futures Plunge as China Hits Back With Tariff Hit as Trump Pushes Trade Case
Global stocks tumbled Monday, extending declines in major markets around the world and pulling Wall Street futures deeply into the red, as China vowed to stand its ground in the escalating trade war with the United States, casting doubt on a near-term agreement between the world's two biggest economies.
The Monday Market Minute
Global stocks extend declines as China vows to hold its ground on trade and President Donald Trump says it has the world's second largest economy "right where we want".
U.S. economic adviser Larry Kudlow suggests President s Trump and Xi Jinping could meet at next month's G20 Summit in Japan, but indicated no new progress in talks from Friday's standoff.
Asia markets fell broadly across the board Monday, while European stocks were also notably lower, as investors favored safer assets and government bonds over equities.
Global oil prices gain following allegations of a "sabotage attack" on Saudi tankers in the Strait of Hormuz as tensions between Washington and Tehran continue to build.
U.S. equity futures point to sharp losses on Wall Street ahead of a quiet session in terms of earnings and economic data that includes a quarterly update from Take-Two Interactive and a speech from Dallas Federal Reserve President Robert Kaplan.  
Market Snapshot
U.S. stock futures extended declines Monday after China said it would hike tariffs on $60 billion worth of U.S. imports to 25% following the collapse of last week's trade talks in Washington.
Global stocks had fallen sharply overnight, extending declines in major markets around the world as China vowed to stand its ground in the escalating trade war with the United States, casting doubt on a near-term agreement between the world's two biggest economies.
China's Vice Premier Liu He, who attended two days of talks in Washington last week that were punctuated by President Donald Trump's decision to raise tariffs on $200 billion worth of China-made imports to 25%, said that while the negotiations hand't broken down completely, there were "issues of principle" upon which China would not compromise.
"Right now, both sides have reached mutual understanding in many things, but frankly speaking, there are also differences. We think these differences are significant issues of principle," Liu said in an interview published Saturday. "We absolutely cannot make concessions on such issues of principle."
Trump returned to Twitter the same day, declaring that "The only problem is that they know I am going to win ... and the deal will become far worse for them if it has to be negotiated in my second term. Would be wise for them to act now, but love collecting BIG TARIFFS!"
The President's top economic adviser, Larry Kudlow, told Fox News Sunday that Friday's tariffs will remain in place until a deal is reached, while Trump himself said he had ordered Trade Representative Robert Lighthizer to start marking preparations to apply levies to a further $300 billion worth of goods made in China and imported into the U.S.
The escalating tensions have yet to elicit retaliatory tariffs from China, but investors preferred to take a cautious stance on risk assets in the meantime, sharply marking down stocks in the Asia region while clipping U.S. equity futures.
Early indications suggest the Dow Jones Industrial Average will open 470 points lower while contracts tied to the S&P 500 indicate a 52 point decline that would extend the benchmark's five-day decline past 3%. Nasdaq Composite futures suggest a 133 point decline.
Apple Inc. (AAPL) shares were indicated sharply lower, and sliding towards correction territory, as investors worried that fresh tariffs on China-made imports into the United States will either raise price or depress earnings for the world's biggest tech company.
In Asia, the MSCI ex-Japan index fell 0.81% on the session, lead by a 1.2% decline for stocks on the Shanghai Composite, while Japan's Nikkei 225 extended its run of losses to a fifth consecutive session as it slid 0.72% to 21,191.28 points.
European stocks were notably weaker as well, with trade-sensitive benchmarks in German slipping 1.62% while Britain's FTSE 100 fell 0.1% as investors focused on both the lack of progress in U.S.-China trade talks and the myriad political uncertainty surrounding economies and markets in the region. The region-wide Stoxx 600, meanwhile, was seen 1.12% lower by mid-day of trading in Frankfurt. 
Away from equities, benchmark U.S. 10-year government bond yields fell below 2.42% in overnight dealing amid the safe-haven trade flows, while 10-year bund yields were seen holding at -0.05%. 
Global oil prices, on the other hand, pushed back towards six-month highs in overnight trading after Saudi Arabia's energy minister said two of his country's tankers were "attacked" near the Strait of Hormuz, a busy shipping route which separates the Gulf states from Iran and the epicenter of military tensions between Washington and Tehran.
"The international community has a joint responsibility to protect the safety of maritime navigation and the security of oil tankers, to mitigate against the adverse consequences of such incidents on energy markets and the danger they pose to the global economy," Khalid al-Faliah said.
Brent crude contracts for July delivery, the global benchmark for oil prices, were marked $1.43  higher from their Friday close in New York and changing hands at $72.05 per barrel while WTI contracts for June delivery were seen $1.15 higher at $62.77 per barrel.