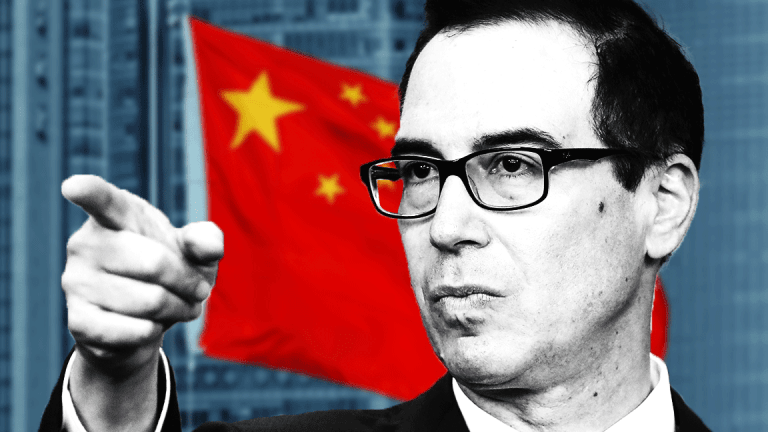 S&P 500 Moves Back Toward Record Levels Even With Trade War Heating Up
Stocks rise in the U.S and China even amid signs that the trade war may get hotter before it cools down.
The return of the records.
The last time the Standard & Poor's 500 Index undefined set a record was back on January 26, culminating an equities rally fueled by optimism about the lower corporate taxes and relaxed regulatory environment ushered in by the Trump administration.
Since then though, investors have declined to bid the benchmark any higher amid concern that future corporate profits could be negatively affected by trade wars with Mexico, Canada, the European Union and China. But the evident strength of the U.S. economy has dispelled some of those fears and today, the S&P 500 drew within ten points of its record.
It's been an excellent second-quarter earnings reporting season, with about 80% of the companies reporting that they beat analyst profit expectations. Still, the President retains his ability to deliver unsettling news for investors, including the effects of the resumption of sanctions on Iran and uncertainty about the status of the negotiations to remove nuclear weapons from the Korean Peninsula.
Still, optimism about stock investments even traveled overseas today, as the Shanghai Composite Index posted its biggest gain in two years on hopes for more policy support for investment, which helped fuel a broad rally in Asia.
But there are also signs that the trade war may get hotter before it cools down.
Getting Hot Out There
China has prepared a list of $60 billion worth of U.S. goods to hit with duties should the U.S. follow through on a plan to impose duties on an additional $200 billion of Chinese goods, as early as next month.
"The key takeaway from the past month is that [second-quarter] earnings season has confirmed that the industrial macro remains solid, but there are substantial fears that tariffs, trade wars, and price/cost could suffocate the expansion and lead to the next downturn," RBC Capital Markets' industrials research team wrote in an Aug. 7 research note.
Chinese tariffs of as high as 25% will target 5,207 kinds of American imports, the Ministry of Finance said in a statement on its website. As Beijing ratchets up the pressure, the U.S. is maintaining a "bring it on" mood, even featuring some trash talk about China by the U.S. Treasury Secretary.
"Their economy's weak, their currency is weak, people are leaving the country," Steve Mnuchin said last week on Bloomberg Television. "Don't underestimate President Trump's determination to follow through."
Leaving aside Trump's follow-through on projects such as repealing and replacing Obamacare, spending $1 trillion on infrastructure, bringing down drug prices or building a wall on the southern border, it's clear that the president doesn't mind picking fights. One question investors may be wondering, though, is who is most likely to get hurt.
"A more turbulent trade war will ensue in the weeks to come, with China punching back on alternative fronts like North Korea," according to Mark Rosenberg, a professor at Columbia University and the head of a political analytical firm called GeoQuant. "These dynamics will dampen global economic growth in quarters three and four. As this continues, President Trump risks hurting the strong economic growth that he has achieved throughout the first two quarters of 2018."
And even though President Trump is correct that the $500 billion worth of goods the U.S. buys from China dwarfs the $130 billion the U.S. exports there, winners and losers won't likely be determined by simple math. Another simple fact is that China is a dictatorship run as a command economy by a monolithic Communist leadership, and the U.S. isn't.
Rosenberg cites China President "Xi Jinping's ability to artificially control his country's currency and economy in ways democracies cannot," he said in an email. "China has the ability to weather this economic storm longer. It is in the best interest of both countries to restart meaningful negotiations or else they risk bringing the global markets down with them."
The Outlook
Looking ahead, SunTrust chief market strategist Keith Lerner told TheStreet that while the stock market may soon surpass the January highs, shouldn't get complacent. There could be several surprises this year for the bulls.
"I expect you will see at least one more scare this year," Lerner says. "I think the market has digested the tariff news pretty well and the market consensus is that this is a lot of rhetoric, but if it turns out the Trump Administration is going to push this further that could be a scare. Also if the Fed becomes more aggressive than people expect [that could be a scare]. And, the U.S. dollar is up, financial conditions are a little tighter - if earnings halted a bit that could slow things up a bit."