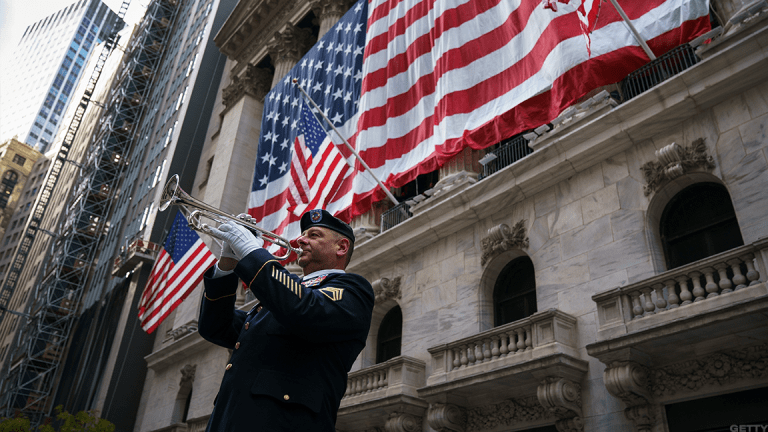 Dow Snags First Weekly Loss Since September as Tax Woes Pile High
Stocks finished the trading week mixed, with the Dow and S&P 500 lower and the Nasdaq slightly higher.
Stocks pulled back again on Friday, Nov. 10, to finish the week with mixed results as the chances of a seamless path to tax reform declined.
The Dow Jones Industrial Average finished down, shedding 39 points, or 0.17%, for its first weekly decline after eight straight weeks of gains. Even so, the two days of losses didn't pull the index too far from its records -- the index remained less than 200 points from an all-time closing high set on Nov. 8.
The S&P 500 slipped 2 points, or 0.09%, to decline for its first time in nine weeks. The Nasdaq gained 0.01% by the closing bell Friday.
It's looking more difficult for Republicans in the House and Senate to marry their two visions on taxes after the details of each chamber's plans showed differences in the approach to certain key components.
The Senate's bill, released on Thursday, proposes holding the number of tax brackets at seven, but doing away with the state and local tax deductions, which allow individuals in heavily-taxed states and districts to subtract those bills from their federal taxable income. The House had compromised with a deduction of up to $10,000 for state and local property taxes, but no deductions on income tax.
The House's tax bill proposed reducing the number of income brackets to four from seven. A top rate of 35% would apply to the highest earners making up to $1 million. However, a top rate of 39.6% would remain for those with income of more than $1 million.
Most critically for Wall Street, the Senate's plan proposes cutting the corporate tax rate to 20% permanently, but delaying that change until 2019. The House GOP and the Trump administration pushed for the tax cut to be implemented immediately.
The House Ways and Means Committee passed its Tax Cut and Jobs Act bill on Thursday afternoon, pushing the legislation toward a vote in the House next week. The bill passed by a vote of 24 to 16 after Committee Chairman Kevin Brady made revisions on Thursday in efforts to generate broader support and lower the original's increase in the deficit.
Markets were dragged lower by the sharply different trade goals that President Donald Trump and his counterpart in China, Xi Jinping, set out during a summit of Asian leaders in Vietnam on Friday. That indicated the two may not be as close in terms of broader economic ambitions as this week's state visit in Beijing would suggest.
Speaking at the Asia-Pacific Economic Cooperation (APEC) conference in Danang, Trump vowed to make bi-lateral deals based on "fair and reciprocal" trade agreements while Xi stressed that the tide of globalization was "irreversible" and urged the creation of an open Asia-Pacific economic bloc to facilitate regional and global commerce.
Consumer sentiment in November unexpectedly weakened, according to a preliminary reading from the University of Michigan on Friday. The gauge dipped to 97.8 this month, lower than an expected 100.9. Current economic conditions and consumer expectations both decreased in early November. The measure ended October at 100.7 after reaching its highest level since 2004 in the middle of the month.
Crude oil settled lower 0.7% to $56.80 per barrel on Friday after a rise in drilling activity in the past week. The number of U.S. rigs drilling for oil rose by nine to a total 738, according to Baker Hughes data. Crude still remains near its highest levels since 2015, though.
Prices surged above $57 earlier in the week as political upheaval in Saudi Arabia increased the chances of an extension to a production cut agreement expiring next year.
In earnings news, Walt Disney Co. (DIS)  stock was 2% higher even after the company fell short of earnings and sales estimates over its fiscal fourth quarter. The world's largest entertainment company earned an adjusted $1.07 a share on revenue of $12.78 billion. Analysts surveyed by FactSet anticipated earnings of $1.15 a share on revenue of $13.3 billion.
Sales over the three months to September fell 2.7%, a surprise to analysts looking for a 1.2% increase. Revenue in its media networks unit, which accounts for 43% of total revenue, fell by 3% over the recent quarter, while profits dropped by 12%. That unit has been pressured by declines in paid subscribers, higher programming costs, lower advertising sales, and an underperforming ESPN.
Parks and resorts revenue climbed 6% from the same quarter a year earlier, studio entertainment tumbled 21%, and consumer products and interactive media sales slid 6%.
Stock-price gains may have been fueled by CEO Bob Iger's announcement that Disney would release a fourth "Star Wars" trilogy in addition to a "Star Wars" live-action TV series. Director Rian Johnson has been hired to work on new "Star Wars" film for 2020 and beyond, while a live-action series will run on the Disney-branded streaming service scheduled to launch in 2019.
Nordstrom Inc. (JWN) beat earnings and sales estimates for its third quarter, a positive result in an otherwise tough retail environment. The department store chain earned 71 cents a share, 7 cents higher than expected. Revenue rose by 2.5% to $3.63 billion and beat estimates by $40 million.
However, the retailer reported a 0.9% drop in comparable sales for its October-ended quarter. For its full-price merchandise, the company posted a decline of 1.9% in comparable sales. Nordstrom said it lost around $20 million in sales from a series of hurricanes that battered the south and southeast in late August and early September.
Fellow retailer J.C. Penney Corp. (JCP) also reported a better quarter than anticipated, sending shares higher 15% by the market close. Third-quarter losses widened to 41 cents a share from 22 cents a year earlier. An adjusted loss of 33 cents was narrower than a targeted 42 cents. Sales fell 1.8% to $2.81 billion, but came in higher than consensus of $2.77 billion. Third-quarter same-store sales increased 1.7%, a faster pace than an expected 0.6%. For fiscal 2017, J.C. Penney targets flat to 1% growth for same-store sales.
Nvidia (NVDA) rose to record highs on Friday after the chipmaker reported stronger-than-expected third-quarter financial results. Adjusted earnings of $1.33 a share soared past estimates of 95 cents. Revenue rocketed 32% higher to $2.64 billion, coming in ahead of analysts' targets of $2.37 billion. Nvidia's gaming revenue grew 25% year-over-year to $1.56 billion, making up the biggest portion of the company's top line. Data-center chips were the biggest gainers, increasing 109% to $500 million. Shares finished trading up 5%.
For its fourth quarter, Nvidia anticipates sales of $2.65 billion, plus or minus 2%, ahead of Wall Street's consensus of $2.44 billion.
Nvidia is a holding in Jim Cramer's Action Alerts PLUS Charitable Trust Portfolio. Want to be alerted before Cramer buys or sells NVDA? Learn more now.
Equifax Inc. (EFX) reported a drop in quarterly profit on Thursday as legal costs mount after a data breach earlier this year compromised more than 145 million Americans' sensitive information. Overall profit dropped 28% after the credit agency paid around $27.3 million in expenses associated with the hack. Adjusted earnings, however, rose by 6%.
Equifax projected the cost of the breach would continue to rise. In its quarterly report, Equifax said it expects to "incur significant legal and other professional services expenses associated with the cybersecurity incident in future periods."
News Corp. (NWSA) roared past fiscal first-quarter estimates on revenue growth in every business segment. Adjusted earnings of 7 cents a share came in well above estimates of 1 cent. Revenue of $2.06 billion exceeded consensus of $1.98 billion. Revenue in its news and information-services unit rose by 2%, driven by a 3% increase in circulation revenue. Shares gained 5% by the close.