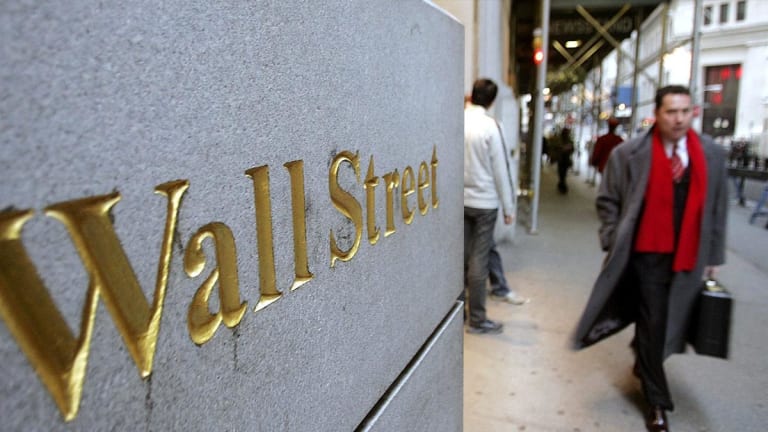 Dow Futures Higher, Yield Curve Inversion Narrows, as Stocks Mount Comeback
Global stocks traded higher Tuesday, with investors taking cues from fixed income markets, as concerns over the pace of growth in the world's largest economy, as well as political and trade uncertainty in Europe and Asia, continue to dampen sentiment.
The Tuesday Market Minute
Global stocks edge higher, with Asia rising for the first session in three, while investors continue to take cues on risk from movements in fixed income markets.
U.S. Treasury curve remains inverted between 3-month bills and 10-year notes after tipping for the first time since 2007 last week, ahead of a key $40 billion auction of 2-year notes later in the session.
U.K. Prime Minister Theresa May loses yet another Parliamentary vote on Brexit, which will see lawmakers vote for EU exit alternatives, as pressure mounts on her to resign her position.
Global oil prices bump higher as OPEC+ production cuts add support to prices that remain near four-month highs.
U.S. equity futures suggest a solid open on Wall Street, with investors focused on the impact of Apple's entrance into several new markets, including video games, streaming and credit cards, as well as February housing data at 8:30. am Eastern Time.
Market Snapshot
Global stocks traded higher Tuesday, with investors taking cues from fixed income markets, as concerns over the pace of growth in the world's largest economy, as well as political and trade uncertainty in Europe and Asia, continue to dampen sentiment.
Still, a modestly weaker U.S. dollar, as well as a narrowing of the inversion of the Treasury yield curve, has contracts tied to the Dow Jones Industrial Average suggesting a 185 point gain to kick-off the trading day, while those linked to the S&P 500, which has given back around 2% since a slew of manufacturing data indicated global economic weakness last week, is poised for a 19 point advance.
The U.S. Treasury will auction around $113 billion in new bonds this week, including a $40 billion sale of new 2-year notes later today, that could go some way towards understanding the breadth of investor demand for fixed income securities in a weakening economic environment.
Market reaction to last night's Apple Inc. (AAPL) - Get Apple Inc. Report launch event in Cupertino, California, which unveiled plans for the world's biggest tech company to enter new markets in video games, streaming entertainment and credit cards, also has the potential to disrupt valuations in several sectors as investors adjust for Apple's undeniable influence on competitors' business models.
Apple shares rose nearly 1% in pre-market trading to indicate an opening bell price of $190.30 each, a move that would extend the stock's year-to-date gain to around 21% and value the world's biggest company at more than $900 billion.
The U.S. Treasury yield curve remained inverted for third consecutive session during overnight trading, providing investors with a reliable -- but by no means infallible -- signal of near term recession. Federal Reserve studies have shown that each U.S. recession over the past 60 years has followed an inversion, where short term rates rise higher than longer-date paper, but also note that not all inversions have led to recession.
With debate surrounding the nature of the current move, which has taken benchmark 10-year U.S. Treasury bond yields some 17.5 basis points lower, to a December 2017 low of 2.393%, following the Fed's dovish press statement last week, equity investors have trimmed risk positions in order to gauge the impact of slowing manufacturing data around the world, the complexity of Britain's extended Brexit drama and the potential outcome of U.S.-China trade talks.
Benchmark 10-year notes were last seen at 2.441%, while 3-month bills were marked at 2.459%, narrowing the level of yield curve inversion to just 0.018 basis points.
Asia stocks rose for the first day in three Tuesday, with a solid 2.15% gain for the Nikkei 225 linked in part to a weaker yen, but only managed to add less than a tenth of a percent across the board as investors preferred to remain on the sidelines ahead of key U.S. housing data and a two year bond auction later in the session.
Early indications from U.S. equity futures suggest at least a solid start to Tuesday trading, but with market volatility gauges starting to edge higher, opening bell moves are unlikely to define the entire trading session.
European stocks were also broadly firmer by mid-day, with the region-wide Stoxx 600 rising 0.42% in Frankfurt as the euro drifted closer to the 1.13 mark against the U.S. dollar and Britain's FTSE 100 gaining 0.27% in London.
The pound was marked at 1.3229 heading into the session as investors digested the impact of last night's Parliamentary session in London, during which lawmakers voted to take control of the Wednesday agenda, in defiance of Prime Minister Theresa May, and scheduled a series of "indicative votes" on Brexit alternatives in order to break a deadlock that has forced the country to extend its exit deadline beyond March 29.
May, however, has said she won't likely recognize the voting results, which are not legally binding, but they could at least allow her to get a clearer picture of what kind of deal -- or no deal at all -- lawmakers are prepared to build a majority around. 
Global oil prices edged higher in overnight trading, taking crude prices back near four month highs, as the combined impact of a modestly weaker U.S. dollar, extended OPEC production cuts and ongoing sanctions on the sale of Venezuelan crude combined to offset concerns for global economic growth and near-term energy demand.
Brent crude contracts for May delivery, the global benchmark for oil prices, were marked 61 cents higher from their Monday close in New York and changing hands at $67.82 per barrel in early European dealing while WTI contracts for the same month, which are more tightly linked to U.S. gasoline prices, were seen 75 cents lower at $59.57 per barrel.