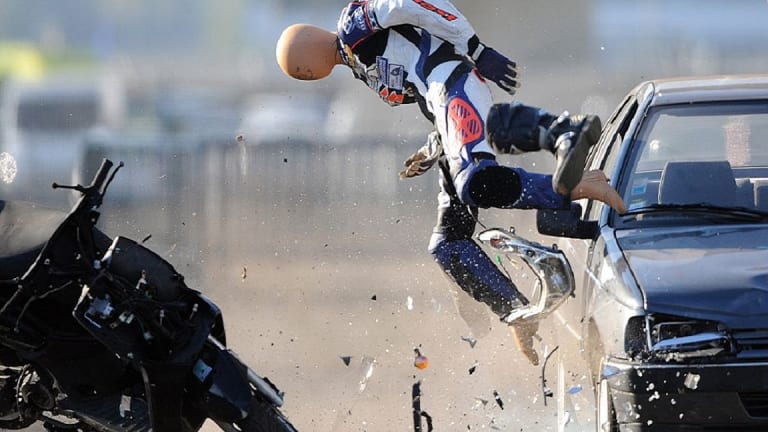 Stocks Could Be Speeding 150 MPH Into a Brick Wall Being Built by Trump
The market is hanging tough, and then some. FANG stocks are lagging, cause for concern? The E3 gaming convention kicks off, and investors may want to trade some non-traditional plays on the sector's strength.
The market is hanging tough, and then some. FANG stocks are lagging, cause for concern? The E3 gaming convention kicks off, and investors may want to trade some non-traditional plays on the sector's strength.
Are you kidding? 
How the market is acting right now is both outright impressive and downright terrifying. Stocks are on autopilot despite a tsunami of news coming this week -- ranging from a Donald Trump meeting with North Korean dictator Kim Jong Un to a likely hawkish Federal Reserve meeting -- that could pummel valuations. That would be in addition to a maddening G-7 meeting this past weekend.
Perhaps Mr. Market is saying Trump's unpredictable nature will unlock unexpected growth for the U.S. rather than a debilitating global trade war. Art of the deal in its finest form, no? Futures were drilled on Sunday evening, strengthened into the night and turned green on Monday (similar to last week's action).
But investors that think the market could continue to overlook heightened geopolitical risk and slowing global growth are misguided. The market simply cannot leave its blinders on without some form of healthy risk adjustment. Hence, it's critical you hop on the line with TheStreet's founder Jim Cramer for his monthly call with Action Alerts PLUS club members. Being held on Wednesday, June 13, the call will give you the insider knowledge from Cramer and his research team on how to be positioned in this market. Not only will the call educate, it will serve up actionable investing ideas and themes. 
Keep an Eye On
Watch the NYSE FANG Index, which tracks the performance of your favorite four tech stocks (Facebook (FB) - Get Report , Amazon (AMZN) - Get Report , Netflix (NFLX) - Get Report and Alphabet (GOOGL) - Get Report ). It has underperformed the S&P 500 I:GSPC the last five sessions. Alphabet and Facebook have been the main laggards.
The Dow Transports have tried three times since early May to break through 11,000. After another mini rally this month, the index is knocking on the door of testing 11,000 again (10,938 currently). A failure to break out this week, plus further weakness in FANG, would not be good signs for the bulls. 
Stat of the Day
With the highly anticipated E3 gaming convention kicking off Tuesday, this stat goes out to all the "Fortnite" faithful (that's a really popular video game, in case you didn't know). Long-time tech analyst Colin Sebastian of Baird estimated that by 2020 the global video game industry will generate a beastly $144 billion in total sales. The industry is expected to grow by a compound annual growth rate of 5% in Western markets, 9% in Asia and 12% in the rest of the world.
While one's first instinct is to load up on game publishers Electronic Arts (EA) - Get Report and Activision Blizzard (ATVI) - Get Report to ride this growth trend, that may not be the best play. A key trend on the horizon, said Sebastian, is the potential for cloud-based/streaming services to gain market share. Wrote Sebastian, "Recently, Microsoft (MSFT) - Get Report head of gaming Phil Spencer highlighted the company's ambitions to launch a console-agnostic game streaming service within the next three years, part of Microsoft's broader cloud growth strategy. Google has also shown interest in the cloud gaming space, hiring former Xbox and PlayStation exec Phil Harrison as VP of hardware as it reportedly has begun developing its own streaming service. A number of companies have already launched cloud-based game streaming services, but lag remains a major issue for many platforms. Nvidia's (NVDA) - Get Report GeForce NOW leverages remote computing to minimize the effects of lag, which has been a promising step for the industry, but its high costs ($25 for 10 hours of gameplay for its highest-quality offering) prevent it from being a viable alternative for many serious gamers."
Watch TheStreet's Katherine Ross break down E3 here.