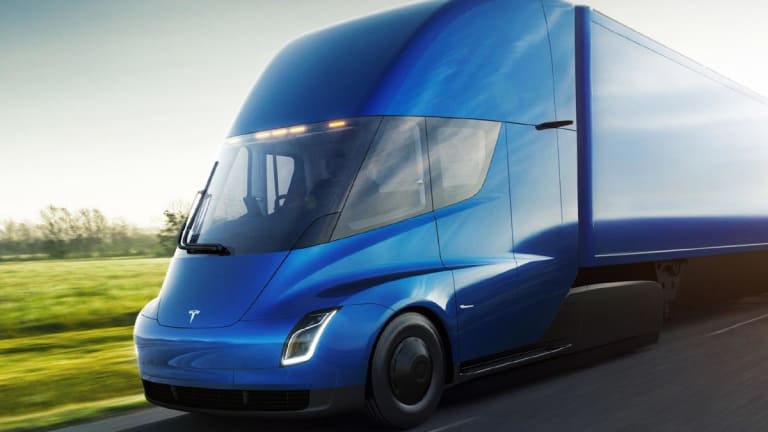 Tesla's Stock Is Losing Momentum Just as the Market Nears Its All-Time Record
The summer battle on Wall Street is on: Cigna vs. billionaire activist investor Carl Icahn. Stocks, meanwhile, continue to ascend to new heights despite a host of concerns.
Records.
There is no big story Tuesday as far as I'm concerned, so let's talk some individual stocks. First up is momentum stock king Tesla (TSLA) - Get Report . Shares of the cash-bleeding electric carmaker have slipped below the 50-day moving average despite the market's strong response to second-quarter earnings last week. If the momentum continues to stall, it could be the market's way of saying Elon Musk won't meet his profitability goals this year. Or, better yet, he has fallen behind on meeting those goals so far in the third quarter.
Staying on the tech theme, Intel's (INTC) - Get Report stock has gone down the toilet. Shares of the chipmaker opened below the key 200-day moving average on Monday amid fresh concerns about its leadership and competitive positioning. The stock is only 5% or so away from reaching bear market territory, or off about 20% since a June 1 record high hit weeks before the surprise resignation of Brian Krzanich as CEO due to inappropriate behavior. Intel rival Advanced Micro Devices (AMD) - Get Report is poised to thieve more business, suggestedTheStreet's tech columnist @EricJhonsa.
The S&P 500 is 16 handles away from its late January high. Red flag? After all, the banks and FANG stocks continue to under-perform... 
Wall Street Battles 
Welcome to the summer battle on Wall Street.
In one corner, we have the prickly billionaire Carl Icahn who may, or may not, have that beard anymore (media is always using that stock Icahn beard photo, but Icahn doesn't exactly get out in public anymore). In the other corner is Cigna (CI) - Get Report CEO David Cordani, who is perhaps one of the most polished -- and intense -- healthcare executives in the business (or that was our sense talking to him months ago).
Billionaire Icahn urged Cigna Corp. (CI) - Get Report  shareholders Tuesday to reject the company's planned $60 billion acquisition of Express Scripts (ESRX)  calling the deal a "folly" and warning that Amazon.com Inc. (AMZN) - Get Report  was posing an "existential threat" to the planned business model. Cordani told TheStreet in April the deal makes strong strategic sense and will help lower drug costs. Let the games begin.
Slight edge at the moment to Icahn given the performance of Cigna's stock this year (it has lagged the market since February) and his use of Amazon. But what Icahn fails to realize -- and this is a win for Cordani -- is that it would take decades for Amazon to build a business like Express Scripts. In fact, if Cigna drops the deal, Amazon could very well scoop up Express Scripts and use it to leverage its recent PillPack purchase.   
Around TheStreet
To those who said they enjoyed watching 'Morning Jolt' being taped from my pool on Monday (train trouble), appreciate the love. No, I didn't go in the pool -- no time for that type of fun. Maybe in 2025. Back in the NYC saddle today, getting ready for two interesting chats.
First up is with Suntrust's Chief Markets Strategist Keith Lerner. Considering he is modeling for 3% yields at year-end and JPMorgan Chase (JPM) - Get Report CEO Jamie Dimon outlined a path to 5% over the weekend, there is a lot for myself and Lerner to discuss.
Sheila Patel, CEO of Goldman Sachs International Asset Management, will also be in the house at a key time for the global investment community. Patel was recently elevated to Goldman Sachs (GS) - Get Report management committee by incoming CEO David Solomon and current CEO Lloyd Blankfein.
TheStreet's @JacobSonenshine hopped on the horn with Everbridge (EVBG) - Get Report CEO Jamie Ellerton after earnings Monday evening. Everbridge is a little known tech company whose stock has more than tripled since a September 2016 initial pubic offering. Ellerton said Microsoft (MSFT) - Get Report and Amazon are not posing a threat. Lucky.
@TonyOwusu chatted with Weight Watchers (WTW) - Get Report CEO Mindy Gross post earnings Monday evening. Grossman said the company is now a lifestyle brand and is seeing strong recruiting efforts this summer season. Always have to be camera ready for Instagram pics, I suppose.