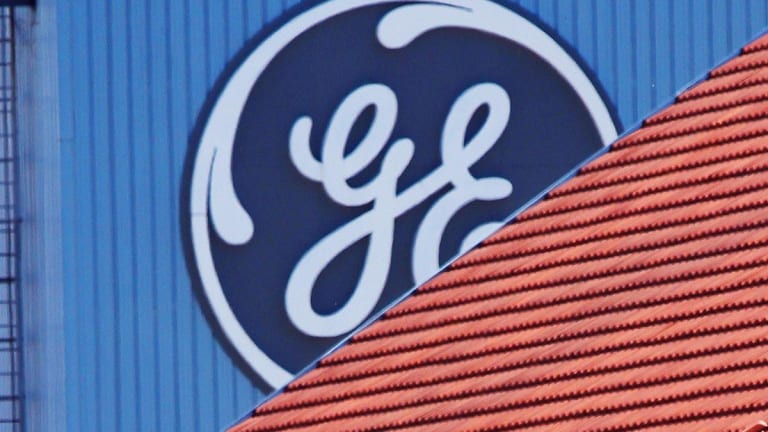 Did General Electric's Earnings Truly Silence the Critics?
Microsoft crushes profit forecasts, General Electric leaves investors wondering. Why is Goldman Sachs so bearish on Apple?
Earnings are coming in hot and I am pressed for time, so here's what's catching my attention.
Microsoft's (MSFT) quarter was a slam dunk. Key comments from the earnings calls suggested a business that has not topped out yet. Quick bullish notes from the call: (1) Company calls out "corporate IT spending optimism" -- what recession? (2) Cloud profit margins exploded 6 points vs. the prior year, despite tough competition from Amazon (AMZN) . Hat tip to the Action Alerts PLUS team, which has Microsoft as a long-time holding. Shares will open at a record Friday.
Mixed emotions on General Electric (GE) . Stock popped more than 2.5% on the company's earnings and sales beat. CEO John Flannery calling out $15 billion in cash at year-end also was a positive. But shares have given back most of the early gains likely on another quarter of mixed performance among business lines. TheStreet's Anders Keitz and myself will be talking to General Electric Chief Financial Officer Jamie Miller at 11:20 a.m. ET --  more to report after. 
Deep Thought of the Day
Why is Goldman Sachs so bearish on Apple's (AAPL) stock? The investment bank is calling for a 14.5% drop in the stock over the next 12 months, according to a new note dropped in my inbox Reviewing Goldman's modeling, it appears it's cautious on Apple's average selling prices and profit margins. The key upside risk to Goldman's call is how aggressive Apple becomes on the share buyback front -- it's only factoring in $25 billion in buybacks each quarter. 
Around TheStreet 
TheStreet's Scott Gamm and myself checked out the new "money art" collection on the 7th floor of the New York Stock Exchange Thursday evening. Darn cool new exhibit commissioned by the most photographed NYSE floor trader Peter Tuchman (he is the guy with the long white hair at the opening of the 'Morning Jolt' video segment). We briefly chatted with new NYSE President Stacey Cunningham, who TheStreet's Tracy Byrnes sat down with weeks before her appointment. The former floor trader is a rock star; I couldn't think of a better person to be leading the historic NYSE.
Jim Cramer's morning column on Real Money is a must read -- it assesses Domino's Pizza (DPZ) after the stock got hit Thursday on a revenue miss. Cramer sat down with new Domino's CEO Richard Allison on "Mad Money" Thursday evening.
Yours truly hopping on a podcast later Friday with Funko (FNKO) CEO Brian Mariotti, who is hanging out at Comic-Con right now (Funko thrives on the Comic-Con culture). With Funko shares up 111% in three months, spurred recently by a deal to sell Fortnite toys, this will be a must listen interview when it hits Saturday at 8 a.m. ET. Here is my chat with Mariotti when the company IPO-ed In November 2017. Take note of the call ... the kid's still got it.
Cannabis company Tilray (TLRY) saw a smoking hot debut on the Nasdaq  undefined on Thursday. Watch my interview with Tilray CEO Brendan Kennedy for more on what Tilray has planned.