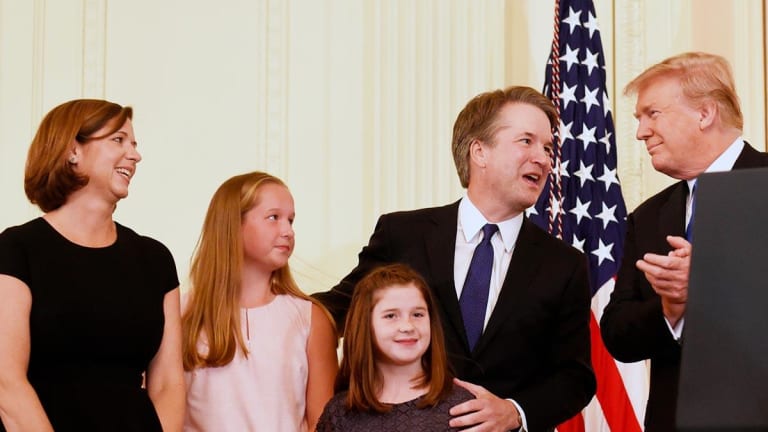 This Is Not the Brett Kavanaugh Stock Market Rally - Here's Why
Welcome to the public stage Brett Kavanaugh. PepsiCo beats big on earnings, but will it be enough to silence the bears? Alphabet is sitting on a profit goldmine in Waymo.
The Brett Kavanaugh market rally started last Friday.
Mr. Market always knows things the Average Joe doesn't. In all seriousness, while Corporate America is probably happy with Donald Trump's nomination of Brett Kavanaugh to the Supreme Court, the market rally is firmly rooted in simple Wall Street logic. No more bad news, no more sending stock prices lower.
Trade war talk has temporarily quieted down and investors are preparing for a bumper quarter of corporate profits to be reported later this month. No matter if guidance may stink, the rally at the moment is all about being positioned for big profit beats.
"Early reporters so far have continued to point to robust demand conditions, with pricing initiatives helping to offset rising cost pressures," said Deutsche Bank strategist Binky Chadha. "Companies have pointed to limited impacts from the tariffs that have been enacted so far but are obviously concerned about further escalation. With clarity being very limited, they are in a wait-and-watch mode." The market, on the other hand, is in rally mode.
Stock Chat
It will be interesting to see how the market reacts to PepsiCo's (PEP) - Get PepsiCo Inc. Report second-quarter results. The company on Tuesday smashed profit forecasts by 9 cents, but it was an earnings beat driven by cost cuts. Pressure remained on the core beverage business and Quaker Foods.
Operating a consumer packaged goods company right now is far from easy given competitive pressures from upstart brands and inflation in hosts of categories. Not too sure if PepsiCo's cost cuts are holding back stronger sales growth, but this is a potential issue I voiced back when first-quarter results were issued. I'll be talking with PepsiCo's Chief Financial Officer Hugh Johnston later Tuesday to learn more.
Meanwhile, Alphabet (GOOGL) - Get Alphabet Inc. Report investors could be sitting on a profit goldmine in self-driving car brand Waymo. Long-time tech analyst Mark Mahaney of RBC Capital Markets is out with this gem of a forecast on Waymo:
"The key financial points are that we believe that Waymo will be able to generate $1.9 billion in annual revenue with an annual Operating Loss of $1.0 billion by 2022 and $65 billion in annual revenue with an annual Operating Profit of $20 billion by 2030. We estimate Waymo achieving operating income break-even in 2025." Mahaney said he sees 10% upside in Alphabet's stock to $1,287 a share.
But judging by his math on Waymo, $1,287 will likely be a distant memory on the road to more than $2,000 well before 2030. PepsiCo and Alphabet are holdings in Jim Cramer's Action Alerts PLUS.
Around the Horn
Important point on Starbucks (SBUX) - Get Starbucks Corporation Report from my buddy/money manager/former TV host Jeff Macke on Twitter. "Howard [Schultz] still being the face of Starbucks is embarrassing for the new CEO and confusing to the company." I discussed this on "Morning Jolt' on Monday, but it's an issue for Starbucks that is unlikely to be solved anytime soon. Fixing the issue has to start with Schultz -- he has to commit to not commenting on current business trends.
By all means, heap praise on himself for the coffee giant he helped create from the ground floor. But discussing business trends and outlooks should no longer be on his mind.