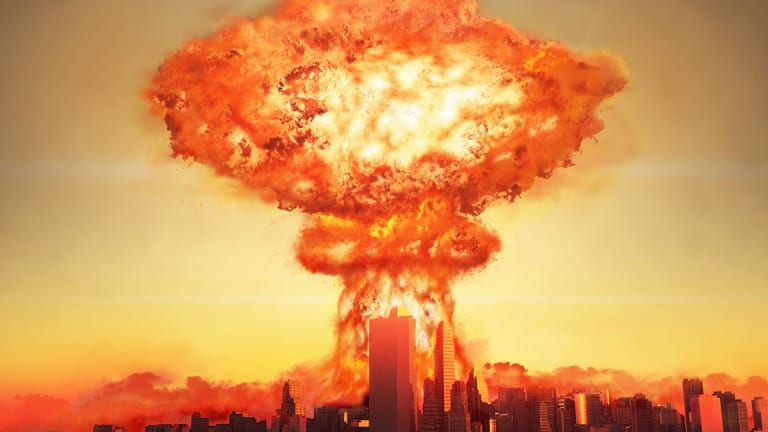 Haters Have an Incredible New Chance to Send the Bull Market in Stocks Crashing
The stock market bears have good reason to come out of hibernation. Ford could being sharing more with Wall Street. Under Armour just dropped a cool new sneaker.
Earnings season is here.
Now Is Your Chance, Bears
You have a rare opportunity to talk down this explosive market, stock market bears. Wednesday's surprise reversal in markets is prime-time to get overly bullish investors to exit their risky positions in Action Alerts Plus holding Facebook (FB) - Get Report , Netflix (NFLX) - Get Report and Amazon (AMZN) - Get Report . Your talking point: Fourth-quarter earnings season has pretty much stunk when you drill down into the numbers and other news nuggets. Action Alerts Plus holding General Electric (GE) - Get Report gave investors no sense by January 2019 things will get better. In fact, one came away from the earnings call without any view on when the fundamental situation will improve. United Airlines (UAL) - Get Report has ignited a possible fare war among the major carriers, which are beginning to feel the impact of higher oil prices. I can't imagine that earnings calls from JetBlue (JBLU) - Get Report and Delta (DAL) - Get Report will be resoundingly upbeat in light of United's new actions. Procter & Gamble (PG) - Get Report , Kimberly-Clark (KMB) - Get Report and other consumer-products companies are calling out surging inflation in oil-based commodities and within the trucking space (driver shortage). Paging new Federal Reserve Chairman Jerome Powell - it's time to get that inflation-fighting hammer out my man. All in all, investors should start to fear the remainder of earnings season (and whatever could possibly come out of Donald Trump's mouth at Davos on Friday). Rebuild those cash positions, baby. 
Ford Is Really Letting Wall Street Down
Wall Street badly wants more insight into the timing of results from Ford's (F) - Get Report turnaround under new CEO Jim Hackett. The company may not be understanding Wall Street's thirst for information for the automaker whose stock has lagged the S&P 500 the past year plus. Wrote RBC analyst Joseph Spak in the wake of Ford's tepid earnings report Wednesday evening, "Investors had hoped to hear more color on the go-forward plan and autonomous and electrification spending. The market was left waiting and, in general, we would say Ford took some information away (less regional and causal factor outlook). CEO Hackett tried to assure that progress was being made and indicated there are 6 workstreams going, but details as to what those projects are, and more importantly the pay-off, were scant." Spak doesn't see any benefits of Ford's overhaul work until 2019. Nevertheless, TheStreet's Scott Gamm did a good interview with Ford Chief Financial Officer Bob Shanks right after the results -- you can watch that here.   
How I Spent My Night
Never felt older than I did on Wednesday being surrounded by dancing 20-somethings in fashionable clothing at an Under Armour (UA) - Get Report sneaker launch party. Anyway, Under Armour's new HOVR sneaker is the company's latest attempt to make a cool pair of kicks -- with the brand's performance DNA --  that can gain cred among Adidas-loving sneakerheads. Under Armour did an OK job here. The sneakers are unlikely to wow the pants off teens, but they are a nice step in the right direction. The importance of the launch was evident -- Under Armour CEO Kevin Plank attended, snapping a few selfies in the middle of the dance floor.  
What's Hot
Selfie Time
Under Armour CEO Kevin Plank (below) pumped up about a new sneaker launch Wednesday night.
More from the Morning Jolt Archives:
More of What's Trending on TheStreet: