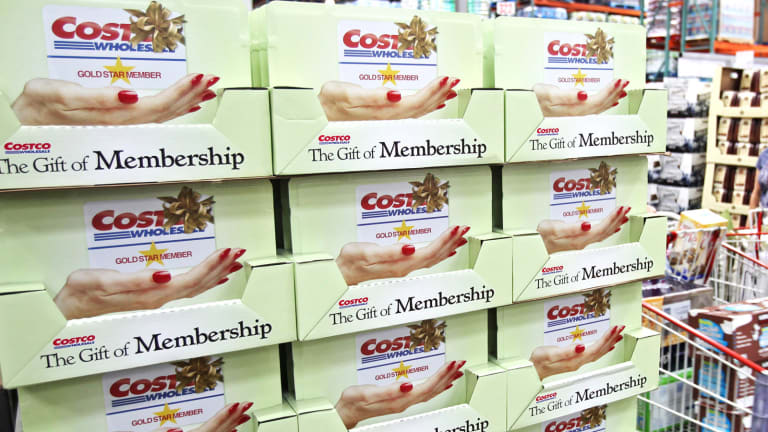 Costco's Stock Is Near an All-Time High Because It Probably Won't Be Eaten Alive by One Online Beast
Wall Street still digs Costco.
Costco (COST) is still seen on Wall Street as somewhat Amazon (AMZN) proof, which is the main reason why the warehouse club's stock is hovering around an all-time high. 
"We believe Costco's valuation is benefiting from scarcity value and deservedly so given its strong position vis-a-vis other bricks-and-mortar retailers, its insulation from Amazon, and global growth opportunities," wrote Barclays analyst Karen Short in a note on Monday. Short sees Costco reporting a solid fiscal third quarter on Thursday, fueled by steady gains in customer traffic and benefits from a new agreement with credit card company Visa (V) . Costco's stock has risen 21.7% to $172.83 over the past year, out-performing the S&P 500's 15% gain. 
Suffice it to say, what Costco is about to share with investors will likely be the complete opposite of the doom and gloom being revealed by others in retail land.
Shares of the biggest names tethered to malls across the country have crashed lately amid strikingly weak first quarter results. In effect, already lagging stock prices for the likes of Macy's (M) , J.C. Penney (JCP) and Sears Holdings Corp. (SHLD) have made new moves lower on fears the retailers won't be able to successfully navigate the shift to online shopping.
As a result, investors may now be wagering that retailers will be forced to announce a fresh round of store closures and layoffs sometime in early 2018 to cut costs. For some highly indebted names such as Sears, and to a lesser extent J.C. Penney, the volatile operating backdrop could be stoking concerns on whether the businesses will be around in five years time.