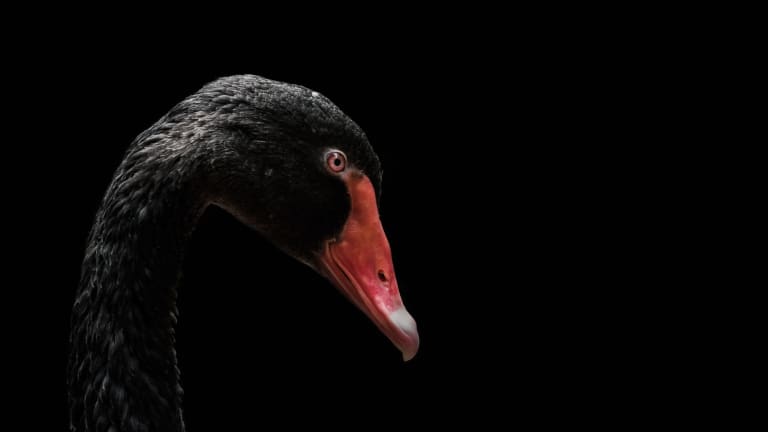 Publish date:
Beware of the Vicious Black Swan Now Stalking Record Stock Markets
Stocks continue to climb to new records. It's almost unbelievable. But with rising stock prices, comes the type of increased risk many investors probably aren't thinking about.
Stocks continue to climb to new records. It's almost unbelievable. But with rising stock prices, comes the type of increased risk many investors probably aren't thinking about.
To receive the "Morning Jolt" daily newsletter, please head here.
How can you not be feeling amazing today? 
The Nikkei just closed at a two-decade high (that sounds awesome, doesn't it?). Walmart (WMT) - Get Walmart Inc. Report told investors on Tuesday that earnings growth will be under pressure a bit next year, and the stock pops anyway. Most everyone on Wall Street is banking on an earnings season dominated by monster beats and promises for sterling outlooks. Wall Street economists are starting to forecast another year of double-digit gains for the S&P 500 in 2018. So awesome. 
That is until the dreaded black swan appears and viciously rips your portfolio to shreds. In a new report this week, well-known talking head Jim Paulsen of Leutold Group voiced concerns on a looming market plunge. He cited a rising level for the Chicago Board Options Exchange's SKEW Index. The index tries to gauge the probability of a bone-crushing black swan event in the markets, with increases hinting at a risk for an unfortunate event. Black swan events are bad -- think flash crash. In the meantime, enjoy the records.  
What's Hot
Fear Walmart, Jeff Bezos
If Walmart's investor day on Tuesday didn't blow you away, well then I suggest checking your pulse and then popping open a can of Red Bull. Keep repeating if necessary.
Bottom line is that Walmart's various executives inspired hope by nailing their on-stage performances. What did they inspire you ask? Some honest to God hope that Sam Walton's baby could not only compete with Amazon (AMZN) - Get Amazon.com, Inc. Report in the near term, but darn near rock its foundation over the next 10 years.
That's a very different discussion than what has been going on with Walmart over the past year. While winning many fans on Wall Street of late, Walmart has been viewed as only competing with Amazon due to new leadership and strategies, not knocking it off of any throne. Now, the discussion has shifted and Walmart must be looked at as a good longer-term play on the fundamental shift to digital shopping.
Head on over to Real Money to check out what really caught my attention from the event. 
Alibaba Is Impressive 
One thing I have learned from increasingly covering Chinese tech giant Alibaba (BABA) - Get Alibaba Group Holding Ltd. Sponsored ADR Report : The company will not stop until its mentioned in every discussion that Google (GOOGL) - Get Alphabet Inc. Class A Report , Microsoft (MSFT) - Get Microsoft Corporation (MSFT) Report and Amazon are mentioned in. What that means is a probable steady stream of releases over the next few years like the one dropped on Wednesday. Alibaba said it will make a $15 billion push into R&D over the next three years in a bid to help shape the technological future. Key investment areas include data intelligence, natural language processing, quantum computing and machine learning. 
While some in the U.S. probably haven't heard of Alibaba yet, they likely soon will amid investments of this magnitude (and further gains in an already red-hot stock price). 
Presented Without Comment
Russia has a new high-tech space suit. Dubbed the Warrior 3, the suit has an exoskeleton and 60 accessories. Send me your thoughts on Twitter @BrianSozzi. 
All Things Trump
Hat tip to TheStreet's Emily Stewart and the editing team on this investigative dive into President Trump. This is part of a series of pieces by TheStreet that looks at the president's various business dealings. 
Here is the full piece, and a fun graphic from it below. 
Join Jim Cramer, CNBC's Jon Najarian and Other Experts Oct. 28 in New York
Jim Cramer will host CNBC's Jon Najarian, TD Ameritrade's JJ Kinahan, famed analytics expert Marc Chaikin and other market mavens on Oct. 28 in New York City to share successful strategies for active investors.
You can join them as they discuss how smart investors can make the most of options trading, futures contracts, fundamental and quantitative analysis and great ETFs to buy right now. Participants will also get a chance to meet Jim and other panelists and take photos.
When: Saturday, Oct. 28, 8 a.m.-3 p.m.
Where: The Harvard Club of New York, 35 West 44th St., New York, N.Y.
Cost: Special early bird price: $150 per person. (Normal price: $250)
Click here for the full conference agenda or to reserve your seat now.
More of What's Trending on TheStreet: