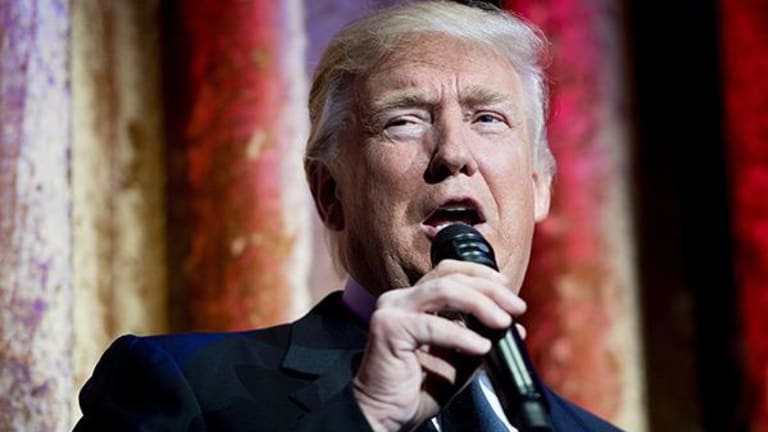 Stock Investors May Be Rooting for a Trump Overseas Tax Holiday, But Bondholders Should Be Wary
Companies like Apple, Microsoft and Cisco can afford aggressive buybacks and dividends, but activists could force others with offshore cash to choose between equity and debt holders.
For investors in cash-rich tech stocks like Apple (AAPL) - Get Apple Inc. (AAPL) Report , Microsoft (MSFT) - Get Microsoft Corporation (MSFT) Report , Cisco (CSCO) - Get Cisco Systems, Inc. Report , Alphabet (GOOGL) - Get Alphabet Inc. Class A Report and Oracle (ORCL) - Get Oracle Corporation Report , talk of a tax break on offshore cash conjures visions of vast stock buybacks and dividend payouts.
Those five tech companies alone have more than half a trillion dollars stashed overseas, according to S&P Global. All together, corporate American might repatriate $1 trillion over a number of years if the government slashes the tax rate for bringing overseas cash back to the U.S. as part of a larger tax reform package, S&P Global forecast in a recent report.
While equity investors look towards overseas tax reform with optimism, pushed the stocks of many of these companies higher, debt holders who have lent heavily to fund tech's corporate needs while cash was stuck outside the country may view a tax holiday with some trepidation. "Debt investors are looking at it the other way," said S&P Global analyst Andrew Chang of the talk of buybacks and dividends. "Is this going to hurt me?"
Through a process that Chang describes as "synthetic cash repatriation," companies in tech and other sectors raised debt over the last few years to pay for buybacks, dividends and other needs, instead of drawing on their overseas funds and getting taxed on them. The cash provided debt investors with kind of safety net, however, even if creditors don't have a legal claim on the funds. "It wasn't collateral as much as a cushion, a nice thing to have," Chang said.
Take Apple, for instance. The iPhone maker's balance sheet went from zero debt to $97 billion in debt over the last five years. "The first question [credit investors] ask is now can Apple bring back $230 billion in cash and can they use all of that for buybacks?" 
A group of 25 companies comprising tech giants like Apple and Microsoft but also Ford (F) - Get Ford Motor Company Report , General Motors (GM) - Get General Motors Company (GM) Report , Pfizer (PFE) - Get Pfizer Inc. Report and Dow Chemiccal (DOW) - Get Dow, Inc. Report has about $1 trillion in overseas cash. S&P Global estimates that this group could bring home more than $700 billion over a number of years, accounting for 75% of the total cash repatriated.
Apple, Cisco and Alphabet are holdings in Jim Cramer's Action Alerts PLUS Charitable Trust Portfolio. Want to be alerted before Cramer buys or sells AAPL, CSCO and GOOGL? Learn more now.
Companies with rock-solid credit ratings like Apple or Microsoft should still be safe bets since even if they repatriated a significant amount of their funds and launched massive buybacks, they would still likely have more cash than debt.
If S&P is correct and $1 trillion flows into U.S. coffers over the coming years, activists could well take notice. These shareholders could lobby for companies to return more cash to shareholders and companies with low investment grade or high speculative credit could face credit risk. The group of crossover companies with ratings at the low end of investment grade includes Hewlett-Packard Enterprise (HPE) - Get Hewlett Packard Enterprise Co. (HPE) Report , Ford and GM. Privately held Dell is at the upper end of speculative grade.
Not all companies that have accumulated cash overseas have as stable a credit rating as Apple and Microsoft. "There are companies in healthcare and tech that have a lot of [offshore] cash despite being in the lower investment grades or higher speculative grades," Chang said. "Those guys could face a credit risk if they were to be more aggressive" in terms of returning cash to shareholders.
Assigning risk is difficult, because terms of a tax reform package are hypothetical. If a tax reform package were passed, Chang said, credit investors would expect guidance from management.
"As this tax reform moves along, and let's say it happens in the second half of '17, I could imagine these companies will make announcements of what they intend to do," Chang said. Creditors would expect guidance on how a board would prioritize returning cash to shareholders, versus paying down debt or making acquisitions.  "We wold expect very transparent messaging from the CEO or CFO on tax reform to remove any confusion in the debt market and equity market," he said. 
The government could place restrictions on how much cash companies can return to shareholders. A 2004 tax holiday included such provisions, but lacked a means for enforcing the rule, and so most of the funds wound up going to buybacks and dividends.
Without limits on buybacks and dividends, the cash stockpiles that companies in tech and other sectors have built up would likely diminish. With it would go at least some of the cushion that has given the credit market assurance. 
"These companies like Apple and Microsoft, they are smart. They know what debt investors are looking for," Chang said. "They have to find a way to appease both parties."
It's not just a question of smarts. If activists push for greater returns, cash-rich companies in tech and other sectors will face a difficult balancing act between equity and debt. If companies' credit ratings suffer, they can expect to pay more for debt. And they could also limit the amount of leverage they could take on to fund acquisitions or other goals.