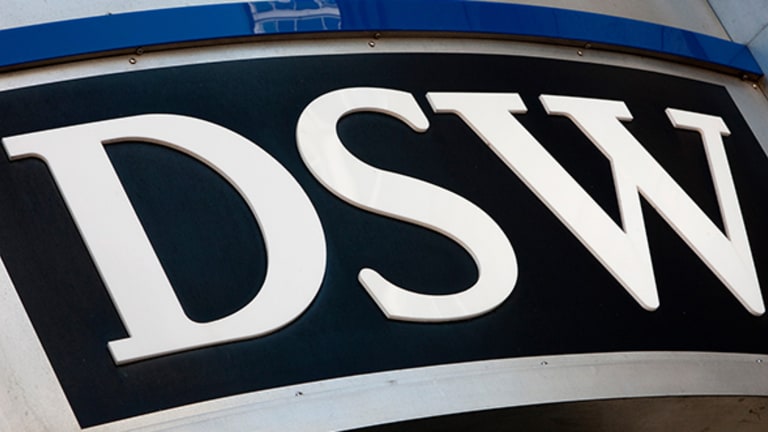 Stick With DSW Stock
DSW's appealing dividend is another reason to buy the stock now and hold for the long term.
Shoe retailer DSW (DSW) is set to report second-quarter fiscal 2016 earnings results before the opening bell Tuesday. DSW stock is up 8.7% year to date. It closed Friday at $25.94, up 2.30%, adding to one-month gains of about 6%.
Over the past three months, DSW shares have risen almost 24%, outperforming both the S&P 500undefined index and the SPDR S&P Retail ETF (XRT) . But it's not time to take profits yet.
Headquartered in Columbus, Ohio, DSW is a footwear and accessories specialty retailer. The company opened 29 stores in the first quarter and is in the middle of an aggressive expansion plan that will grow its store count to around 500.
DSW is still building for the future. The company has recently announced its intention to open 21 new stores between August and October. These new stores will be opened in cities like White Marsh, Md.; Pittsburgh, Penn.; and Holland, Ohio.
The company has touted increased store sizes, which will support some 15,000 pairs of displayed shoes for men and women. The added space will allow DSW to expand in higher-margin accessories such as handbags, scarves and jewelry.
That expansion, as well as DSW's growing profit margins, should drive earnings much higher in the quarters and years ahead. Plus, as revenue rebounds to low-double-digit percentage increases, investors can still do well with the shares.
These factors prompted Wells Fargo to upgrade DSW stock last month to market perform from underperform.
While raising DSW's fiscal 2017 earnings per share estimates to $1.45 from $1.38, the analyst noted, "We believe downside risk to DSW shares over the near term is limited."
Despite the strong three-month rise in DSW stock, the shares are priced at 19 times fiscal 2016 estimates, or two points above the S&P 500 index.
Fiscal 2017 consensus estimates of $1.50 imply 10% earnings growth. And the price-to-earnings ratio drops two points to 17 under those assumptions -- in line with the S&P 500. There's some credence to Wells Fargo's assessment regarding the downside risk.
With the company's 20-cent quarterly dividend, yielding 3.08% annually, investors should consider buying the stock now and holding for the long term.
This article is commentary by an independent contributor. At the time of publication, the author held no positions in the stocks mentioned.