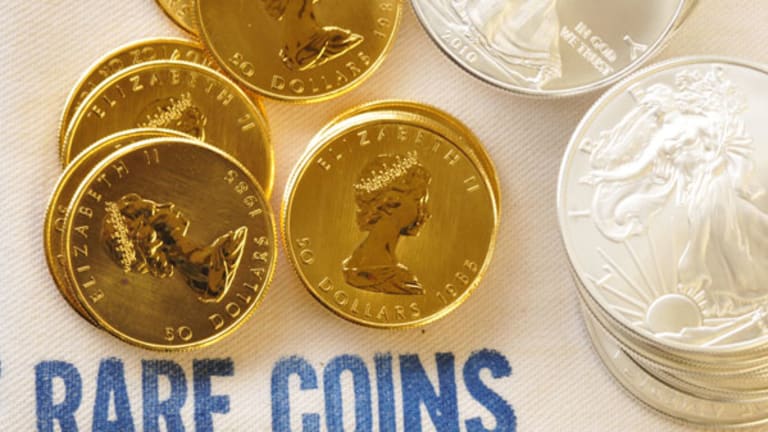 Steel Sell Off Creates Buying Opportunity
A steel stock selloff that hit United States Steel, ArcelorMittal and other metal producers creates a buying opportunity based on inexpensive valuations, along with a more favorable environment.
NEW YORK (
) --Stocks of US and global steel majors have corrected sharply during the past six weeks.
Subdued guidance by most companies, following weak fourth quarter results, appears to have triggered this widespread sell-off. Investors appear concerned about a much slower than expected recovery in the steel industry.
United States Steel
(X) - Get United States Steel Corporation Report
and
ArcelorMittal
(MT) - Get ArcelorMittal SA Report
lead the pack with a 22% correction since their January peaks.
Steel Dynamics
(STLD) - Get Steel Dynamics, Inc. Report
is down 20%, while the ADRs of
POSCO
(PKX) - Get POSCO Report
and
Ternium
are down 14% and 20%, respectively.
The stocks, however, appear to have been oversold, especially with the industry's recovery expected in less than a quarter. Inexpensive valuations, along with a more favorable environment, present a good buying opportunity.
Integrated steel stocks such as US Steel, ArcelorMittal and
AK Steel
(AKS) - Get AK Steel Holding Corporation Report
are likely to emerge as the key winners. The recently announced steel price hikes in China, the possibility of further hikes following iron ore negotiations, and higher demand from inventory restocking amid a supply crunch suggest a strong year ahead for these companies.
AK Steel
AK Steel Holding reported strong earnings of $40 million for the fourth quarter of 2009, even as most steel majors were facing losses. The company operates seven steel-making and finishing plants in the US that produce flat-rolled carbon steel products and specialty stainless and electrical steels.
AK Steel is among the first to ride the industry's recovery wave, reporting utilization rates of 85% during January 2010, compared to 50% during the first half of 2009, 60% in the third quarter, and 70% in the fourth quarter. According to the American Iron and Steel Institute (AISI), the industry's average utilization stood at 62% during December 2009.
The company guided to a strong 2010, especially in the electrical steel segment. According to CFO Albert Ferrara, the company expects shipments to improve significantly during the year, with expectations of a 4-5% quarter-over-quarter increase in prize realization to kick in within the first quarter.
"Our annual sales volumes for 2010 should be about 40% higher than 2009", said CEO Jim Wainscott, addressing analysts at the company's fourth quarter earnings conference call.
The stock is trading at 5.3 times 2010 EBITDA, well below the average of its peers. 'We believe a premium is justified as 2010 is likely to still be a depressed year for earnings, and, arguably, we think integrated steel stocks like AKS should trade at above average multiples in years of depressed earnings," JP Morgan analyst Michael Gambardella wrote in a note to clients.
Arcelor Mittal
ArcelorMittal, the largest steel producer globally, has operations in 20 countries with 35% of its production coming from the Americas.
The stock plummeted sharply despite strong fourth quarter results (EBITDA of $2.1 billion) owing to management's weak first quarter EBITDA guidance of $1.8-$2.2 billion.
However, post the recent sell-off, ArcelorMittal shares are trading at relatively inexpensive 7 times 2010 EBITDA, which presents a good entry point for investors. The stock has seven "buy" recommendations, two "holds," and no "sell" rating, according to TheStreet's analyst ratings guide.
Utilization rates have improved gradually from 61% in the third quarter of 2009 to 70% in the fourth quarter and are expected at nearly 75% during the current quarter, ArcelorMittal has said.
A rebound in volumes post the first quarter, along with full realization of the recent price hikes in the industry, bode well for the company's prospects during the latter half of 2010. The management has already laid out a $4 billion capital expenditure plan for 2010, which is 43% higher than the 2009 figure. The company intends to invest for growth in both mining and steel assets globally.
"In 2010 we anticipate that apparent demand for steel will increase by approximately 15% in emerging economies of Brazil, Middle East, Africa, and India," Chairman and CEO Lakshmi N. Mittal said in a recent statement. He pointed to an apparent demand growth of only 5% from China, despite a 10% real demand in the absence of inventory restocking.
Improving Environment
Recently, several China-based steel companies announced price hikes to cover rising raw material prices. China's Baosteel Group is negotiating on behalf of steel producers with iron ore majors
Vale
,
BHP Billiton
(BBL) - Get BHP Group Plc Report
, and
Rio Tinto
( RTP). While most analysts expect a 25-30% price hike in the 2010-2011 annual contract pricing of iron ore, some expect an increase of as much as 70%.
These developments imply that China's producers will be forced to maintain output prices at a certain minimum to cover rising input costs. Experts reckon that pricing will now be well above the cash-costs of U.S. producers.
Adding to this are several recent anti-dumping and countervailing duties that have been imposed on cheap Chinese imports by the Trade Panel. The latest move covers heavyweight steel drill pipes and collars used in oil drilling. Consequently, the U.S. could witness lower steel imports this year, reviving the domestic industry.
According to the AISI, U.S. raw steel production touched 1.6 million tons during the second week of February compared to the December average of 1.5 million tons a week and about 60% higher than the February 2009 average of about 1 million tons a week. Consequently, capacity utilization of US producers improved to 67.3% during the second week of February from 60.6% in December 2009.
Government support will play a key role in reviving the domestic demand for steel. Around 15% of the $787 billion stimulus package is expected to be spent on infrastructure projects, resulting in around 11 million tons of steel consumption. In addition, an economic stimulus bill is currently working its way through Congress with a "Buy America" provision to support the domestic industry.
Analysts believe that the apparent demand for steel is likely to be much higher than the real demand with the restocking process picking up after the U.S. witnessed inventory reductions during 2009.