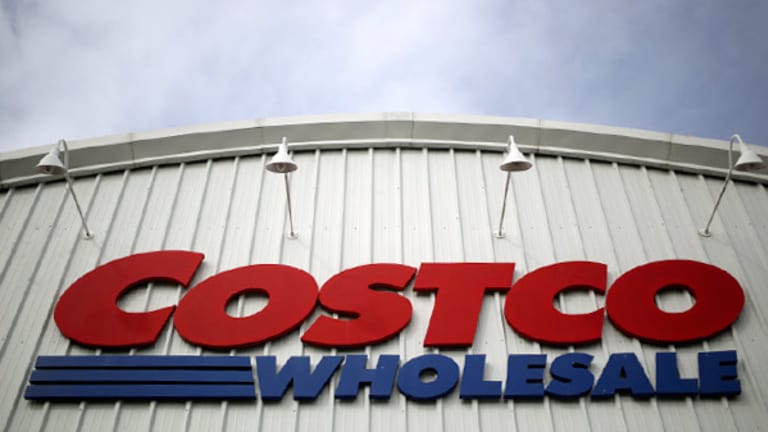 Steady Costco a Good Buy for Investors
The big box retailer generates more of its earnings from membership fees than from product sales.
The big box retailer generates more of its earnings from membership fees than from product sales.
Markets worldwide got off to a rocky start this week, due to uncertainties about the future path of the world economy and the U.S. presidential election. When you're investing for the long term, your number one goal should be to minimize uncertainty.
That increases the likelihood of profits. It also makes Costco (COST) - Get Report  a good investment. The company announces its fourth quarter earnings on Thursday after the market closes. Shares fell slightly in Monday trading. 
The company's business model has led to a steady level of profits in recent years. The retailer gets more of its earnings from membership fees than from sales at the checkout counter. As such, it is less vulnerable to the ups and downs of the retail economy than such key competitors as Walmart, Amazon and Target.
Costco is a holding in Jim Cramer's Action Alerts PLUS Charitable Trust Portfolio. Want to be alerted before Cramer buys or sells COST? Learn more now.
The result has been consistent increases in the company's profits. Costco's net income has risen from $1.5 billion in 2011 to $2.4 billion last year.
Costco Wholesale is the third-largest retailer in the U.S. It has more than 700 warehouse stores that range from 73,000 to 205,000 square feet. Almost 500 of those stores are in the United States, but in the last 10 years, the company has also made substantial inroads into the retail sectors of Canada, Mexico, the United Kingdom and Japan.
You have to be a member to shop at one of the stores; a standard membership costs $55 per year. Upgraded memberships that go for more than $100 annually entitle the member to a wide range of discounted services, from printing to insurance.
The renewal rates for these memberships have exceeded 90% in recent years, indicating both a satisfied customer base and a steady stream of revenue for the company. Each member spends an average of $2,500 a year at the store. And these folks typically aren't strapped for cash: Costco says the average member has a household income of $152,000.
Costco typically stocks a wider array of goods than some of its competitors, such as Walmart. While many consumers make the stereotypical purchases of a year's supply of mayonnaise or toilet paper, others buy home furnishings or even cars.
The company last reported earnings at the end of May. Net sales for the quarter increased 2% year-over-year, to $26.15 billion from $25.52 billion last year. Net income for the quarter was $545 million, or $1.24 per share, compared to $516 million, or $1.17 per share, last year.
These solid if unspectacular results caused the share price to drop somewhat, but its long-term prospects remain bright. An analyst for Baird Equity Research recently noted that "COST's compelling value proposition and loyal/sticky membership model remain durable positives in today's challenging retail world."
---
In today's world, a crisis can happen at any time. When it does, it will separate the strong investments from the weak ones before you have time to react. It's imperative that you have a system in place NOW that will guarantee your returns, no matter what happens to the markets. We've got a system that will enable you to make money on more than 80% of your trades, year in and year out. To find out more, just click here!
The author is an independent contributor who at the time of publication held none of the stocks mentioned.