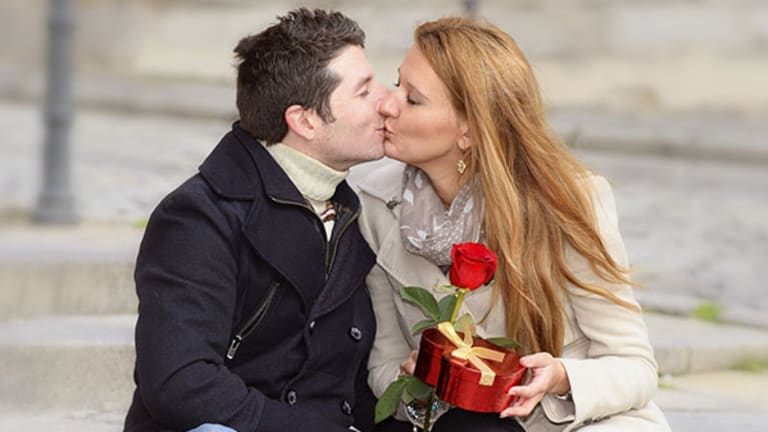 Stay Classy on Valentine's Day: 6 Gifts Under $50
This year, instead of getting your loved one heart chocolates from CVS or a cheesy card that croons Marvin Gaye songs, here are six great gifts that won't break the bank.
This story has been updated from Feb. 11, 2014 to include online shopping trends in the seventh paragraph.
NEW YORK (TheStreet) -- Men, listen up. Women like gifts. Women especially like gifts on Valentine's Day.
They don't have to be expensive or lavish, but most women (and some guys too) have a soft spot for being doted on and Valentine's Day is a perfect excuse to pour on the creativity.
According to a recent survey by digital coupon subscription service, RetailMeNot.com, when faced with a choice between the two, seven in 10 women in relationships would prefer a gift over sex for Valentine's Day. On the other hand, 66% of surveyed males making the choice opted for sex over a gift (shocking).
RetailMeNot is linking men's sex-over-gift preference to the reason why more than three in 10 want to stay home for Valentine's Day this year.
Overall more people in relationships are content staying home (38% of this year's survey respondents compared to 28% last year), however most people (57%) still prefer to go out for the holiday.
Consumers plan to spend a total of $17.3 billion on Valentine's Day this year, with the average person spending approximately $133.91 on candy, cards, gifts, dinner and more, up slightly from last year's $130.97, according to the National Retail Federation.
In the week leading up to Valentine's Day, online shopping rose 8% over the same period last year, according to the IBM Digital Analytics Benchmark. Mobile sales represented 17.2% of all online sales, up by 43% from last year, IBM said.
Despite the slight pickup in V-day spending, it's well known by now that consumers are being budget conscious, especially after the troubling holiday season.
BeFrugal.com founder Jon Lal offered some suggestions for consumers who are looking to save money this year on Valentine's Day.
Make your own greeting card. Create an old-fashioned homemade paper valentine or doodle one on Snap Chat and send it privately.
Skip dinner and go out for dessert only; it's much more cost-effective and just as indulgent.
If you're giving a gift, buy online and check for a coupon code first; your date will never know how much you saved.
Skip the snail mail Valentine's cards and send one over social media, it's free!
Planning to go to a show or concert? Just create an iTunes playlist of love songs instead. You're loved one will love the originality.
That said, if you still want to buy a gift, here are five great gifts under $50 for your loved one.
Martha Stewart Collection
Macy's
Here's something for the homemaker in your life.
Now that Martha Stewart (MSO) items are exclusively at Macy's (M) - Get Macy's Inc Report, take stock of all the gorgeous housewares and decor available for purchase at reasonable prices.
Two of our favorites for wife, mom or anyone else are the Martha Stewart Collection Picture Frames with Silver Bead and the Martha Stewart Collection Cupcake and Polka Dot Aprons.
The Martha Stewart Collection Picture Frames with Silver Bead are all on sale through Feb. 17 at select stores and at Macys.com. The frames feature delicately beaded edges and brilliant silver plate for a simply timeless look.
The 8x10 is regularly $36, on sale for $24.99. The 5x7 frame is regularly $25, on sale for $16.99. A 4x6 frame regularly goes for $22 and is on sale for $14.99.
Macy's is also selling a set of three mini-frames on sale for $14.99, regularly $22.
The Martha Stewart Collection Polka Dot Apron and Martha Stewart Collection Cupcake Apron are also on sale through Feb. 17 at select stores and online for $21.99, regularly $29.99.
The polka dot apron, in black and white pattern, features a classic polka dot design and a ruched sweetheart neckline, accent bow and ruffled pocket. The cupcake apron, with vintage inspiration, has a quirky mix of prints, stripes and sprinkle-topped cupcake pattern.
Massage Envy
Who doesn't love a good massage? Here's a gift that both men and women can enjoy. Massage Envy is offering an introductory one-hour massage session for $49.99 (rates vary by location) at their more than 900 Massage Envy and Massage Envy Spa locations across the country.
The membership based Massage Envy was founded in 2002.
Later on newer locations were rebranded as Massage Envy Spa, which also offers facials to members. Members pay $59.99 a month (rates vary by location) and it includes monthly massages, facials and other discounts. Most clinics at this point have converted to the Spa model, though there still a few legacy Massage Envy locations.
Gift givers can purchase a gift card in stores or online.
Existing members are not eligible for the $49.99 rate.
Custom Photo Books
CVS
Putting together a custom photo book would be the ultimate way to show your love on Valentine's Day to anyone that loves photos. And while consumers love uploading their latest iPhone taken selfies, trip and cute kids photos to Facebook (FB) - Get Facebook, Inc. Class A Report and Instagram, it's nice every once in a while to take it offline.
CVS/pharmacy is offering customized photo gifts like cards starting at 75 cents. Personalized photo books start at $5.99. Customers can use Wi-Fi at the Kodak Picture Kiosks in-store to link their smartphone photos to the kiosk within minutes and turn their photos into special gifts.
Not great at planning ahead? No matter, some photo books are same-day service, so get creative!
If photos aren't your thing, CVS also sells popular high-end fragrances such as Versace (starting at 42.99), Giorgio Armani (starting at $44.79), Nautica (starting at 16.99), Burberry (starting at $32.99) and others.
CVS is promoting its designer fragrances by offering a Buy 1, Get 1 at 50% off for designer fragrances that start at $12.99.
Chandon
Nothing says romance like sharing a cocktail with your loved one. But ladies, don't limit your choice to the typical Pinot Grigio wine or Cosmopolitan; sparkling wines are all the rage these days, particularly rose champagnes. Chandon Estates of Napa Valley prides itself on its French roots to make superior quality champagne and wine in California.
"Marrying the best of French tradition with new world innovation, the winemaking team crafts sparkling wines that reflect California's vibrant regional character yet remain true to centuries-old champagne winemaking methods," the company says.
Doesn't that make you want to have a sip?
Try its newest sparkling wine, Chandon Rose, retailing at $22.99 for a 750 ml bottle. Chandon Sparkling Rose features a soft, slightly dry, fruit-forward style with vibrant strawberry, plum and red currant flavors accented by a background of apple and pear notes packaged in a clear bottle to showcase its captivating vibrant pink color.
Chandon recommends pairing its Sparkling Rose with dark chocolate cake with raspberry sauce and fresh berries, dark chocolate dipped strawberries or a berry tart w/ Chantilly cream. You can also use it as part of fun cocktail recipes if you're really wiling to spice it up.
Not into mixed drinks but still want something extra special?
Chandon's etoile Rose embodies its commitment to crafting the finest sparkling Rose in America, the company says. Retailing at $50, etoile Rose sparkles with a brilliant salmon color, bold yet refined berry flavors and excellent richness and length. Chandon adds a small amount of Pinot Noir prior to what is called tirage, or secondary fermentation, to create its deliciously distinctive color.
The wine is aged for a minimum of five years to add complexity and sophistication. Fruit sourcing is from their most prized vineyards in Napa and Sonoma.
Chandon recommends pairing the etoile Rose with Rose Strawberry Vacherin, buttermilk panna cotta with strawberry sorbet, Pomegranate Valrhona Chocolate Roulade, or creme brulee and fresh berries.
Amazon
Amazon (AMZN) - Get Amazon.com, Inc. Report knows that choosing a romantic gift is not the easiest thing. That's why it has curated books and music to match any relationship mood.
The site curated 150 love stories from the thrill of first love to unlikely attraction to a dangerous liaison. Amazon Book Editors' picks are available via Kindle or in paper form.
The e-retailer's music editors also curated 50 great romantic albums from puppy love to love gone wrong available digitally and in CD format.
Pier 1 Imports
Women love jewelry but they may not always have a pretty box or case to put their baubles in. Pier 1 Imports (PIR) - Get Pier 1 Imports, Inc. Report has a variety of fun, colorful jewelry boxes, at all different price levels.
Above is the Embroidered Purple Jewelry Box, which normally goes for $19.95, but is on sale for $15.96, according to Pier 1 Imports Web site.
"This alluring jewelry box with its exotic paisley pattern and shimmering sequin detail looks as though it may have once belonged to a young Indian princess," Pier 1 describes the jewelry box.
It measures 7.5"W x 5"D x 2.75"H.
--Written by Laurie Kulikowski in New York.
Disclosure: TheStreet's editorial policy prohibits staff editors, reporters and analysts from holding positions in any individual stocks.