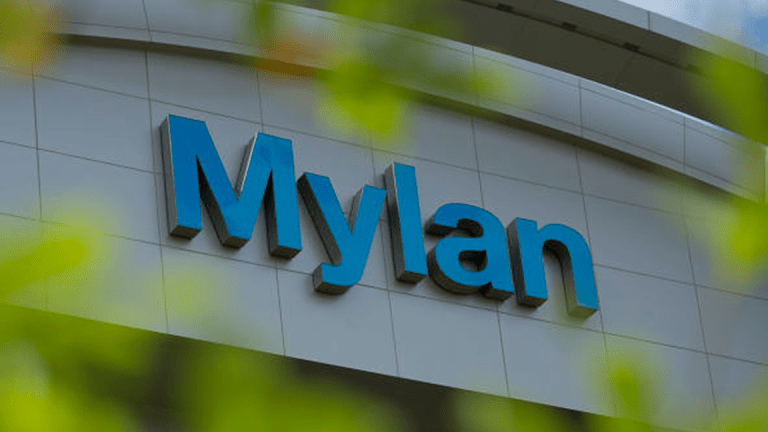 Drug Companies Respond to States Generic Drug Lawsuit
State attorneys general led by Connecticut's George Jepsen said Tuesday that were planning to include Mylan president Rajiv Malik and Emcure Pharmaceuticals Ltd. executive Satish Mehta in an expanded complaint in the federal generic drug antitrust lawsuit.
State attorneys general led by Connecticut's George Jepsen said Tuesday, Oct. 31, they were planning to include Mylan NV (MYL) - Get Mylan N.V. (MYL) Report president Rajiv Malik and Emcure Pharmaceuticals Ltd. executive Satish Mehta in an expanded complaint in the federal generic drug antitrust lawsuit.
"We have been investigating these allegations thoroughly and have found no evidence of price fixing on the part of Mylan or its employees," Mylan said in a statement in response to the states' announcement. "Our review of the Connecticut Attorney General's press release underpinning the complaint does not change our views."
The company added: "We have asked the various attorneys general leading this case to share with us what information they believe supports these new allegations and, to date, they have not done so."
Mylan said it has deep faith in Malik's integrity and stands behind him fully. "Mylan and Rajiv Malik both intend to defend this case vigorously, and we look forward to the opportunity to present a full defense," the company said.
Also on Tuesday, the attorneys general said they are seeking to expand the complaint to include Actavis Holdco U.S. Inc., Actavis Pharma Inc.,  Ascend Laboratories LLC, Apotex Corp., Dr. Reddy's Laboratories Inc. (RDY) - Get Dr. Reddy's Laboratories Ltd. Sponsored ADR Report , Emcure Pharmaceuticals Ltd., Glenmark Pharmaceuticals Inc., Lannett Co. Inc. (LCI) - Get Lannett Company, Inc. Report , Par Pharmaceutical Cos. Inc., Novartis AG's (NVS) - Get Novartis AG Sponsored ADR Report Sandoz Inc., Sun Pharmaceutical Industries Inc. and Zydus Pharmacuticuals USA  Inc.
A representative for Endo International plc (ENDP) - Get Endo International Plc Report , which owns Par Pharmaceutical, said the company's policy is not to comment on pending litigation.
"That said, Endo is committed to providing top-quality products that improve patients' lives, and in doing so, we take our legal obligations-including those relating to product pricing-very seriously. As such, we plan to vigorously defend the Company against the claims asserted today by the state Attorneys General," the representative said.
Novartis Reportedly Taps Centerview to Evaluate Options for Dermatology Business
A spokesperson for Dr. Reddy's said in an email that the company "is aware of the on-going investigation by the U.S. Department of Justice into this matter and the recent development by the Attorneys General of Connecticut this regard," adding: "The company intends to continue cooperating fully with all authorities on this matter and as it is sub-judice, wish to refrain from further comment at this point in time."
A Novartis representative said in an email, "We acknowledge that Sandoz, along with 17 other companies, has been named in an amended State Attorney Generals complaint regarding U.S. generic medicine pricing practices concerning 15 products, including two Sandoz products, Fosinopril HCTZ and Carisoprodol ASA."
The representative said Novartis believes the claims are without merit and will vigorously contest them. "Sandoz takes its obligations under the antitrust laws seriously. We will continue to be committed to providing high-quality affordable medicines to US patients, and conducting business with customers and the government with integrity," the representative added.
Aetna Stays Mum on Possible Blockbuster CVS Marriage
Ascend, a subsidiary of Alkem Laboratories Ltd., said in a statement that it has "always acted as a fair and ethical company," adding that it "strongly asserts that it has done nothing improper, which will be demonstrated in due course."
Ascend said that contrary to allegations, the company "never launched the Nimodipine item in question but instead out-licensed it to a major private label distributor who packages the product into its own trade dress and performs its own sales, pricing and marketing efforts with no involvement from Ascend."
"These efforts have resulted in a 63% price decrease in the market on Nimodipine since Ascend began manufacturing. Ascend looks forward to working with the government and setting the record straight," the company said.
A representative for Glenmark said in an email that while the company does not comment on ongoing litigation, "Glenmark prides itself on conducting its business with the utmost integrity and complying with all applicable laws, rules and regulations."
Previously, the lawsuit was filed against Heritage Pharmaceuticals Inc., Aurobindo Pharma USA Inc., Citron Pharma LLC, Mayne Pharma (USA) Inc., Mylan Pharmaceuticals Inc. and Teva Pharmaceuticals USA Inc. The lawsuit alleged that the companies entered into illegal conspiracies in order to unreasonably restrain trade, artificially inflate and manipulate prices and reduce competition in the U.S. for two drugs, antibiotic doxycycline hyclate delayed release and  oral diabetes medication glyburide.
"Today, we are seeking leave of the court to file an expanded complaint that implicates significantly more companies, significantly more drugs and two individual executives in the illegal conduct," said Jepsen, Connecticut's attorney general, in a statement on Tuesday. "We allege in this complaint that the defendant companies' collusion was so pervasive that it essentially eliminated competition from the market for these 15 drugs in its entirety."
Jepsen said the states anticipate "bringing more claims involving additional companies and drugs at the appropriate time."
Shares of Mylan were up 2.9% to $36.73 on Wednesday after finishing Tuesday's trading session down 6.6%. In other Mylan news, the company and Theravance Biopharma Inc. (TBPH) - Get Theravance Biopharma Inc Report on Wednesday announced the presentation of additional positive efficacy data from Phase 3 studies of revefenacin (TD-4208), a potential treatment for chronic obstructive pulmonary disease, at the 2017 CHEST annual meeting in Toronto. Separately, Momenta Pharmaceuticals Inc. (MNTA) - Get Momenta Pharmaceuticals, Inc. Report and Mylan said that M834, a proposed biosimilar of Orencia (abatacept), did not achieve its primary pharmacokinetic (PK) endpoints in a Phase 1 study.
On Wednesday, Endo's shares rose nearly 1% to $6.44 after closing up 7% on Tuesday, and Lannett's shares were up 5% to $20.90 after ending Tuesday's trading session down 13.7%.
American depository receipts of Teva Pharmaceutical Industries Ltd. (TEVA) - Get Teva Pharmaceutical Industries Limited Sponsored ADR Report were up nearly 1% to $13.92 after closing up 1.9% on Tuesday. Teva acquired Actavis Generics last year.
Dr. Reddy's ADRs were changing hands at $35.53, down 2.3%, on Wednesday, after closing up 0.6% on Tuesday,  and Novartis' ADRs were trading at $83.25, up 0.8%, after closing up 1%.
More of What's Trending on TheStreet: