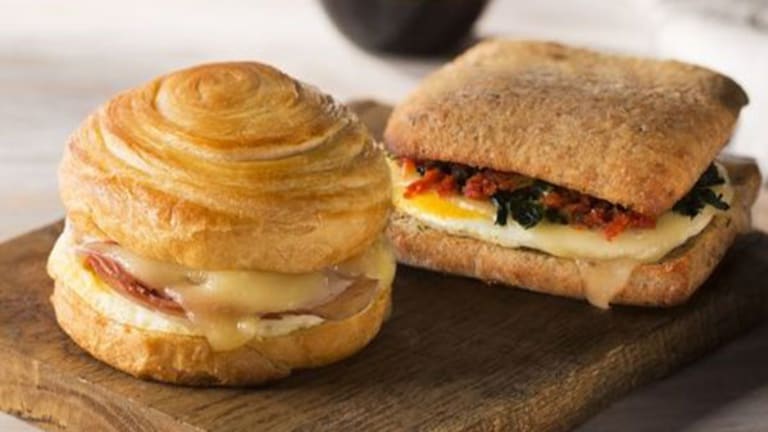 Starbucks Will Be Offering an Unnamed Gluten-Free Breakfast Sandwich Soon
While we wait, here's some other gluten-free fast food options.
During this week's Starbucks (SBUX) - Get Free Report  earnings call, an unnamed gluten-free breakfast sandwich was revealed to be coming down the pipeline. This is a smart move on the company's part, considering the growing number of people discovering they either have celiac disease or a gluten sensitivity. And that's to say nothing of the increasing multitude who are just cutting gluten out of their diet for health benefits. 

While we eagerly await the Starbucks sandwich, here are five other fast food options that offer gluten-free food. 
Chipotle (CMG) - Get Free Report
Burrito bowl lovers rejoice: everything on Chipotle's menu except for the flour tortillas is listed as gluten-free. This lovely allergens menu details how thorough Chipotle is when it comes to allergens. Just ask your server to change his gloves when he creates your meal in case he's touched tortillas.
Arby's
The Arby's gluten-free menu details a lot of meats and salads, but you should stay away from the fries. The company cooks in its fries in the same oil as other items that contain a wheat allergen.
In-N-Out Burger
Gluten-intolerant burger fans can order their burgers "protein-style," or wrapped in lettuce instead of a bun. It's such a fan favorite, it's even listed on the company's not-so-secret menu.
Taco Bell (YUM) - Get Free Report
Similar to Chipotle, Taco Bell has a decent gluten-free allergy menu, which includes the Cantina Power Bowl, the company's own take on the burrito bowl.  
Wendy's (WEN) - Get Free Report
Rejoice: Wendy's baked potatoes don't contain gluten! Its chili is also an option, as well as frosty's and salads sans chicken.